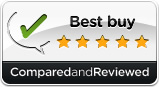 Review summary
Good points
• Thorough, effective scans
• Very customizable
• Does more than just detect & delete
Bad points
Our verdict
SpyHunter is a powerful anti-spyware program that delivers a high level of protection. It has all the features you could want, and definitely gets the job done. The only big downside is the infrequent updates, but your unlikely to find many better anti-spyware programs on the market.
Full review
Setup
Installation and setup was extremely quick. After downloading the setup file, the program quickly installs itself and begin updating as well. You should then enter your user-name and password you created after purchasing the program for $39.99.
Scan performance
After the initial download, SpyHunter will immediately perform a full-system scan. The scan itself takes a good amount of time to complete, but it constantly updates a list of potential threats so you can see when and where it finds threats. The scan is thorough and does a good job of finding plenty of potential threats.
Effectiveness
Overall SpyHunter does a good job of keeping you computer safe. While it does detect many unnecessary threats, most them are unnecessary cookies and you most likely want them off your computer anyway. Also, it's better to be safe than sorry.
SpyHunter does more than just scan and delete threats to your computer. It also runs in the background ready to detect and block any potential threat from executing at all. If the program sees it necessary, a pop-up will come up asking you to allow a certain action from executing. If you don't recognize the file, you can stop it in it's tracks.
System performance
You will only notice a slight dip in performance while a scan is running. When the program isn't scanning and idle in the background, you won't lose any performance at all.
Updates
SpyHunter does not offer nearly enough updates to keep up with the latest security threats. Other top ant-spyware programs are updated constantly and give you that safe feeling of knowing you're protected from any new threats. SpyHunter needs to catch up in this area. This is the one reason you may look away from SpyHunter 4.
Features
SpyHunter has plenty of features to keep you happy. You can run custom scans, which allows you to do a quicker scan of only certain files instead of always doing a full scan.
Another handy feature is the ability to retrieve a file after it is deleted by the program. So if you notice you accidentally deleted a file important to your computer, you can get it right back.
Even though SpyHunter does identify many safe files as threats, you can choose to exclude certain things from being scanned. So if something you know is safe keeps popping up as a threat, just put it on the exclude list and you will never have to deal with it again.
You will also find all of the normal features you would come to expect. Some features include scan scheduling, automatic updates, and others.
Ease of use
The average computer user should be able to navigate this program with ease. It's not the most simple program in the world, but even the most novice computer user should be able to figure it out. It gives plenty of simple options, as well as advanced options.
Help & support
SpyHunter has a help desk built right into the program. Just click the Spyware HelpDesk tab and submit a support ticket. Don't expect a quick answer, however, as it may take up to 48 hours until you get a response.
Overall
Overall SpyHunter is a solid program and would be an excellent addition to your computers' security. It has plenty of features and detects and removes any potential threats, but what keeps it from being perfect is it's lack of updates. .
Looking for anti-spyware software reviews?
See our side-by-side comparisons and in-depth reviews