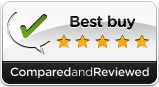 Review summary
Good points
• Very effective at removing hijacked browser search toolbars
• Removed several spyware variants
• Customized spyware fix option available
Bad points
Our verdict
SpyHunter 5 is a useful anti-spyware program that detected and removed a large number of spyware variants. I found nothing that suggested that it's rogue or unscrupulous. The only real downside was the infrequent updates, but your unlikely to find a more effective anti-spyware program on the market right now.
Full review
SpyHunter by Enigma Software Group has received very mixed responses over the years. If you hunt around for editorial or consumer reviews on the internet you'll still end up none the wiser. I've used SpyHunter for several years now in addition to my anti-virus, but I've decided to go right back to basics for my latest review on version 5.
I found nothing that suggested that
it's rogue or unscrupulous.
Setup
You can purchase the program straight away which will cost you $39.99 for a six month subscription. But like most people you've probably downloaded the program and run the free scanner to see if there is any spyware on your computer. If you want SpyHunter to remove the spyware it's found you'll need to pay the subscription.
On a standard home broadband connection it will take less than a minute to download SpyHunter. Once it's downloaded it will then take a few seconds to download any software updates and in under a couple of minutes the software will be fully installed.
Scanning
SpyHunter is historically always been an anti-spyware program, but in truth because of the growing number of security threats it's now a fully rounded anti-malware package which is why you'll hear it in the same breath as MalwareBytes.
The first thing to do is scan your computer for spyware. I've noticed that on some installations SpyHunter starts the process automatically.
After the initial download, SpyHunter immediately performs a full-system scan. The scan itself takes a good amount of time to complete. As it's working it way through your computer it constantly updates a list of potential threats so you can see when and where it finds threats.
Effectiveness
To access the effectiveness of SpyHunter and other anti-spyware programmes I use both our own inhouse test results and those from the recognized independent test labs.
Inhouse tests
SpyHunter displays anything it believes to be a threat in red. Safe items are highlighted in green.
Testing anti-spyware is challenging with the available resources and the sophistication of current day threats, but I try to follow a methodology that produces a thorough accessment as possible to create a set of ratings that are both meaningful and valid.
Our process works something like this. On a test computer which I regard as something similar to something that resembles the environment that real-world users use (i.e you the reader) I first test detection rates on a collection of spyware, adware and malware samples gathered over the past month. The threats are also real-world and include typical unwanted toolbars, hijacked web browsers and popup advertising.
The second test in based on spyware removal.
The third and final test is for false positives. This is very important, because programs that are deemed deceptive and unscrupulous and often try to get the user to purchase their software in fear are likely to produce a lot false positives.
| | |
| --- | --- |
| Test | Score |
| Detection | 8/10 |
| Removal | 8/10 |
| False positives* | 2/10 |
*The lower the score the better.
Independent lab tests
SpyHunter is certified by AVTest. But the last certification was passed back in August 2018. AVTest is a highly respected security testing organisation and the current certification is a real plus point for SpyHunter. Click here to see the certification.
SpyHunter does more than just scan and delete threats to your computer. It also runs in the background ready to detect and block any potential threat from executing at all. If the program sees it necessary, a pop-up will come up asking you to allow a certain action from executing. If you don't recognize the file, you can stop it in it's tracks.
SpyHunter detected all the well know spyware samples including Nation Zoom, CoolWebSearch, Conduit.
System Performance
From personal experience I've always noticed a dip in performance while a scan is running. But when the program isn't scanning and sat idle in the background, I don't really lose any performance at all.
Our own inhouse tests showed very similar outcomes, although I don't have any benchmark results to confirm that.
Updates
One concern I do have was that it feels like there wasn't nearly enough updates to keep up with the latest security threats. Other top anti-spyware/malware/virus programs are updated almost constantly and give you that safe feeling of knowing you're protected from any new threats.
Features
SpyHunter has plenty of features to keep pace with all the other vendors.
Select which parts of your computer you want to scan. Customizing your settings can significantly reduce scan speeds and times.
Custom scans
You can run custom scans, which allows you to do a quicker scan of only certain files instead of always doing a full scan. You can select specifically your computers memory, registry, cookies, files and rootkits.
Scan exclusion
On several occasions SpyHunter has identified safe/legitimate files as threats. You can choose to exclude these files from being scanned in the future. So if something you know is safe keeps popping up as a threat, just put it on the exclude list and you won't need to deal with it again.
Rollback removed items
Another handy feature is the ability to retrieve a file after it is deleted by the program. So if you notice you accidentally deleted a file important to your computer, you can get it right back.
You will also find all of the normal features you would come to expect. Some features include scan scheduling, automatic updates, and others.
Ease of Use
One of the most puzzling observations I have seen in several user reviews is that the program is "difficult to use". I can only assume this refers to previous versions, because I find it very logical, intuitive and nicely designed for both basic and advanced users.
Pretty much every feature or setting can be accessed via the left hand-side navigation. It's a well tested formula and one I wish other software designers would follow. The most frequently used features such as "scanning" are located at the top while the "HelpDesk" and "General settings" are located at the bottom.
Help & Support
Submit any support issues you may have through HelpDesk. SpyHunter does not provide telephone support.
SpyHunter has a help desk built right into the program. Just click the "Spyware HelpDesk" tab and submit a support ticket. Don't expect a quick answer though, as it may take up to 48 hours until you receive a response.
Overall
SpyHunter 5 is a solid program and in my opinion doesn't deserve a lot of the negativity that seems to follow it. I think it would certainly be a useful addition to any anti-virus/malware program you may already use. It has plenty of features and detects and removes any potential threats, but what keeps it from being perfect is it's lack of updates.
Looking for anti-spyware software reviews?
See our side-by-side comparisons and in-depth reviews