Review summary
Good points
• Highly effective malware removal and blocking
• Phishing and exploit protection
• Social networking protection
• Easy-to-use tool bar
Bad points
• Rootkit scan separate from regular scan
• Anti-phishing not as effective as malware detection
Our verdict
With high marks from independent laboratory tests and a full line of security software being integrated into one package, AVG AntiVirus is truly making a name for itself in today's ever-changing security software industry.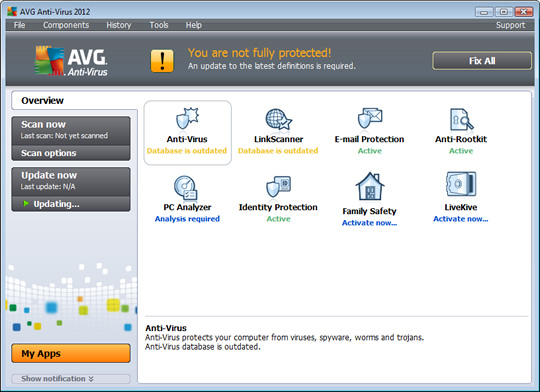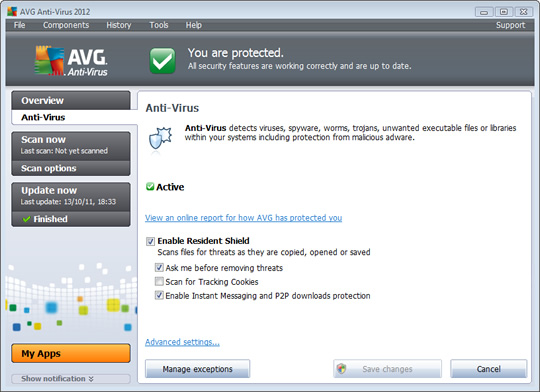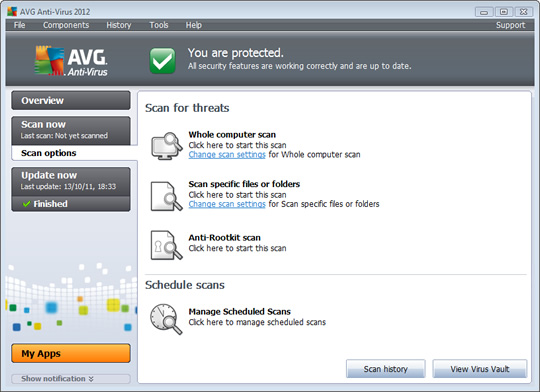 Full review
AVG Technologies was founded in 1991, holds corporate offices in Europe and the US, and is quickly becoming one of the world's leaders in security technology and software. Over recent years the company has been best known for its antivirus software, offering up a free version of the program that was heaped with praise. AVG has now expanded its line to include other services such as an online backup service, system tune-up, and parental controls. How does the AVG system work for you today? We ran some tests to find out.
Setup
AVG AntiVirus can be downloaded as a free trial and then upgraded by purchasing registration through their website. A DVD of the software can be purchased for an extra ten dollars.
The antivirus installs easily, even on infected systems, and prompts the user when another antivirus program is found in order to avoid conflicts. On the rare occasion a resistant piece of malware interferes with installation, the AVG program can be installed in safe mode. Once installed, AVG detects threats immediately and requests a reboot to finish the cleanup process.
We like that AVG requires a relatively small 512 MB of RAM and 1350 MB maximum for installation.
Protection
AVG provides many layers of protection in its antivirus software. The first is general antivirus protection, which matches known threats to a database. Next, AVG Anti-Spyware protects against spyware and adware. In addition, AVG includes their Resident Shield, which analyzes files as they are being saved, copied, or opened and prevents the user from running infected files.
Social networking - In addition, AVG features active protection when searching and surfing the web, as well as social networking protection.
Search engines – The Link Scanner component of the AVG AntiVirus block dangerous websites and the Surf Shield mode highlights dangerous links in search engine results.
Effectiveness
A good set of results overall for this antivirus offering. AVG AntiVirus has received certifications from all of the major lab tests, including ICSA Lab and West Coast Labs, for virus detection. West Coast has, in addition, given the program a checkmark certification for virus removal. AVG has also received VB100 certification in 10 out of the last 10 tests by Virus Bulletin.
AV-Comparatives.org rated AVG as standard, the lowest passing grade, in an on-demand test, but it fared much better and was rated as advanced in the AV-Comparatives whole product dynamic test, in which the software must protect systems from ever-changing, up-to-the-minute threats.
Scans & updates
We found a good degree of flexibility in choice of scan and security updates. For more experienced users, AVG has quite a few scan options that can be set through the advanced settings of the program. For less experienced users, it may be easier to use the three main options in the top scan menu. A whole computer scan takes care of everything with a single click, which is great if you want the program to take care of things on its own. And as a bonus, we found the full scan to be quick compared with many competitors – around 16 minutes for a first scan.
AVG can also scan specific files and folders, and finally, an anti-rootkit scan can be performed although you need to remember that the rootkit scan is separate.
The AVG antivirus software updates new virus signatures from its database automatically, helping the program to recognize the latest threats.
Features
AVG AntiVirus has its fair share of good features. Auto-Fix reports detected threats back to AVG labs, and then the program gives you a one-click solution to any problem found. Once Auto-Fix solves the problem, it sets AVG Anti-Virus back to optimal protection mode.
Gamer mode - Gamer Mode protects computer gamers as they play, while at the same time not causing lags or freezes in the middle of the game. Gamer Mode serves as protection against hackers who prowl game servers in order to steal rewards from legitimate gamers.
Ease of use
AVG features a simple and easy-to-use interface with a handy tool bar that is fairly straightforward for any user. Specifically for people with less time or interest in antivirus scanning, you can access a one-click solution to scan and repair your computer without having to deal with any complicated terminology or processes.
AVG Smart Scanning allows the program to operate in high priority mode while the computer is inactive, then switches to low priority mode when a key or the mouse is touched. In addition, Smart Scanning flags already scanned files as safe, saving time and system resources the next time a scan is run.
Help & support
AVG offers support 24/7 directly through its website, either through a toll free number to speak to a representative over the phone, or through a chat option. Customer support is very visible on the AVG website and we found it easy to access, with clear and useful advice given.
In addition to support through the website, the AVG software itself contains the AVG Advisor, a service that monitors the user's system as long as the antivirus software is running. The advisor recognizes problems and can advise the user on how to rectify them. This is a useful addition and inexperienced users in particular will find it helpful.
Overall
Just because it's free, doesn't mean it works badly. With AVG AntiVirus you can enjoy protection superior to many of its paid competitors. And when it's time to pay to upgrade, you won't feel cheated.
AVG AntiVirus is a truly all-encompassing security suite with strong, multi-layered protection that works for ever-day users and hardcore gamers and web surfers alike.
Looking for anti-virus software reviews?
See our side-by-side comparisons and in-depth reviews