Review summary
Good points
• Large antivirus database
• Full suite software with extra tools
• Scheduled & real-time scans
• Internet SiteAdvisor warns you against dangerous websites
Bad points
• Hard on system resources
• Scores low for malware cleanup
Our verdict
McAfee has been one of the heavy-hitters in computer security for years, but with an influx of more reasonably priced alternatives vying for the top spots, the antivirus giant may have to consider a software overhaul in order to stay relevant.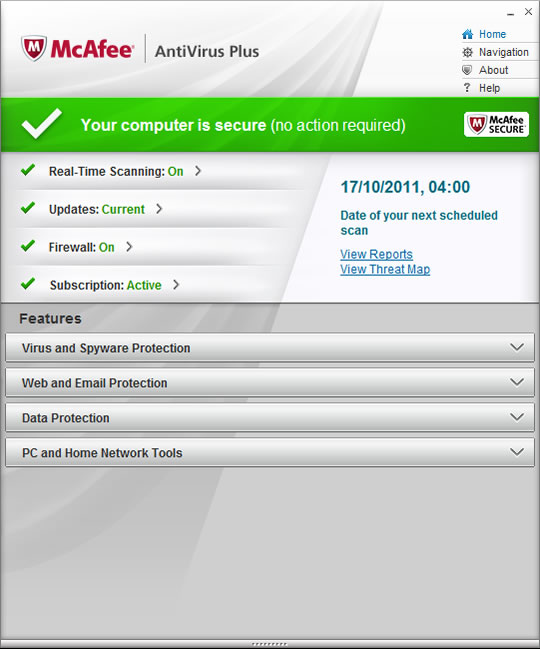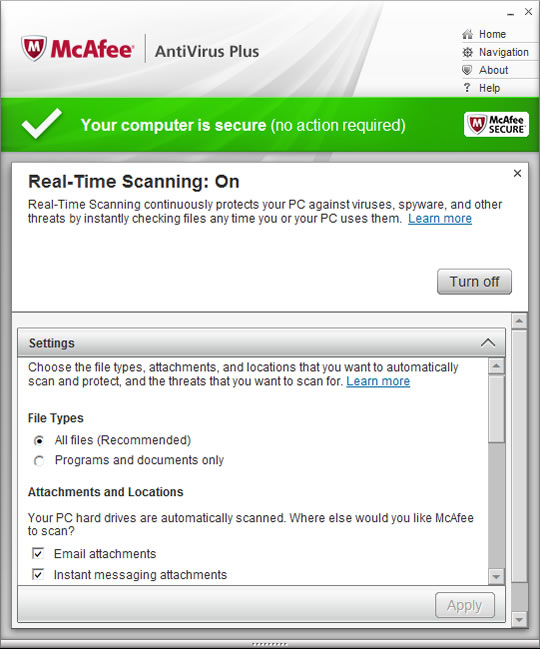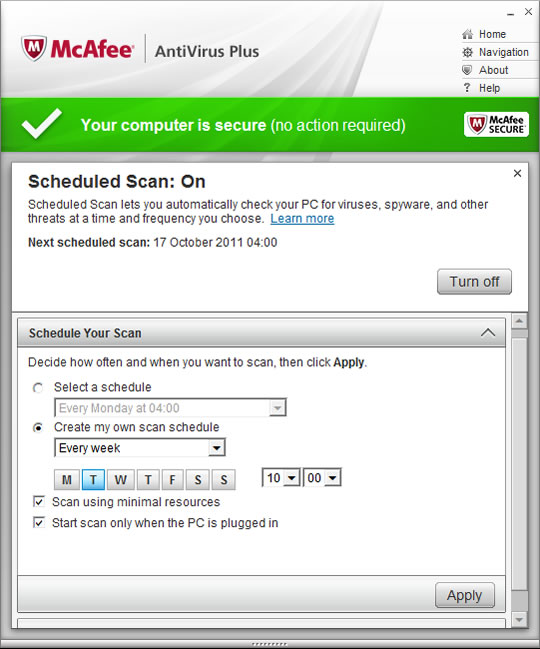 Full review
McAfee, one of the world's most recognizable computer security companies, was founded in 1987. The company prides itself on staying at the top of the antivirus market but is it losing its grip? This new version of the McAfee AntiVirus offering gives you decent malware attack protection, plus a lot of added extra features, and a personal firewall. However, this antivirus package scored quite badly in independent tests. We looked carefully at McAfee AntiVirus Plus to see what it does well and what it does badly.
Setup
You purchase the McAfee AntiVirus Plus program on the website, and then download your purchased product. You can also pay for a McAfee back-up CD. We found installation was quick and easy and there wasn't a problem installing the software on an infected system.
The McAfee AntiVirus system works with Microsoft Windows 10, 8.1, 8 and 7. You need a 1GHz processor and 500MB of free disk space.
Protection
McAfee AntiVirus Plus protects against viruses, spyware, rootkits, Trojans and bot-net software. The system also scans removable drives and USBs.
Internet – The McAfee SiteAdvisor Internet protector is a useful addition to the suite of protection. The powerful analysis tools are constantly locating and testing new sites, analyzing the likelihood of spam if you enter your email address and downloading the files for analysis. The McAfee system adds color coding to your search results to tell you if a site is likely to be unsafe. We think the ability to block only the malicious content in an otherwise safe site is particularly useful, as it means you can see safe sites that may have been hacked. However, the software is not so good at detecting phishing sites, which don't hang around long enough to be tested.
Firewall – A good feature of the McAfee AntiVirus offering is the complete personal firewall. Not every antivirus program offers this.
Effectiveness
Unfortunately McAfee is not so hot on removing threats as other software for viruses. Reviewers have reported that the program leaves behind executable files and sometimes leaves these files running – McAfee came in for particular criticism for its treatment of rootkits.
McAfee is certified by West Coast Labs for virus detection and virus cleaning, and also for picking up malware, Trojans and spyware. McAfee is also certified by ICSA Labs for virus detection. The program achieved certification in eight of the last Virus Bulletin tests. But in the AV-Comparatives.org dynamic test McAfee failed to reach the lowest standard rating. McAfee didn't receive certification for Windows 7 or Windows XP with the AV-Test.org tests.
Scans & updates
The full scan on the McAfee program takes a little under half an hour – pretty standard for antivirus software. Repeat scans take a few minutes. The system fixes any found problems and asks you if you want to quarantine any programs. You may need to reboot to fully cleanup the system.
There are a number of options to choose from for scanning. You don't need any particular technological knowledge in order to run scans that will help protect your computer.
Updates are delivered automatically, at times when the computer is not being used heavily.
Features
The McAfee AntiVirus software includes a Digital Data Shredder that goes through your files and permanently destroys them – obviously not an everyday solution to PC security but useful if you lend your PC to a friend or want to have it repaired. There's also a QuickClean program that deletes temporary files and your browsing traces as well as sent emails. You can preview first what is going to be deleted, then remove the items you want to keep.
Ease of use
This version of McAfee AntiVirus uses a different kind of layout to other antivirus software. The windows to navigate through are narrow and tall, with horizontal "drawer" tabs rather than tabs across the top or down the left-hand side of the screen.
This set-up makes it look distinctive but at times it is a little difficult to navigate. We missed the standard layout sometimes as it is generally easier to keep on track of where you are going and not get lost. However, the software is otherwise easy to use and you can use auto pilot scan modes as well as set up your own scans.
Help & support
There are technical support and customer service options for you to make use of, and we found it was generally easy to get answers to any questions you may have. We noticed that the technical support was basically a trouble-shooting checklist online but the customer service was more extensive.
You can read answers to FAQs and look through video tutorials, as well as chat with customer service advisers or send an email. Both are free and the internet chat is available through office hours, Monday to Friday. You can call daily, during business hours.
Overall
To put it simply, McAfee AntiVirus Plus is best for a clean computer. The software falls down somewhat when it comes to removing malware and rootkits. The firewall addition to the antivirus package is a big advantage, but unless you are desperate for this feature you'll find the higher-ranked antivirus packages better for the overall protection of your system.
Looking for anti-virus software reviews?
See our side-by-side comparisons and in-depth reviews