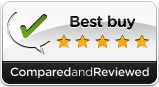 Review summary
Good points
• Excellent image quality
• HD video
• Plenty of manual controls
• 10Mp resolution sensor
• First class build quality
Bad points
• Optical view finder is too small
• No optical zoom for video recording
• No external mic option
Our verdict
A fantastic high-end bridge camera, that operates similarly to a DSLR, but in a compact robust body.
Full review
The Powershot G12 replaces Canon's popular G11 model, and includes a few tweaks and improvements to the previous model, rather than any major changes. We take a look to see if these improvements warrant upgrading from the G11, and if the can help Canon stay at the top of the pile.
Features & specifications
The Canon Powershot G12 has a wealth of built in features that can almost compare to a DSLR, including wide angle capabilities, image stabilisation, auto-focus tracking, HDR mode and an electronic spirit level. In addition, the camera also has RAW functionality, JPEG shooting, plus a really good, 1cm Macro mode.
The specifications on the G12 are impressive for a bridge camera, as it offers a 5 x optical 28-140mm zoom lens, a 10 megapixel sensor, five different aspect ratios (3:2, 16:9, 4:3, 1:1 and 4:5) and select ISO speeds with a dedicated ISO dial on the top of camera.
Design & build
The G12 is virtually identical to the G11 in its look and feel. Canon have shaved off 4g in weight, but it is still fairly chunky, measuring 112x78x48mm. However, the build quality is excellent. It feels solid, and you get the feeling that it can easily cope most things thrown at it. At 351g (body only) it's not too heavy, but is still heavier than comparable cameras on the market.
The G12 is loaded with dials, so to say it's easy to use might be a stretch, but for anyone with a reasonable knowledge of cameras, or for someone who has used a DSLR, they will find this very useable indeed. In fact, one of the improvements to the G12 is that it has both rear and front control dials (previous G models only included the rear control). The front control dial helps make this compact camera operate more like a DSLR, which will appeal to more serious photographers.
Another noticeable improvement on the Canon G12 is the ergonomics, as many users complained that the G11 was almost impossible to pick up without activating some function or other. Canon have clearly taken this on board when designing the G12 and this is to be commended.
The Canon G12 powers up almost instantly, the rear LCD opens with the Powershot visual, and the 5x optical zoom lens extends from within the body of the camera to the maximum wide-angle setting (ideal for landscapes). The screen on the G12 is adjustable, which offers framing that would have previously been awkward such as low level shots along the ground (it can be opened out to right angles, and tilted to 180 degrees), The screen is a 2.8in PureColour II TFT screen, and has a resolution of 461k-dot, which can't quite compete with some of the G12's competitors but is more than adequate.
Photo quality
As we found on the G11, image quality is excellent on the Canon Powershot G12. We adjusted the settings on the camera slightly, as we found the images were originally a little soft, but with a couple of tweaks, images were crisp and clear. Night shots on the maximum shutter speed of 15 seconds were very impressive, as were indoor shots using the built in flash (very little red eye and good exposure).
The G12 offers very low noise levels, and we managed noise-free images at ISO 80-400, with only slight noise and desaturation occurring at ISO 800. Even at higher ISO settings, such as 1600, the images we took were still very useable, despite more noticeable loss of colour and noise occurring. The Canon G12 also handles chromatic aberrations well, as we only experienced slight purple fringing around the edges of objects in high-contrast situations.
The 1/1.7in CCD sensor on the Canon Powershot G12 outputs a resolution of 10MP, and this is coupled with the DIGIC 4 processor, both of which were used on the previous G series model. Where the G12 has improved over the G11 is that it will perform better in low light conditions. The G12 can shoot up to an ISO range of 12,800 in low light exposure mode, and this feature combined with the processor can offer good results.
Video & sound
The G12 offers 720p movie-recording capability at 24 frames per second with stereo sound, and this is the first in the Powershot series to include HD video recording.
Sound recording can be excellent, but the placement of the microphones is frustrating, and you can't add an external microphone. Annoyingly the 5x optical zoom is disabled during filming.
You also get HDMI output for directly connecting to a monitor or flat panel TV.
Battery life
Battery life is excellent on the Canon G12, lasting for several days shooting 30 mins a day.
Overall
The Canon Powershot G12 is a fine bridge camera, packed with a variety of features and capable of producing excellent images. It is an ideal camera for those that want the features of a DSLR, but don't want the size, weight or expense.
Add your review
You've heard our opinion. Now we're keen to hear your personal experience of using this software.
Looking for bridge cameras reviews?
See our side-by-side comparisons and in-depth reviews