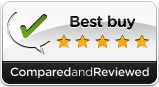 Review summary
Good points
• Powerful encryption algorithms
• Very easy to use
• Built-in free digital lock
• File shredding
• Free help & support
Bad points
• No other added features
Our verdict
Worry no more about identity theft or losing personal and financial information online – Lavasoft has developed a powerful, robust, and easy to handle software package that offers the top level of encryption for your files. Military-grade encryption ensures you are completely safe when you send and store files.
Full review
Lavasoft is a successful anti-virus provider that makes the popular Ad-Aware anti-malware software. With this data encryption software package, Lavasoft supplies a fully-equipped, easy to use encryption solution that is top of our list for security and convenience.
Encryption
Using Lavasoft Digital Lock you can safely secure folders, files, .exe files (so you can copy and burn data to external storage devices like USB drives), and compressed zip files – all file formats are covered with this program. The technology within Lavasoft's encryption software is particularly robust and support many different encryption algorithms including AES standard 256 bits, Blowfish 448 bits, Twofish 256 bits, SafeIT Algorithm 480 bits, Hash-Algorithm MDS. This is the same protection used by the military, so your data is in good hands.
You benefit from many different layers of protection as you can encrypt a file more than once with a combination of different passwords and algorithms for more control over the security of your data. You can also shred the file after encryption if you prefer.
Sending files is easy and safe. The decryption portion of this software package is particularly useful as it allows anyone who doesn't have Digital Lock installed to open a folder or file when you send it to them. Using a password, anyone you designate can access the content but it doesn't make the folder or file any less secure (provided, of course, the password is kept safe.)
Security features
The primary strength of this software, and the reason you'll want to invest in it, is its encryption capabilities. Lavasoft doesn't offer any add-on features with this software and if you are interested in anti-malware protection you can look to its other products to solve the problem.
Ease of use
The Lavasoft Digital Local interface boasts the clearest and cleanest layout you'll find in this category of data encryption software. We particularly like how this software is so easy to use. Right-click on a file and the drop-down menu gives you the encryption options. Or you can drag-and-drop the files into the designated area for encryption – whatever is easier. After the file has been encrypted you have the choice of shredding it, leaving it, or deleting it and you can set a preference for this action by configuring the program settings.
Subscriptions for Digital Lock are available for one, two or three years and if you want to try the product you can download the trial version and use it for 30 days.
Help & support
For technical problems and questions you have the option to submit a ticket, or look at a list of FAQs. The user manual is comprehensive and covers all you will probably need to carry out encryption and decryption tasks using the software.
Overall
We love the simplicity with which Lavasoft Digital Lock operates. You gain a powerful tool for encrypting files and folders with the maximum levels of security while the software is easy to use and doesn't take up much space on your PC. Digital Lock is perfect when you want to ensure the security of work documents or personal information, and you can rest assured that you, or any other designated person, will still be able to access the information whenever you want.
Looking for data encryption software reviews?
See our side-by-side comparisons and in-depth reviews