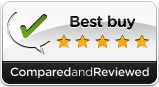 Review summary
Good points
• High quality templates
• Value for money
• PDF support
• Simple to use
• Great customization options
Bad points
Our verdict
Serif PagePlus is the desktop publishing (DTP) software you've been looking for. This is the best DTP software you'll find for non-professionals at this price. Take a look and see what you can do with the extensive feature set available in this easy-to-use package.
Full review
Setting the standard in desktop publishing since 1991, Serif PagePlus X9 is the reliable, feature-packed, go-to product when you want to design your own newsletters, annual reports, flyers, posters and more.
PagePlus works with Windows 10, 8, 7 and XP. The "look" of PagePlus X9 isn't as stylish and slick as professional packages but we don't think you'll mind the lack of bells and whistles when you've got something so easy to use and manage. It's also fun to use, which makes a big difference when you're designing publications and materials in your free time, or for your own business. Here's some more detail on the features and capabilities you can expect from Serif PagePlus X9.
Templates & layout
Often when creating publications or newsletters for a charity or organization you don't have time to think up creative layout ideas. Luckily help is at hand. Serif PagePlus really excels with its templates. Choose from over 2,000 predesigned and license-free template layouts, graphics, logos and images from the Serif library. If you can think of a publishing project, there's a template for it within this software. Plus, the templates are created by professional designers so there's none of that cheap cut-and-paste look about what you create.
There's a great amount of flexibility too, meaning that you can create documents exactly to your specifications and you have a lot of design freedom that is coupled with convenience. For example, use the master pages system to fix elements on every page of your document, which can also be easily edited from the master page when needed. These master customization features are great for working with longer, more complicated documents and provide a workspace with a lack of clutter.
PagePlus X9 supports the latest PDF/X-4 and PDF/X-5 standards and the great thing about PagePlus is you can edit and work with existing PDFs as well as creating them from scratch. You can also create your own eBooks very easily, which makes it simple to put novels, instruction manuals, and white papers online quickly.
We like the ability to create a formatted tablo from different sets of unformatted information, set it in a frame, and allow it to be edited by other people in your team or family. You can also import charts direct to the program and edit graphs, pie charts, line diagrams, and more.
Create your own QR codes with ease so that customers can get simple access to online promotions, directions to your event, and other online information.
The Calendar Event Manager allows you to import calendars you have already developed using the iCalendar and iCal formats among others, and you can also customize templates, create calendars using built-in annual holidays, and add photos.
Graphic design
Use Serif PagePlus X9 to create your own company or organization logo. The tool is pretty powerful and you are not likely to need a specialist graphics program if you want to create something memorable and professional. Start with one of the predesigned logos or create your own from scratch with vector controls, fills, and filters.
Serif PagePlus also has a high quality photo editor within the program so the images you import into your documents look their best. The tools are not as complex as you would find in a dedicated photo editing program but they get the job done, including red eye removal, cropping, and recoloring.
The color system is CMYK which is ideal for printing, and you can work with filters and choose colors from any element on the page in order to develop a coordinating color scheme for all page elements. This color scheme can be based on your logo or company colors.
Typography
PagePlus X9 includes an excellent number of helpful features for regulating your text and designing the typography of a document. You can easily adjust the spacing between letters and also lines so that the document is formatted exactly to your specifications. Flow text from column to column, across pages, and around cut-out objects. You can also set the margins and gutters to high precision, edit the page bleed and use various other typography options that are normally only found in professional desktop publishing packages.
PagePlus X9 includes better language support with access to a wide range of language dictionaries and hyphenation dictionaries. The spell check is intuitive and useful, and you can also check grammar using a specialist grammar check tool.
Publishing
Import the popular file types you need. As most of the text and images you work with in PagePlus will come from other programs, the ability to import content from highly-used programs like Word and Adobe Photoshop is very useful.
Version X9 of the Serif PagePlus software is updated with new support for PDF X-4 and X-5. Using PagePlus you can create, save and fully edit PDFs – a great feature set for this popular, industry-accepted publishing format. When creating PDFs in PagePlus you can rest assured they will be viewable on all popular devices and editable by others in your company or organization.
Export your publications to other popular formats like EPS, and epub for eBooks. PagePlus can also export pages or page elements in a variety of other formats like jpg, wmf, PNG, and svg. PagePlus supports the new WebP files from Google for when you need a web-ready document that doesn't take up much space.
Help & support
Serif offers a wide range of resources. The active community has a variety of posts from community members on different aspects of using the software. There are plenty of tutorials dealing directly with the Serif PagePlus program, including detail on how to start, and how to master complicated layout techniques. You also have a wealth of information accessed directly from the program itself which is useful when you are in the middle of a project and struggling to figure out what to do next.
For more specific information you can contact Serif by phone or email, although live chat is not an option at the moment.
Overall
Serif PagePlus is a powerhouse of a program and contains all you need for effective desktop publishing. Available at a good price, PagePlus rivals professional software in its scope and functionality.
Add your review
You've heard our opinion. Now we're keen to hear your personal experience of using this software.
Looking for desktop publishing software reviews?
See our side-by-side comparisons and in-depth reviews