Software
DVD copying software
This website is supported by its audience. When you purchase through links on our site, we may earn an affiliate commission.
Aviosoft CloneDVD Copy Review
---
| | |
| --- | --- |
| Reviewer: | Stephen Qualtrough |
| Developer: | Aviosoft (formerly DVD X Studios) |
| Ranked: | 1st - Best buy |
| Overall rating: | |
| Price: | $55.00 |
| Purchase: | |
---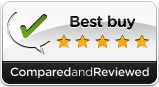 Review summary
Good points
Simple user-interface
Device synchronization (e.g. iPad)
Bad points
No Blu-ray options
Our verdict
Aviosoft CloneDVD Copy offers both the novice and more demanding user an easy to use toolkit for both 1:1 cloning and selective copying from a DVD. The synchronization with devices such as iPods is also really handy.
Full review
CloneDVD promotes itself as flexible and easy to use DVD movie copy software, so we put it to the test in a series of trials.
Setup
The software is easy to install and loaded quickly to the trial PC. Once installed there are some basic settings options available (via the hammer link top right) which lets you choose your language (or rather refine it as you are asked for language during install), the burn engine you want to use (internal or VSO which is installed with the software), temporary file location and whether you'd like temporary files deleted on completion, and very usefully the option to turn off your computer when a burn is complete.
Copy features
CloneDVD is nice and simple. By default it automatically removes disc protection during the copy process, including CSS, RC, RCE, UOPs and Sony ARccOS protection, so you don't need to worry about that side of things.
There are a number of options relating to the source and target locations. These include: Copy/burn from DVD disc, Copy/burn from DVD folder on hard disk, Burn to DVD disc, Copy to DVD folder on hard disk, Create ISO image file, Convert as movie file. Any copied disc is playable on both PC and stand-alone DVD player.
If you have a device connected, such as Sony PSP, Apple iPod, iPod touch, BlackBerry, iPhone and newly available iPad this will automatically be available as a target to save directly onto.
So as well as DVD copying there are options to convert DVD's to a variety of popular movie files formats, such as MP4, AVI and ASF, which means you can save them to you computer or other device (including iPod or mobile phone), for convenient viewing. You also set the output DVD video size to fit your intended use, or use the Crop tool to manually select which part of the screen you'd like to save.
Before burning you can access the DVD content, such as Title/Chapter/Audio, so you can decide what to copy and what to exclude. There are also multiple copy options so you can copy the whole movie, only the main movie or just favorite chapters etc. You can also rip just parts of the DVD into video clips.
Speed & quality
The copying speed is pretty good, about 1 hour for a full length movie on the tests we ran. You need to be careful when selecting what you copy to ensure you get good quality. As you have the option to compress a DVD-9 movie onto a regular DVD-5 disc the image quality can suffer, so you need to ensure you remove any unnecessary audio and extras etc to get the best results. The Quality bar within the program window was pretty accurate so keep an eye on that.
Ease of use
CloneDVD Copy is really easy to use. You just select your source DVD drive, decide on a target (another disc or computer folder), then how you want to copy and select the DVD capacity for disc or Output format for files. You then select any options you want (or leave as default), check the Quality bar and when ready hit the Start button.
There is a Movie Info box which we think tries to show the information relevant to the DVD you are copying (via IMDB), but we found it missed the mark more often than not and you just got a random movie.
Help & support
Help is via the website (also linked top right of the screen) and we felt this was pretty good with clear instructions where relevant, often with screenshots. Technical support takes the form of an FAQ backed up by a Troubleshooting section. If you can't solve your problem yourself using those then there is a support email address you can use with guidance on what you need to tell them to get the quickest result.
Overall
We were impressed with how simple Aviosoft CloneDVD Copy was to use and with the breadth of control and output options available. If you're looking for a program that just does the job no fuss then this is the one for you.
---
Looking for more dvd copying software reviews?
See our side-by-side comparisons and in-depth reviews