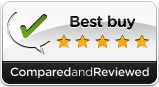 Review summary
Good points
• Eliminates sensitive data from hard drives permanently
• Wipes deleted data to protect users' privacy
• Formats and wipes entire drives, even portable USB drives
• Cleans drives infected by malware and restores them to their original condition
• Installable on up to 3 PCs
Bad points
• Novices may find some features confusing and hard to use
• Technical support is not available via telephone
Our verdict
DriveScrubber, iolo technologies' file-deletion utility, offers privacy protection, a variety of useful extras, and excellent base functionality. While it has a whole lot to offer, including several great features that competing products lack, it is not quite as easy to use as other file-deletion software. We recommend DriveScrubber to advanced PC users and those who do not mind spending a little extra time learning how to use this software effectively.
Full review
With over a decade of experience developing tune-up software, iolo technologies knows what it takes to repair, optimize, and protect Windows-based computers effectively. DriveScrubber, iolo technologies' file-deletion utility, is claimed to provide users with data-removal capabilities that exceed the Department of Defense's standards for secure data removal. We installed DriveScrubber to test its effectiveness and discover its overall value.
Setup
DriveScrubber supports all versions of Windows, even 64-bit versions. On our test system, a laptop with a 64-bit installation of Windows 10, DriveScrubber installed in about a minute without any issues.
Effectiveness
DriveScrubber is capable of completely removing all types of files from hard drives. It can securely delete pictures, videos, documents, and more. Additionally, those who need to wipe large portions of data at once, such as an entire partition, can use DriveScrubber to do so quickly and conveniently.
DriveScrubber securely deletes data so effectively that it exceeds the Department of Defense's standards for the removal of sensitive data. The thoroughness of DriveScrubber's file removal is customizable as well. In fact, data-removal options range from a single-pass method all the way to a variety of different multi-pass methods, including the DOD 5220.22-M ECE.
To test DriveScrubber's capabilities, we opted to remove a word document from our system using the single-pass method. In seconds, the file was gone, without a trace remaining. DriveScrubber is capable of removing files so effectively, in fact, that even computer experts have no chance of recovering one of its wiped files.
Features
Maximum speed – DriveScrubber securely deletes files and wipes drives faster than most competing software.
Wipe free space – Files previously deleted through the Recycle Bin can be recovered fairly easily. This can be dangerous when these files contain sensitive information. This feature protects users privacy by ensuring that files previously deleted are irrecoverable.
Ongoing privacy protection – With this feature enabled, DriveScrubber will automatically wipe previously deleted data at configurable intervals.
Wipe entire drives – From within Windows, DriveScrubber can be used to securely wipe and format entire drives. In fact, it can even be used to securely format and wipe USB drives.
Clean and restore drives – This feature was designed to completely wipe drives that have been infected with viruses, spyware, or other types of malware. After cleaning, previously infected drives are returned to their original, malware-free condition.
Ease of use
DriveScrubber features a clean, simple interface that most users will find fairly easy to navigate through. The application includes a substantial amount of helpful information, and a wizard-like process walks users through the steps of each of its capabilities. It is important to note, however, that this software includes several advanced features that many users may not be comfortable utilizing. The disk-wiping feature, for instance, is very, very useful, but it can also cause potential problems for users who do not fully understand what it does.
Help & support
DriveScrubber may be somewhat difficult to use at times, but iolo technologies does provide pretty decent support. Their website contains a substantial amount of product-related information, and it features a convenient search tool. If users are unable to find answers to their questions on iolo technologies' website, they can send their inquiries through e-mail. The time required for iolo technologies' support staff to respond to e-mails varies, but it usually takes no more than a few days. Unfortunately, there is not a technical-support number available at this time.
Overall
DriveScrubber is not the easiest file-deletion utility to use, but it is still one of the best. Quick, effective file-scrubbing capabilities are only part of what DriveScrubber offers. With powerful disk-wiping capabilities, ongoing privacy protection, and more, DriveScrubber is fully featured and incredibly useful. Those who invest some extra time learning how to use this program effectively will be rewarded with file-deletion capabilities that easily surpass those of competing products.
Looking for file shredding software reviews?
See our side-by-side comparisons and in-depth reviews