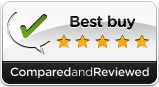 Review summary
Good points
• Secure & reliable transfers
• Designed for both novice & advanced FTP users
• Includes FXP support
• Wide range of settings options
Bad points
• The busy interface can feel somewhat intimidating to first time FTP users
Our verdict
SmartFTP offers good value for money for the novice, whilst also offering scalability to include all the features needed for the more advanced user. It's a very user-friendly and effective program and highly recommended.
Full review
SmartFTP is available in Home, Professional and Ultimate Editions. The latter is the edition reviewed, but most comments are applicable to all 3 Editions.
Setup
The install file is quick to download from the website, offering a full 64bit version. The install itself is a little slow in comparison to some other FTP programs, but is very straightforward.
After installation when you first open the program you get simple options to open a local browser, a remote browser, or to watch the tutorials (more on those later).
There is no initial program configuration, which is great for novices. For advanced users there are in-depth options available via the 'Settings' links under the 'Tools' menu. If anything there are too many options here, but it isn't confusing as it's laid out very clearly.
Transfers & Connectivity
When setting up a new remote browser it's all very simple for the novice, however there are a plethora of options available for advanced users via the 'Properties' button.
You can set up Auto-renaming rules, Encryption, numerous rules relating to Files and Filters, Performance and Priority tweaking, Queue sizes and Speed Limits (or indeed the lack of them). Whilst normally I'd say the more options the better (for advanced users) I'm not so sure in this case, as it was all a little bit over the top.
Once you've made a connection you can use a single remote window with drag and drop from your PC, or split the main window into two panels with tabbed connections (local and remote) so you can drag and drop between panels, whichever you'd prefer.
You can have numerous local and remote connections running at once, with Multi Uploads in progress.
Again there are numerous combinations and options as to how you set up your panels and manage your connection, and whilst I'm very impressed I did find it all a little cluttered, with my point of focus drifting around quite a lot. Novice users may find it a little confusing initially.
Proxies & Protocols
SOCKS 4, SOCKS 4A and SOCKS 5 are all available Proxies, as well as HTTP Connection Tunnel.
It was easy to choose the required Protocol, with options ranging from FTP to SFTP (as well as GridFTP), Terminal to Telnet, and HTTP/S.
Security
All remote connections can be made via FTP, FTP over SSL (Explicit), FTP over SSL (Implicit), SFTP over SSH2 all with encryption using certificates/private keys as desired. There is also Terminal over SSH and Telnet over SSL in the Ultimate Edition.
Features
SmartFTP has been well designed and is uncluttered with unnecessary gizmos. What it does instead is provide lots of really useful little features that make everyday use more pleasurable.
There is a nice option of a dropdown list of recent connections in the top menu bar, which allows quick connection to your most used sites.
The ability to turn the content panels into floating elements, undocking them from the main program window, give lots of control over how you can set up your work area, which is a nice feature.
In the Transfer Queue you can increase the number of Worker threads at will for a connection giving good control over transfers.
There is an Integrated Editor (Professional and Ultimate editions) for amending code in live and local files.
Ease of use
The interface offers numerous options for lay out with tons of preferences. For the advanced user this offers lots of scope, but it can be a little overwhelming for the novice.
Visually everything is very clean, with slick controls and plenty of drag and drop functionality. When you hold down the left mouse button whilst hovering over relevant window panel arrows appear showing you where you can move the panel too to re-organise your working area.
The program looks and works very similarly to Windows Folders so feels familiar including the use of icons and folder display options.
This continues into the control options on the Transfer Queue, which are impressive with simple Start, Stop and Pause buttons proving very useful.
Help & support
There is no local Help file with the program, despite there being a Contents link under the Help menu. This actually links to the online support area, which is comprehensive, offering Tutorials, a Knowledge Base and Forums.
The Tutorials are all in the form of Flash videos which take you through a number of key processes in a clear manner. These also include instructions for correctly configuring local Firewall software such as Norton Personal Firewall, and ZoneAlarm.
The Knowledge Base is in-depth though a little confusing as all menu items are listed alphabetically and thus not in the order you might expect. Once you've found what you're looking for some items are very useful to all, whilst others are aimed squarely at the very advanced user.
The Forum is very good, with support split into Premium (paid) and Public areas, but the only limit is that only Premium members can post in the Premium section (and get faster responses), whereas all can benefit from the information on display.
There is also a support email address, but no phone number to contact.
Overall
SmartFTP feels very simple to use. It's well laid out with familiar yet flexible control options which make it a pleasure to use both for novices and more advanced users.
The Home edition is streamlined to only include the most commonly required functionality though this makes it great value for the novice. The more advanced user should look at the Professional edition unless they need Terminal emulation.
Looking for ftp software reviews?
See our side-by-side comparisons and in-depth reviews