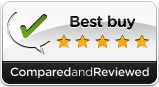 Review summary
Good points
• Sleek design
• Excellent multiplayer
• Less fan noise
• Elegant 'metro' UI
• Touch buttons
Bad points
• No HDMI cable in box
• No Blu-ray
• Disc tray
Our verdict
The Xbox 360 is an overwhelmingly good console and still clings to that number one spot. While the hardware is getting a little ancient, the console can still play top-quality games and Microsoft keep redesigning the software for a better user experience.
Full review
Design
The Xbox 360 represents where gaming was a few years ago in console terms, big and hefty. If you have ever picked up your console or tried to move it from one house to another area, you will notice it is not portable.
We still see the design of the Xbox 360 to be sleek and nice to look at, even if it is a bit chunky. The idea is that you keep your Xbox 360 in one place and we do not approve of you taking it around in your bag.
Performance
Surprisingly, the Xbox 360 has handled most graphically excessive games that have been added to the console these past years, despite having mediocre performance components.
The Xbox 360 has a 3.2GHz tri-core gaming processor, which is average in the PC world now. Most top-tier gaming PC's have 4.0GHz and eight/twelve core processors. The graphics card and RAM all show a console that has passed the "current" period.
However, as we come to judge the console poorly, we must remember that it still does run the top games, like Dishonored and Skyrim. If you want to play the top-end games, the Xbox 360 still works with them.
User Interface
With the launch of Windows 8, Microsoft have tweaked the Xbox Dashboard to look more content friendly. Microsoft are slowly building an entertainment console, rather than just a gaming console.
The user interface on the Xbox 360 is very simple to use, you will find connecting to networks, making multiple accounts and designing an avatar to be an easy experience.
Content
Most publishers look to the Xbox 360 to market their game. Microsoft have a lively community that are ready to spend up to $65 on a game. The Xbox is slowly moving over to digital distribution, with Xbox Arcade Games.
Games are just part of the Xbox Live experience now though, with Netflix, Bing, Last.fm and other applications being added to the store for your enjoyment. Microsoft is trying to deliver a true entertainment experience, not just a gaming experience.
Kinect
Microsoft promoted this product for a while with a ton of advertising and it got some sales, the general feel was after two weeks, it was not used much. Some developers put Kinect sensor on their game, either with voice commands or with movement control.
Most of these games Kinect functions were not well received. Many gamers said it just annoyed them and ruined the experience. Skyrim, for instance, was one game where gamers said Kinect voice commands were not a great decision.
Multiplayer
Xbox Live costs $60 a year and for that, you get access to all multiplayer activities on any game. You can also connect to people in "parties" that have up to eight people.
Most games consist of some multiplayer, whether that be the central focus of the game or just a side-feature depends on the game. Many games come with a campaign, multiplayer and some co-op campaign you can do with a few friends.
Xbox tends to the multiplayer well and you can connect to parties with ease. It is definitely worth it if you want to play games like Call of Duty, Battlefield or FIFA.
Connectivity & plug-ins
You can connect your Xbox up via Ethernet cable or through a wireless connection. With the new Xbox 360 (slim), you can connect without an adapter, getting rid of the $50 cost.
The Xbox 360 (slim) also has HDMI ports and four USB ports. There is no HDMI cable inside the box though, so you will have to buy one yourself.
Price
At $179, this is a really good deal, despite the console being a little old. For the amount of content on the Xbox 360, we doubt you will ever get bored.
Overall
An impressive console for a cheap price. The only problem is the next generation is just around the corner, you may want to save for that before plunging into the Xbox 360.
Add your review
You've heard our opinion. Now we're keen to hear your personal experience of using this software.
Looking for game consoles reviews?
See our side-by-side comparisons and in-depth reviews