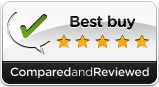 Review summary
Good points
• Easy to use and learn
• Edit text, photos, and drawings all in one place
• Advanced photo editing and manipulation
• Great for beginners
Bad points
• RAW editing is not particularly sophisticated
Our verdict
Xara Photo & Graphic Designer is primarily recognizable as a photo editing program but the graphic design elements complete the package, making this an extremely well-rounded and useful piece of software.
Full review
Xara is a leader in design and photo editing software and the latest version of Photo & Graphic Designer is ideal for people looking for a simple and effective package to complete design tasks. You can download a free trial of the product which has all the features but only a limited number of editable templates.
Editing features
Photo editing features in Xara Photo & Graphic Designer are top-notch, and a good deal better than those you'll find in many other packages. One of the biggest advantages of the program is the non-destructive photo editing capability, which allows you to make as many changes to photos as you like without losing quality, or losing your originals.
The Xara photo editing tool is fast and efficient, and includes design elements like contrast, blur, temperature, sharpen, and saturation. You can scale and rotate, crop, remove red eye, and use detailed shadow and highlight adjustments with ease. A quick Color Enhance tool is good for making an efficient change to color schemes based on one color you select from your image.
Remove unwanted elements from your pictures, or take away the background from a photo and replace it with something else. There's also a quick way to remove blemishes and imperfections from portraits. Create effective panoramas by simply dropping photos on a page and automatically creating a seamless panoramic image. And apply intelligent scaling to photos where you can keep the important parts of the picture in scale while you resize the rest.
The Live Effect plug-in can be used to add effects to both photos and drawings. The special effects, which include oil painting, waves and liquid paint, overlay the image and you can still edit once you have applied the transformation.
Any type of photo, line art file or logo is easily converted into an editable vector with Photo & Graphic Designer so you can transform shapes and images using a wide variety of tools. Create blends to blur edges, make highlights, and transform images with repetitive patterns. Create graded transparencies and use vector feathering to produce individual and eye-catching results.
Printing features
In the design gallery you will find templates for collages, calendars, and albums etc. which make it easier to put these items together for printing. Color separation support is also included for professional print output.
Vector graphics
The vector graphics tools in Photo & Graphic Designer take this program from simple photo editor to the next level. The vector line drawing and editing tools are simple to use but really powerful. Use Quickshapes to work with a variety of pre-set shapes for easier editing, and the freehand drawing tool for personalized shape and line creation. The Shape Eraser and Shape Builder tools allow you to build on your images once drawn.
You can also work with text within the drawings by resizing text, adding it to a curve, and applying effects like fills and transparency, plus altering the line spacing, font, kerning, and more. Other features included allow you to create blueprints and floor plans, logos and avatars.
Importing & exporting
Xara Photo & Graphic Designer offers complete support for the import and export of PSD files from Adobe Photoshop, including full support for layers, so everything is editable. You also have support for a full range of other file formats including GIF, RAW, JPEG, and TIFF, as well as SVG and Word files.
Photo & Graphic Designer also fully supports the import and export of PDF files, including support for embedded fonts and layers.
Ease of use
Xara Photo & Graphic Designer is not only easy to use, but it is fast to use, too. Even when your images are large, the program doesn't seem to slow down, resulting in seamless editing. The interface is clear and straightforward. The program allows you to drag objects to edit as well as drag-and-drop to import and export files. And you get unlimited undos, which makes it safe to experiment without losing original image features – the constantly updating previews are very useful and give you precise control over your edits.
Help & support
The Knowledgebase for Photo & Graphic Designer is comprehensive, with a set of articles for installing, using, and running the program. There is also a way of getting support via the ticket submit option and accessing the technical support staff. There are a number of video tutorials for getting to grips with the program.
Overall
The Xara graphic design package is a fast, reliable product that provides sophisticated and superior features that remain easy to use. You have the choice to work with premade templates and pre-set edits, or use a more personalized, in-depth editing process for creating designs. While the package mainly focuses on photo editing, the vector graphics features add an extra functionality to the package.
Looking for graphic design software reviews?
See our side-by-side comparisons and in-depth reviews