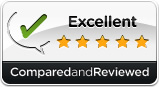 Review summary
Good points
• Significant discounts
• Huge range of deals
• Fun and easy to use
• Active users forum
Bad points
• No text message notifications
• You don't get the deal if not enough people sign up
Our verdict
Groupon is a pioneer in a market now flooded with daily deal websites but it comes out on top and continues to have very few serious competitors.
Full review
From half price pizza to the fastest growing website – Groupon has come a long way since its first deal in 2008. Every day Groupon offers a discount deal at a local or national business. If you like the deal, you sign up. If enough people sign up, the deal is activated and those that bought the coupon can redeem it.
Signup
When you hit the Groupon homepage you choose your city then enter your email. From then on, you receive the daily newsletter with the deal in your inbox.
Variety
Groupon works the one-deal-a-day method. However, there are a mountain of other deals in the Recent Deals tab. Groupon says it concentrates on the one-deal-a-day highlight to keep things simple and allow customers to focus on the chance to enjoy one new experience every day. The company has also recently started a personalization process for the US, where users receive a personalized deal of the day rather than a city-wide spotlight deal.
One of the points in Groupon's favor is its wide reach – Groupon is now available for cities all over the world from Buenos Aires to Manchester. When you sign up you receive the daily deal for your own city but you can easily navigate to other cities around the world to see and buy their daily deal too – useful for vacations and for gifts.
There's a big variety of deals and experiences on offer, from fashion to overseas getaways, spa treatments to concert tickets. We like the variety – it keeps you interested and makes you believe that, if today's deal is not for you, there's an interesting one on the way tomorrow.
Information
For the daily deal you can check the website every day or, much easier, Groupon emails you the deal of the day if you subscribe to their email newsletter. There are Facebook pages to like and Twitter feeds for all the Groupon cities. Or find out about the latest deals on your mobile device – Groupon has an app for iPhone and Android devices which lets you buy deals and also redeem them without having to print out the coupon.
The key details are well highlighted on every Groupon deal so you know exactly what you're getting. The fine print is boldly displayed at the top of the deal page, giving information about expiry dates and conditions. There's a Google map linked to each deal and you can get directions for travel.
The ticking clock and egg-timer feature show you how much time you have left and there is also a clear graphic telling you whether the deal is active, or how many people still need to sign up.
Purchases
Pay for your deal with a credit card over a secure connection. You are only charged if the deal is activated. When enough people tip the deal into taking place, you are sent an email (usually within 24 hours) with the Groupon coupon that you can print and take to the business. There are sometimes restrictions, and these are listed on the deal pages such as number allowed per person.
If you buy a Groupon deal as a gift, an email is sent to the recipient as soon as your credit card is charged telling them how to claim their gift. Or, you can print out the gift coupon and deliver it to the recipient in person.
Cancellation
The length of time you have to redeem your voucher differs according to the deal, so you need to read the fine print to make sure you don't miss out.
You can modify or cancel your purchase up until the deal close and before you print your Groupon coupon. After this, you can't change your purchase. You can claim a refund by phone or email if the deal is not what you expect or you are not pleased with the service – no red tape and no questions asked - and Groupon will return your money.
Incentive & rewards
When you refer a friend and they make their first purchase, you get $10 (or the local equivalent currency) in Groupon Bucks. These Bucks can be used towards any deal purchase on Groupon and they are valid forever.
Ease of use
It's easy to search for deals because the layout is so simple. We like the way one deal is highlighted a day. The Groupon Now search is a handy way to search for deals for today, and it is split into sections depending on what you want to do – exercise, be pampered, eat out etc.
Help & support
There are FAQs on the support page and a well-written blog that explains all the details regarding particular Groupon policies and systems. There is also an active forum where you can debate the merits of the deals and give feedback. For a more direct response, or if you want to claim a refund, you can fill in the online form or call Groupon.
Overall
The group works to maintain its original reasons for starting the company – to give people the chance to do things they wouldn't normally do, to explore their cities and to save money. The philosophy behind the business, and its policy of trusting its customers with the no-reason, anytime refund, is admirable.
Looking for group buying websites reviews?
See our side-by-side comparisons and in-depth reviews