Review summary
Good points
• Easy to use
• Simple to set-up and configure
• Includes Kaspersky anti-virus and an anti-spam component
Bad points
• Doesn't provide backup or file recovery features
• No anti-phishing toolbar
Our verdict
Overall, we feel ZoneAlarm Internet Security Suite offers superior security protection coupled with an easy to use interface that isn't too demanding on system resources. However we feel that its biggest drawback lies in costly technical support telephone charges and slow response time from their email support team.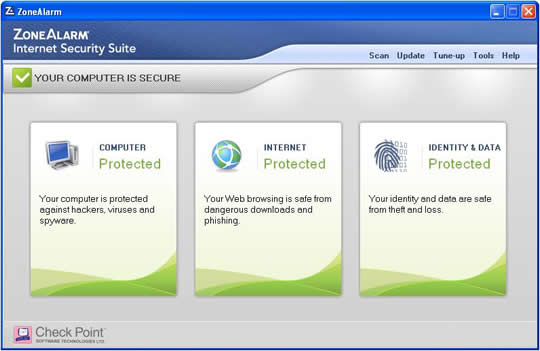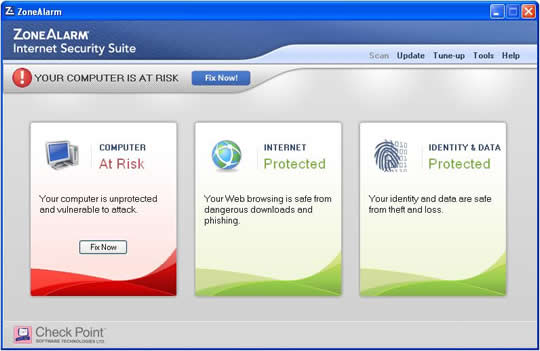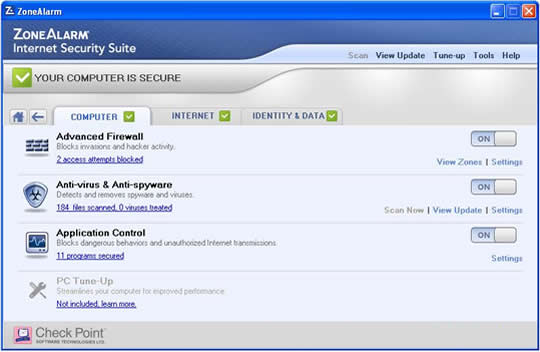 Full review
After shedding its long time relationship with CA Anti-virus, adding MailFrontier anti-spam software and including Kaspersky Anti-virus in their new security suite - we believe Check Point has pushed ZoneAlarm Internet Security into a new league. ZoneAlarm remains an outstanding example of a good balance between ease of use and security features, all at a very attractive price tag.
Setup
Installation was simple and we didn't encounter any problems. After rebooting, we were asked a series of questions to configure the program security features and the desktop alerts. ZoneAlarm has an Auto-Learn function (set as default) that monitors your preference selections, reducing the number of alerts you see over time and therefore making it less intrusive on the overall user experience.
After the initial set-up, optional system scan and reboot, you are given the option to view a short interactive Flash tutorial designed to familiarise you with the security suite and its features. Unlike the usual static web pages that other software vendors include, we found the Flash tutorial to be quite entertaining.
Performance
Anti-spyware - ZoneAlarm Internet Security Suite has a built-in operating system firewall and a deep scanning feature to tackle spyware. The OS firewall is able to detect and remove spyware when it attempts to install and also detects both trojans and rootkits.
Firewall - ZoneAlarm Firewall remains an industry standard for personal firewall products and their 2017 edition has built on this reputation with the inclusion of an Auto-Learn feature, making it very simple to use. The software suite detected and blocked all of our attempts at port scanning with relative ease.
Other security features - Internet Security Suite includes as standard: powerful parental controls, pop-up blockers, ad blockers and myVault - a feature that allows you to secure your passwords and financial data.
Effectiveness
Performance
Performance wise, ZoneAlarm delivered very fast scan speeds without bogging down our test system.
Features
ZoneAlarm includes instant messaging (IM) Security that works with all the major messaging clients such as Microsoft Messenger and Yahoo Messenger. It also includes a Gamer mode for use when playing online games.
The software suite will protect your personal information online and it also comes with a one year subscription to Identity Guard (US residents only), included with the purchase of ZoneAlarm. The identity theft deterrent built-in to ZoneAlarm will not only reduce the amount of junk mail you receive, but will also walk you through the process of re-establishing your identity in the event of it being stolen.
Ease of use
The ZoneAlarm interface is both easy to configure as well as very informative without feeling cluttered. All of the important features are readily accessible on the left-hand navigation panel. Program access is set by selecting either 'allow', 'block' or 'ask', making it far simpler to understand than most comparable security suites.
Help & support
Despite its many good points and strong security features, the biggest disappointment we found was Check Point's technical support offering. Their telephone support comes with heavy fees (currently costing $2.95 per minute), a distinct disadvantage for ZoneAlarm since many of their competitors are offering free telephone support as standard. Our interactions with their email support were also less than stellar. Response times were far slower than would be expected for a company of this size. However, many of the usual technical problems can be addressed through their help files, user forums and FAQs.
Overall
ZoneAlarm Internet Security Suite is a strong competitor in the security software market. We feel that the suite's ease of use, interface and superior firewalls were all distinct advantages and good value for money. It's a shame that their technical support fees are so much out of step with the market.
Looking for internet security software reviews?
See our side-by-side comparisons and in-depth reviews