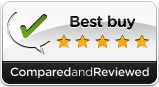 Review summary
Good points
• Great value for money
• Ideal for travellers or those learning their first language
• Engaging culture lessons
• Nothing required to install or download
• Android app means you can learn on the go
Bad points
Our verdict
Rocket German offers an affordable, engaging course that is both simple and satisfying to follow. Thanks to the online nature of the lessons, you can start learning a new language immediately, and the Android app means you can continue with the course even when not at home.
Full review
The Rocket website proudly boasts that it will get you speaking a new language from the very first lesson, so let's put that bold claim to the test.
Getting started
Unlike many other learn-language courses such as Rosetta Stone, Rocket Languages is completely online-based; this approach has both its advantages and disadvantages.
On the one hand, it means there is no software to install or download, so you can start using it immediately; on the other, it requires a constant connection to the internet and therefore cannot be used when offline.
Teaching approach
Rocket German encourages interaction, because the best way to learn a new language is to start speaking it for yourself. The course's use of humor may not be for everyone, but its seemingly light-hearted approach is actually very engaging and makes you feel as if you are in a real social situation, rather than listening to a pre-recorded conversation.
Keeping track of your progress is simple, and lessons and tests can be completed as many times as you like, so you are free to learn at your own pace.
Teaching tools
Lessons in Rocket German are split into three main categories: Interactive Audio, Language & Culture, and Survival Kit, as well as a smaller fourth section for Games.
Interactive Audio forms the greater part of the Rocket course, and gives you a chance to speak German in many simulated situations; including buying an item from a shop, asking for directions, and even flirting. This is by far the most useful of the three categories if you have any aspirations to be fluent in the language.
Language & Culture focuses on grammar, and covers issues such as numbers, the alphabet, and syntax. Although Interactive Audio is listed first on the website, it may be best to start here to gain a basic understanding, before you move onto actually speaking German.
The Survival Kit is designed as a whistle-stop tour of the language, focusing on matters like colors, clothing, food and days of the week. This is a great addition for users who don't have the time or inclination to learn the entire language, but just want to know the basics for a holiday or business trip.
Progress tracking
One of the greatest strengths of Rocket German is definitely its stat tracking. The first thing you see after logging in is My Overall Progress, which shows the percentage you have completed in each of the three lesson categories. This percentage is calculated from the difficulty Rating you give each lesson after completing it, so you're always in control of your own progress.
Once you feel confident, Proficiency Tests can then be taken to prove what you've learnt. Recent Activity is extremely useful too, as it allows you to easily remind yourself of where you got to last time, so you can immediately continue from where you left off.
Furthermore, the Rocket app for Android devices means you can check your progress or even continue with the course when away from a computer.
Value for money
One of the advantages of Rocket's online-based teaching is that it is much cheaper than many similar language courses. Rocket German Premium is available on the company's website for just $99.95, and you can begin learning a new language immediately.
However, users who prefer to own a physical copy (and want the option to use the software when offline) can purchase the 20CD pack for $299.95, which is still cheaper than many rival courses.
Ease of use
Rocket favors practicality over prettiness, so it is consequently extremely user-friendly, but there's not much by way of visual stimulation.
Help and support
Rocket's website includes an extensive FAQ section that should answer the majority of possible queries you could have with the course. Contact via email is also available; as is a telephone hotline, which is free to call for users in the US.
Overall
Rocket German is an extensive and engaging course, and absolutely delivers on its claim to get you speaking a new language straight away. The online-based lessons, coupled with the optional Android app, are extremely innovative, and their use of humor ensures that the course is brimming with personality. Factor in the low price, and you have the best learn German course currently on the market.
Looking for learn german software reviews?
See our side-by-side comparisons and in-depth reviews