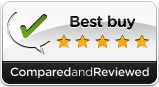 Review summary
Good points
• Easy to use
• Good variety of exercises and activities
• Affordable learning package
• Lots of grammar and vocabulary games
Bad points
• Fewer advanced features
Our verdict
Rocket Italian gives you a comprehensive Italian-learning course with fun, easy to use features. These features are ideally suited to beginners although more advanced learners may want more.
Full review
Rocket Italian is a plain-and-simple package for Italian learning but it's also said to be highly effective. The methodology is based on how you learnt your own language as a child and makes good use of repetition exercises and interactive games to start building your Italian skills.
There have been many good reviews regarding Rocket Italian's effectiveness. We looked closely at the Rocket Italian software to rate its strengths and weaknesses. Is Rocket Italian a good investment?
Setup
Once you have signed up to the program – which is easy and takes a few minutes – you are greeted with a welcome page describing the structure of the program and the available features. There are no tests to take which means that everyone starts at the same level, which is targeted at the absolute beginner. If you want to, you can skip the first sections if you are more advanced.
Basics
Rocket Italian manages the fundamentals of Italian well by mapping out two sets of lessons. One is the interactive audio program and the second is a set of grammar lessons. In addition, there are interactive games concentrating on vocabulary and grammar. The audio lessons cover everyday activities such as introducing yourself and buying coffee and include the transcript of the spoken word. The audio lessons are supplemented by additional materials designed to help you memorize what you have learnt.
Grammar lessons with Rocket Italian are pretty standard and do come across as a little boring. The content is comprehensive, however, and you'll get a good knowledge of Italian grammar if you follow the course through to the end.
The audio lessons use native speakers and everyday scenarios to get you familiar with how Italian is spoken and used today.
Advanced
Rocket Italian provides extra advanced features in the form of interactive word games. These help you build your vocabulary and help you remember grammar rules and forms. MegaAudio is a game to increase your listening skills. With the help of the repetition you can memorize pronunciation and the sound of words. MegaVocab helps you remember words by picture-matching and linking phrases. And the MegaVerbs game takes some of the boredom out of learning Italian verbs.
Rocket Italian offers some culture lessons giving you extra insight into the people of Italy, the food and the customs. The audio lessons are interactive but there are no specific role play activities in the Rocket Italian program.
Features
In order to practice your pronunciation you must repeat the words and sentences to match the speaker as closely as possible.
Rocket Italian doesn't have as many features and interactive materials as Rosetta Stone, but there are additional flash cards to download and a good list of motivational articles to help you discover your learning style in order to get the most out of the course.
You can also build your own Italian vocabulary list and put together a personalized dictionary of the words and phrases you need to learn. This is simply done by double-clicking any word on screen and adding it, along with your notes, to an online list. When you read that word again anywhere in the course it will be highlighted and you can click on it to see the translation and your notes.
Progress tracking
When you have finished each lesson you can complete a brief test and get your scores, then mark the section as complete. You can track your overall progress from the homepage and look at which lessons you have completed and which you still have to do. When you download the Rocket Italian package you also have access to the Rocket Italian Learning Lounge which is filled with tests and quizzes to remind you of your lessons and chart your progress.
Ease of use
Rocket Italian is designed to be clear and full of information at the same time, meaning sometimes the interface looks a little cluttered. The structure of the Italian course is actually very simple, and you work through your lessons in a logical manner. The spoken dialogues and the interactive audio sections are very clear and understandable. Rocket Italian's interactive word games are fun to complete and are also easy to use.
Help & support
Rocket Italian offers a useful Forum where you can post messages and ask questions of other users and native speakers. You can also get help from Rocket via email and there is a list of general FAQs.
Overall
Rocket Italian is a complete package for beginners and offers good value for money. More advanced learners may not appreciate the package so much as there are no intermediate levels to start working from. Rocket currently offers a six-day free trial and you can also get your money back within 60 days of purchasing the course if you are not satisfied.
Looking for learn italian software reviews?
See our side-by-side comparisons and in-depth reviews