Software
Mobile security software
This website is supported by its audience. When you purchase through links on our site, we may earn an affiliate commission.
Kaspersky Internet Security for Android Review
---
| | |
| --- | --- |
| Reviewer: | Stephen Qualtrough |
| Developer: | Kaspersky labs |
| Ranked: | 1st - Best buy |
| Overall rating: | |
| Price: | $19.99 $11.99 - $8 off |
| Purchase: | |
---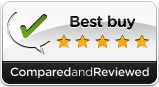 Review summary
Good points
Easy installation
Complete anti-theft package
Comprehensive anti-virus protection
Advanced privacy features
Bad points
Doesn't work on all devices
No parental monitoring feature
Our verdict
Kaspersky offers one of the most complete and advanced mobile security protection systems around. The service stops thieves from accessing data on your phone, helps protect against malicious virus attacks and even locates a lost phone. Kaspersky Mobile Security is the best in the business.
Full review
The Kaspersky Mobile Security system offers a lot in a deceptively simple package. Just what exactly makes Kaspersky number one? We've looked closely at the product and have given our verdict on this mobile security system.
Setup
Installation is easy – set up the program on your PC and transfer it to your mobile.
Anti-theft
If you've ever lost a phone, and most of us have at some point in our lives, you'll know how frustrating it can be. But the situation is made worse if you hold important data for work, or telephone numbers you wouldn't want anyone else getting their hands on. Kaspersky Mobile Security allows you to remotely block your phone by sending a pre-set SMS to your lost mobile device.
With Kaspersky your data is stored within encrypted folders which you can access remotely to wipe or block if your mobile is stolen or lost.
You can locate your lost or stolen smartphone with Kaspersky's built-in GPS ¨Find¨ function. And if your SIM is removed and replaced, your device is immediately blocked and you receive an email with the new number of the phone.
Also, if your phone is lost and not taken illegally, the law-abiding finder can see a pre-set message on the phone detailing how to return it to you. Be careful using this feature as personal details displayed on a lost phone could be a bad idea.
Malware protection
Anti-virus & spyware protection – the anti-malware systems in Kaspersky offer real-time protection against infected files. Once a suspect file comes in, you can choose to immediately delete it, let the file through or keep it in quarantine to decide later. You can run regular or one-off virus scans to keep the phone free of any unwanted files and updates. Network connections are blocked in line with your own defined level of security.
Anti-spam - With Kaspersky on your phone you are less likely to receive spam texts, a great added feature that cuts down on the unwanted information you receive.
Firewall – This security system protects your mobile through firewall settings that are robust and useful.
Parental controls
It's good that you can block and restrict your children's mobile use by blocking premium rate numbers and restricting SMSs, but the GPS locator feature (so you know where they are at all times) may be a little too oppressive for some parents. There's no monitoring feature, so you can't track what your kids are doing on their mobile phone.
Privacy
You can choose to keep contacts or phone numbers private, or hide SMS records and call logs if you wish – useful not only for parents but for others who don't want to broadcast their personal communications to whoever looks at their phone. If you mark a contact as private, they will not show up on any call logs or contact lists but you can still contact them.
If you're bothered by calls you don't want to take, set some limits. You can put contacts on a blacklist or a whitelist and filter out the calls you don't wish to receive. For example, when the phone is on whitelist mode you will only receive calls specifically on your whitelist, and when it's on blacklist mode all calls and messages get through apart from those on your blacklist.
Updates
You don't need to worry about logging onto an internet site to download the latest version of the security program, updates including the most recent anti-virus measures are sent to your phone via a wireless connection and you continue to be protected as long as your subscription is up to date.
Ease of use
The Kaspersky Mobile Security system is generally very easy to use and to navigate. You can carry out all the functions with the minimal amount of fuss, which is ideal for owners of mobile devices who are on the move a lot of the time.
If you don't want to have hands-on control of the functions and features, you can run the program on automatic and you'll be protected. However, you can also specify which functions you want to run and when, so you can be in control if you need to be.
Help & support
There's a user forum and a knowledge base into which you can type your questions. If you're looking for a personal response it's not easy to find, although a search of the support section eventually revealed the telephone numbers for consumer help. You can also get answers via live chat and email - the response is a little slow but the expertise is good.
Overall
Kaspersky offers a simple, clean interface that provides a full range of anti-virus and anti-theft features. Kaspersky Mobile Security is your one-stop product for peace of mind on the move.
---
Looking for more mobile security software reviews?
See our side-by-side comparisons and in-depth reviews