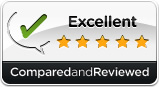 Review summary
Good points
• Slick interface
• Social networking features
• Huge catalog of music
• Now DRM free
Bad points
• Some PC users have experienced frequent crashes
• Frequent updates mean repeated downloads
Our verdict
iTunes continually evolves to be the market leader in music download websites. It's very easy to use, it contains millions of titles and iTunes now comes with a selection of social networking features and tools to make your listening more interesting and interactive.
Full review
iTunes has been the dominant force in music downloads since the beginning. iTunes offers the complete package for both music lovers and casual downloaders. The pricing structure is competitive and you're sure to find what you're looking for within the extensive collection.
Setup
You'll first need to head to the Apple website to download the latest version of iTunes. iTunes works on both Mac and Windows computers. Once you have installed iTunes, you can access the Apple iStore where you can find, purchase and download music.
Search
The search function in the iTunes store gives you automatic results as you type. The power search lets you add more detail to your search such as genre. If you're not really certain what you're looking for you can browse an artist's page to find out more information on tracks, influences and popular downloads before you decide what to buy.
Music selection
The iStore offers more than just music - podcasts, audiobooks, movies and televisions shows are all available. TV shows are available to download as rentals – you have up to 30 days to view your show and you can buy a multi-pass that lets you watch a month's worth of daily TV episodes. Many podcasts are free to download.
Before you purchase a track, you can sample preview that usually lasts for 15 seconds, so that you know you are purchasing the correct track. On a standard home broadband connection, music downloads take no more than a minute a track.
Compatibility
Music purchased on iTunes is now DRM (Digital Rights Music) free. This means that the music purchased on iTunes can be used on any MP3 player.
You can share your playlists over your home network on a maximum of five computers. With iTunes you can copy music, including tracks that you have purchased, from one machine to another. iTunes music, TV and movies can be played on your compatible TV, your iPod, iPad and your iPhone. iTunes has made it easier to synch your music with all the devices you own.
Features
Social networking - The latest release of iTunes sees the inclusion of a new social network feature called Ping. This allows you to follow friends and artists plus view and comment on each other's music purchases. You can connect via Twitter and update from your mobile device. For music artists, Ping allows them to create their own music store pages, so they can interact with their fans. Ping has been considered a bit of gamble by Apple, but over a million users have joined the network so far.
Celebrity playlists - This is a great feature that allows you see what the stars are listening to.
Track mixer - Included within iTunes is a feature called Genius. Genius mixes together track listings that are in similar genres and styles. This automatic feature creates many different mixes which you can delete or store.
Album art and features – Recreate the feel of an actual LP album in the digital realm with iTunes LP. On selected albums only, you can download an interactive package of sleeve notes, lyrics, artist info and a selection of bonus materials. For movies, there's also a range of bonus features with selected purchases.
Library – iTunes Player is the place to organize and synch all the music you download. Browse everything in a single location (including by looking through the cover art), organize your music into playlists and search for titles or artists. 
Remote control – Use your iPhone or iPod as a remote control to listen to music on your computer.
Ease of use
Downloading music from the store takes one click once your payment details are recorded. Once you've downloaded music from the iTunes store it's automatically displayed in your iTunes Player library. With everything in one place it's easy to keep track of your purchases and simple to organize your music. Playlists are easy to create. It's simple to listen to music from your iTunes Player and you can set up the shuffle feature to randomly play your collection.
We can definitely feel an improvement in performance from the previous version of iTunes. It loads up much faster and navigating around the interface feels more responsive.
Help & support
There's one central support page connected to iTunes store where you access the topic you're having problems with and the options for support are given. Email support is available, as is phone support for certain issues. Otherwise, there are online tutorials to talk you through some of the common complaints. iTunes isn't renowned for its customer support but it does make an effort with the wealth of information and step-by-step guides available on the help site.
Overall
The iTunes store has the largest selection of music in a selection of price ranges. iTunes covers all genres and offers an easy to use package at a competitive price.
Looking for music downloads reviews?
See our side-by-side comparisons and in-depth reviews