Nokia unveils two Windows smartphones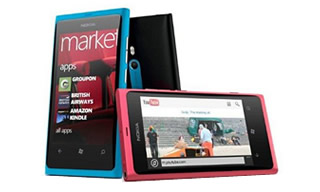 27 October 2011 | Category: Electronics
The Finnish mobile phone giant unveiled its first range of Windows handsets which they will hope recover lost ground in a competitive smartphone market.
Two new smartphones were unveil the Lumia 800 and Lumia 710. Both use Microsoft's Windows Phone operating system. The Lumia 710 will be the more affordable device and comes with a 1.4 GHz processor, 5 megapixel camera and the same social networking features available on all Windows Phone 7 devices. The Lumia 800 also has a 1.4 GHz processor, but comes with a 8 megapixel camera.
Nokia chief executive, Stephen Elop said that this was the "first real Windows phone" under the new alliance formed between Microsoft and Nokia earlier in the year.
Nokia's market position has slipped at the expense of the Apple iPhone and Google Android and they will be hoping this first flagship set of smartphones will help them re-establish themselves.