RockMelt social browser launches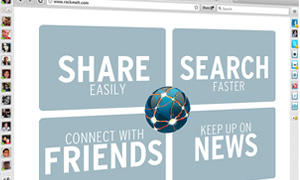 7 November 2010 | Category: Software
The new browser integrates social networking into your internet browsing experience.
It's linked to your Facebook account, so you can see which of your friends is online while you're browsing the internet.
RockMelt is based on Google's Chromium software. It's entered into a competitive market which is continually being pushed by Microsoft, Mozilla and Apple web browser developments.
The company was founded and financed by original members of the Netscape development team.
RockMelt is free and plans to make money through search revenue.