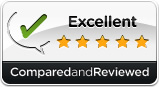 Review summary
Good points
• Large marketplace and millions of items
• Custom searches and wishlists
• Easy to use
• Secure shopping options
Bad points
• Sellers commission fees
• Limited personal help and support
Our verdict
eBay is your one-stop-shop for buying, selling and browsing for products on the Internet. eBay's wide choice of vendors and large number of visitors means you are likely to be able to find a bargain or enjoy a profitable sale.
Full review
Sign up
Although you can look at the items for sale as a guest, you need to register to be able to do more than window-shop. Once you've registered you can buy and sell. To sell your goods on eBay you need to give eBay your valid bank account info or the details of a credit or debit card. Signing up is fairly simple. Input your name, email address and other basic details and read the user agreement to enter the website.
Searching
Looking for something to buy? There are millions of items listed on eBay. You've got a couple of options to search eBay and some features to make searching easier. Enter key words relating to the object you want in the search box and look through the results. You can also add advanced options to refine and narrow down what could be a long list of results. eBay supplies suggested related searches and also sorts your results with the "best match" at the top of the list (although you can also sort your results in different ways). If you're not looking for anything specific you can browse through all the categories until you find something that suits you. A useful feature is the tool to compare items you're interested in. Add items to your "watching list" and in My eBay you can click and compare your goods side by side. You can add up to 200 items to your "watching list". And for the super-organized, create custom lists such as "Birthday Gifts", save the details of favorite sellers and keep all your old searches.
Buying
eBay offers a range of ways to buy goods but the most popular method is by auction. You can also purchase goods instantly using the Buy It Now function, which is open until the bidding begins. In addition, you can opt to purchase the Buy It Now item at a lower price (if the seller agrees). When you bid on eBay you place your first bid and also enter your maximum bid. As the auction proceeds, eBay bids by increments on your behalf up to your maximum bid. eBay accepts a number of payment methods so you've got some choice over how to pay for your purchase. eBay accepts PayPal payments, ProPay payments, Moneybookers, Paymate and credit cards. Not all options are offered by all sellers.
Selling
Selling is simple once you've opened a seller's account. There are fees for sellers on eBay, as there are on many other online auction websites. Tell eBay how you want to pay your fees, choose which payment methods will be valid for you and set up a questions and answers link. You also need to work out how you will ship your items and how much shipping will cost. Selling is more complicated than buying, but the process is explained well by eBay. You can even sell and give the money to a good cause through an eBay program. If you're ramping up your eBay business, choose from a number of paid-for sales tools from eBay to help maximize your efficiency and profits
Ease of use
eBay is characterized by choice and flexibility and the site gives you plenty of options to search, buy, and sell which are all fairly simple to understand and use. For advanced eBayers, enhanced searching tips require more effort but are still easy to use. Bidding and selling are simple once you've had a little experience on the site or read through the entries in the help section. Some features are harder to understand than others but all are easy to use once you've tried them once. There's a section to manage all the things your bidding for and features that include a filter to easily see which bids you are winning and where you need to increase your bid. The My eBay section is one you'll frequently visit – the design is straightforward and clear.
Feedback is important in the online auction world as the transactions are largely based on trust. The feedback section on each seller and buyer is easy to see and to interpret – you click on the number next to the member's user ID in their profile. Feedback is made up of a positive, a negative, or a neutral mark. You can also read the short comment along with the rating
Help & support
eBay encourages you to work out your issues direct with the other member but will open a case for you if you have a problem that cannot be resolved, such as an unpaid or undelivered item. The eBay dispute resolution center helps when you haven't received payment for goods after four days. eBay also has an Unpaid Item Assistant that automatically handles cases for you – useful if you are selling a large volume of items. eBay could take action if the buyer doesn't pay. eBay typically records the unpaid item against the buyer and a long history of these complaints could lead to suspension.
When you have sold an item you will need to pay eBay there fee. The system for calculating fees is quite complex, but simply put you will need to pay a fee for listing the item on their website and you will need to pay a percentage of the item sold.
Overall
eBay is the most established and consequently the most widely used online auction website – this is a mega-site packed with features for online shopping. With a choice in every aspect of the auction process, from payment methods to listing style, eBay is a fully customizable experience that puts you in control of buying and selling.
Looking for online auction websites reviews?
See our side-by-side comparisons and in-depth reviews