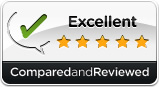 Review summary
Good points
• Quality prints
• Trusted service
• Unlimited storage
• Free online album sharing
• Affordable
Bad points
• Basic online editing tools
• Limited phone and chat support hours
Our verdict
Snapfish is run by HP, one of the most trusted and well-known technology companies in the world. We think when you order your photo prints through Snapfish you benefit from a professional, trustworthy service and receive high quality photos.
Full review
Snapfish has over 90 million users in more than 20 countries and stores over 2 billion photos on its online system. This online photo service provides image storage, editing facilities and a print ordering service that's efficient and professional.
Sign up
Sign up with your first name, last name, email address and password. If you've already signed in to view friends' photos you already have an account, so you can use that to order prints.
Process
How do you get your photos from your camera to Snapfish? Is the process easy? Many people worry about trying to upload photos and getting them printed online but the system is simple. Snapfish offers three options. You can upload your photos through logging into your account, using Snapfish's express upload software. You create an album in Snapfish or add photos to an existing album. With one click you highlight the photos you want to upload and start the upload process. One feature Snapfish offers is a carousel slideshow of your photos, to watch while they upload. You can email your photos to Snapfish and they'll upload them for you. Or you can upload your photos directly from your digital camera or your USB drive.
If you don't have a digital camera you can still get digital photos. Send a roll of film to be developed and the digital pictures will be transferred into your Snapfish account as well as the prints mailed to your home. Snapfish supplies mailers to get your film transported to them.
When you're printing your digital photos you also want to be able to view them on screen, and let other members of the family see them too. Should you send relatives a copy by email along with the print? With Snapfish, storage and print ordering is all on the same site, so you won't have to send large files by email. There's unlimited storage for your images online with Snapfish and you can post all your pictures for free. When you want family or friends to see you pictures on the screen, they receive an automated email telling them how to log into an account they create to be able to see your photos. Snapfish can profit from you sharing your images as friends and family are able to order prints from your album.
Design features
Photos come wallet-sized, 4 x 6, 5 x 7 and 8 x 10. Your choice, it's a simple matter of ticking the box you want.
For people whose pictures aren't quite as perfect as they'd like them to be, Snapfish provides simple photo editing software. These free editing tools can get rid of red eye, crop your photos to highlight the main subject, and make dark images lighter. If you want a different effect, turn your photos black and white or add a border. Border choices include simple black or white, and themes for holidays, weddings and birthdays. OK, so it's not design-feature-packed but it's a quick way to get your images up to scratch and the borders give a unique look to your pictures.
When that's not enough, print your photos onto a wide variety of gifts and cards. As befits the leading photo print service, Snapfish offers a large choice of photo-themed gifts. Calendars, mugs, collage posters, photo cards, canvas prints and photo books are all here. Snapfish also has a range of quirky gifts such as your own personalized stamps.
Quality of photo prints
Your photo prints are showcased on photo paper that lasts over 200 years, and printed with archival-quality inks. We're not aware of any complaints regarding quality and many people continue to be impressed with the clarity and brightness of the prints. Your choice of print comes in matte or glossy finish. The matte finish brings out the detail in the photo and the glossy finish is eye catching.
Shipping
There's an added shipping fee on top of what you pay for each print. The price depends on your choice of shipping service – standard delivery (the cheapest), two-day delivery, overnight delivery, delivery to Canada and delivery to international destinations. The price gets cheaper as you order more prints. Snapfish also offers a local pick-up service from stores such as Walgreens and Wal-Mart. Look on the website to see which stores offer which services close to you. Some stores allow you to pick up photo gifts you've designed online on the same day.
Ease of use
The Snapfish online photo ordering process is simple and straightforward. Once you've set up your account, which takes around two minutes, the upload is fast on most computers. Arranging your photos in your album is a matter of dragging-and-dropping if you are on Windows, and by using a numerical method with a Mac or another browser. Editing and altering pictures and sharing albums takes just a few clicks.
Help & support
Once your order has been placed, you can follow it on the order history section of the site. If you have problems with your order, contact customer support at Snapfish. You can access Snapfish support through live chat, which is available from 8am to 1am EDT each day. Help tickets are issued if they can't resolve your issue immediately. Email your question or phone Snapfish on its US support number, between 9am to 1am during the week and 9am and 8pm at weekends. If you want information or tips on how to navigate the online photo printing system, search the FAQ categories or visit help centre and search the help topics.
Overall
Snapfish provides the complete package from displaying and sharing your photos online and editing your photos, to printing quality images. Add in live chat support and hints and tips on better photography, and we think you'll like this service.
Looking for online photo printing reviews?
See our side-by-side comparisons and in-depth reviews