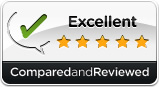 Review summary
Good points
• High quality
• Easy to use
• Huge range of product template designs
• Large range of features
Bad points
• Standard postal delivery
• Generic designs
Our verdict
Vistaprint offers the full package for the small business owner or an individual with an event to promote. When you choose Vistaprint you can take advantage of a wide choice of products, professional attention, cost-effective prices and an easy-to-use interface.
Full review
Vistaprint offers a whole range of printing and publicity services from printed marketing materials, copywriting assistance, design help, website construction and mailing services. If you can't find the printing job you're looking for on this site, it's likely it won't be found. Vistaprint is top of the tree for service, choice and features.
Sign up
Sign up to Vistaprint with your name and email address and a password. You don't need to create a password or an account to be able to order printed goods, but you won't have a record of your work and you won't be able to repeat orders in the future should you need to. Signing up also makes accessing the help of customer services easier.
Process
The age of visiting the store and picking the best card from the limited range on display is over. Online printing lets you welcome a new baby, invite people to a party, ask for feedback, tell friends about an engagement... the sky is the limit. To order a print job you first select what you want to print your words or images on. Vistaprint offers the standard range of business cards and brochures, plus printed promotional objects, posters, yard sale signs… To help you create your design, Vistaprint boasts an immense range of design templates, for example business cards that are themed to political or financial businesses, spiritual organizations and health companies. Create a simple free logo with the help of an online tool (which is yours to use on Vistaprint products for free and to download for a charge). Or, you can create a design from scratch and add your text. You can also upload a complete design that you have previously created.
Features
If you want to create a branded look to all your publicity materials you can order a set of matching products when you create one design. Pick and choose your items or choose from one of the package deals promoted on the site.
Vistaprint makes much on their website of their free business cards, free postcards, free website etc. A closer look reveals creating a free business card is free, but creating a business card that has more than a generic picture on it is not exactly free - you pay to change the sample text to your details and you need to pay for more than 250 business cards to be printed.
Vistaprint offers a choice of environmentally conscious items such as 100% recycled business cards and postcards, oversized postcards and cotton tote bags for customers to reuse.
For business with a high demand for branded and printed goods, Vistaprint allows you to set up and host your own print shop. Here representatives of employees can log in to order branded goods and print brochures and postcards. You can manage your brand and take control of what your company looks like.
For help with marketing, set up an email marketing campaign through Vistaprint. The site offers tools for personalized emails, social network marketing, and collecting payments by email through PayPal. You can design emails with images and send them out to customers or prospective customers. You can also design and host a website with Vistaprint.
Quality of prints & products
There's certainly a large range of products on offer, but is the Vistaprint service of a high quality? We think that the quality of the printing and of the additional products you can order from the site is high. From large posters to small business cards, the resolution is good and images are clear. The paper and card on which your print jobs are presented are of good quality and you can also choose to go for even higher quality at an additional fee.
Shipping
The cost of shipping and processing your order varies depending on the weight of your order and on the turnaround time you request at the checkout stage. Shipping is typically handled by the US Postal Service but heavier orders are sent via UPS. There's a rush order service for people who want their printing done fast – this service takes three business days to US addresses.
Ease of use
All the sections and the different products available are laid out on the homepage so it's easy to navigate to the area you want, and you can also see the whole selection on offer if you are browsing. The Vistaprint design and order process is also simple to navigate and the steps you need to take are well explained. Each product has a step-by-step order process which makes it simple to know just what you have to do, what you have to do next and when you've completed the process. Because of the large variety of products available, it can be difficult to decide on what you want. The "shop by industry" feature is particularly helpful to narrow down templates relating to your specific field.
Help & support
You can log in to check the status of your order online. For questions and issues, contact a Vistaprint customer service by email representative who will assist. There's also a section of tips and tricks to help you create marketing materials that stand out.
Overall
Vistaprint claims to have attracted over 10 million customers this year and many more people continue to use their services to promote their businesses or their events. Vistaprint, we think, is a reliable and professional choice for your business's printing needs.
Looking for online printing reviews?
See our side-by-side comparisons and in-depth reviews