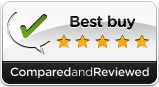 Review summary
Good points
• Powerful trading tools
• Extensive range of education resources and support
• Wide range of products
• Mobile and browser platforms
Bad points
• More expensive than some
Our verdict
If you are serious about online trading then optionsXpress gives you the tools, features and confidence you need to trade regularly and successfully. Powerful yet easy to use, the system contains all you need to trade in a variety of products. optionsXpress offers one of the most comprehensive sets of educational materials and training programs out of all the online trading platforms so beginners and trading stars alike can raise their game.
Full review
optionsXpress has been around since 2001 and since then has been acquired by The Charles Schwab Corporation, giving it a prestige that other stock and options trading sites don't have. With consistently good reviews from broker houses and very little negativity from traders, optionsXpress has really been making a name for itself. We looked at the optionsXpress site to see where it scores points and which features and tools are useful for online investors.
Trading tools
With optionsXpress you have the complete platform for trading a variety of products – stocks, options, and futures. This is called the All-in-One Trade Ticket and it works so you build strategies and trade from the same screen. Within this portal lies a range of trading tools. optionsXpress has thought long and hard about which tools to include in the trading package and most of those that made the grade are useful. These include the Strategy Scan, through which you can break down and identify strategies based on your own risk tolerance, and the Trade and Probability Calculator that identifies opportunities and risks.
The Dragon is a market scanner that provides a list of stocks and options, automatically scanned, that meet your own chosen criteria. You can also scan trading patterns to pick up ideas from anonymous investors like you, use the Alert Manager to set up and manage alerts based on market conditions and price etc, and there's even a Trader's Journal for pinning news and keeping a log of your next great trading ideas. There are calendars, stats packages, watch lists (set up your own personal list and get statistical breakdowns of your performance,) auto scans to find options and trade ideas, chart generators, an order-save system, position analyzers… the sky's the limit with this service and you won't be short of tools to play with.
Commissions & fees
You don't need any down-payment to open an account with optionsXpress. Currently equities have an $8.95 flat rate, options are at $1.50 per contract, mutual funds are $9.95 plus a load fee, bonds are $5, futures start at $2.99 per contract and margin rates are between 6.25% and 4%. You'll find this is a more expensive structure than some sites.
Features
Online traders will find all they need in the optionsXpress package, designed to put everything you need to trade successfully in the same place. Real time quotes are included as are customizable streaming charts. As well as options, you can trade futures including metals, interest rates, stock indices etc, on a 24-hour electronic market, and stocks. Within the stocks trading platform is the detail on the stock, including research and current and historical quotes. Also trade mutual funds, ETFs and stocks on international exchanges.
The site is formatted to run off a number of different platforms including browser, mobile and desktop, which makes it easier to stay on top of your trades. The mobile application is suitable for BlackBerry, iPhone and Android.
For practicing strategies and trying out ideas you have the Virtual Trade account with a virtual $25,000 inside it.
optionsXpress technology is another feature that stands in its favor, utilizing factors that help route your order in the most efficient way possible, potentially saving you money.
Ease of Use
The All-in-One Trade Ticket and the Research Center are designed to be easy to read and manipulate, and we found this to be true. In the Research Center you can read reports and news without leaving the page and the links to tools and features are clear and easy to navigate. The whole concept of the optionsXpress site has been designed around the needs of online traders and as such the package fits together well. You have the freedom to configure the dashboard so the tools and features you need are easily available.
Support
You can't expect to understand the market and have your finger on the pulse of all market news without a little help. optionsXpress provides a comprehensive Research Center for traders with a mountain of market commentary, research reports, analysis, news and current quotes.
optionsXpress runs weekly webinars and several live events throughout the year to showcase strategies or take beginners through the basics. For training at your own pace choose the on-demand training from optionsXpress with its skills tests, videos and charts to help you make the most of market conditions. Two newsletters, one daily and one twice-daily, keep traders up to date on current trends.
Customer service from optionsXpress is also top-notch. You can talk to licensed specialists via online chat or on the phone and the lines are open even when the markets are closed. The email replies are swift and targeted to arrive before the end of the next working day.
Overall
With some of the most advanced, useful and powerful trading tools available, optionsXpress is a great choice for traders who love to trade. Beginners are well catered for with the extensive range of educational resources and investor support is top-notch. A good all-round trading service.
Add your review
You've heard our opinion. Now we're keen to hear your personal experience of using this software.
Looking for stock trading reviews?
See our side-by-side comparisons and in-depth reviews