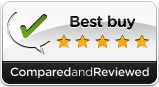 Review summary
Good points
• Intuitive & user-friendly interface
• Cleans systems safely and securely
• Supports several third-party applications
• Supports all major browsers
• iolo offers excellent customer support
Bad points
Our verdict
iolo Privacy Guardian is one of the easiest privacy suites to use. Its attractive interface, its efficiency and its support for third-party applications make it one of the best on the market.
Full review
Known for software that is simple and incredibly effective, iolo is easily one of the most popular system-security companies today. Recently, this company, the same company that developed System Mechanic, has released Privacy Guardian. As big fans of other iolo software, we had high expectations for Privacy Guardian.
Setup
To say the least, Privacy Guardian has pretty minimal system requirements. On a system with as little as 16MB of memory and 7MB of free hard-drive space, iolo's latest privacy suite can be installed.
On our system, we had absolutely no issues installing the latest version of Privacy Guardian. Before the installation started, we clicked through a standard EULA and chose an install location. In a little under 2 minutes, the software was completely installed and ready to use.
Internet cleaning
For Internet cleaning, Privacy Guardian is one of the best programs around. It clears everything from caches to cookies in a quick, easy manner. It also supports all of the major browsers.
PC cleaning
Overall, Privacy Guardian's PC cleaning functions work well, and they are all quite easy to use. The file shredder, for instance, securely deletes files in just a few clicks, and it follows standards set in place by the Department of Defense for the erasure of digital information. Privacy Guardian can even be used to write over areas of the hard drive occupied by deleted files to ensure that no one, not even a computer expert, will be able to retrieve private information.
Privacy Guardian also makes it easy to take advantage of several Windows-cleaning functions. Many of these functions are already part of the Windows OS, but Privacy Guardian simplifies their usage and keeps them together in one place. With little effort, users can manage programs and free hard-drive space. Privacy Guardian can even be used to create Windows restore points.
Safety
Privacy Guardian is without a doubt, one of the easiest privacy suites to use. All of its functions are incredibly straightforward. There is really no way for users to damage their system with Privacy Guardian unless they try to do so deliberately. Even complete novices should be able to use this program without any major issues.
Features
Windows shell integration – Privacy Guardian features a right-click menu function. Using this function, unwanted files can be shred incredibly quickly.
Third-party application support – With support for a wide range of third-party applications, Privacy Guardian can effectively remove most traces of computer usage. From downloads to chat logs, this privacy suite can eliminate nearly all sensitive information from hard drives.
Ease of use
Privacy Guardian has a great interface; it is clean, simple and incredibly easy to navigate through. When Privacy Guardian is opened, the main menu displays various types of commonly used privacy tools, including a disk cleaner, a browser cleaner, and a file shredder. Other menus, such as the options menu, are listed on the side panel, and users can open them with a single click.
While the specific programs and locations cleaned by Privacy Guardian can be customized to a certain extent, it is not possible to stray far from the default settings, which is something that experienced PC users may find annoying. For novice users, on the other hand, this simplistic approach to privacy-protection is perfect.
Help & support
iolo provides customers with a wide range of excellent support options, including support via chat, e-mail, and telephone. Also, Privacy Guardian makes it easy for users to get the help that they need with a built-in help center; it includes a quick-start guide, a registry guide, and a link to the support section of the iolo website.
The support section of the iolo website is really quite impressive. Not only is there a detailed FAQ section, there is an active forum that contains a wealth of information related to computer security.
Overall
iolo Privacy Guardian is an excellent privacy suite, especially for PC novices. With a clean, easy-to-use menu system and several fully functional privacy tools, Privacy Guardian will meet the needs and expectations of most users.
Looking for privacy software reviews?
See our side-by-side comparisons and in-depth reviews