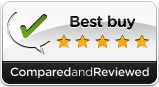 Review summary
Good points
• Performs extremely thorough registry scans
• Cleans, optimizes, & repairs the Windows registry effectively
• Runs quickly and uses minimal system resources
• Includes free customer support and comes with a money-back guarantee
Bad points
• Does not include as many additional features as some competing products
Our verdict
Those looking for a simple, effective registry tool will find a lot to like about Registry Reviver. It's clean interface and no-nonsense approach to system optimization will certainly appeal to a wide range of PC users, from novices to experienced professionals. It does not include a lot of the fluff found in other registry-cleaning software. Instead, ReviverSoft, the company responsible for Registry Reviver, focused their attention on creating a quality registry utility that does what it should and does it well.
Full review
Most PC users know very little about the Windows registry. Even less know how to clean, optimize, and repair it, which is fine since many software tools are able to effectively automate these processes. One of these tools, Registry Reviver, has received a lot of positive feedback, prompting us to try it for ourselves.
Setup
When designing Registry Reviver, ReviverSoft ensured that it could easily run on most systems. Not only are Registry Reviver's hardware requirements extremely minimal, it fully supports Windows 10. It installs and runs incredibly fast, even on slow systems. On our system, Registry Reviver installed in less than a minute, and it was ready to scan our registry immediately.
Scanning
Registry Reviver is a lightweight application. Because of this, users can easily use other applications while scans are in progress. The scanning process is relatively fast, and it checks for several different types of registry errors, including issues with application paths, invalid shortcuts, and more. Users can easily choose which of these errors Registry Reviver will scan for by selecting and deselecting items from the list of registry categories.
Effectiveness
With extremely customizable scan settings, Registry Reviver is as effective and thorough as users want it to be. When users select all of the registry categories on its scan list, Registry Reviver cleans, repairs, and optimizes the registry extremely well. It is so effective, in fact, that our system ran noticeably smoother following a complete scan and clean. The deep-scanning feature even detected and removed invalid program paths from applications that we had long forgotten.
Safety
Registry Reviver automatically creates a restore point whenever changes are made to the registry. This protects users' systems from harm by creating easy-to-restore backups of the registry. At any point, even after serious repairs are performed on the registry, it is possible quickly restore it to one of its previous points in the event that issues arise.
Features
Registry Reviver was designed to make registry repair easy for the average Windows user, which is does quite well. While it does not include a whole lot of extra features, Registry Reviver does offer a few valuable bonuses that most users will appreciate.
One click fix – Registry Reviver users can quickly and easily perform registry maintenance. With a single mouse click, Registry Reviver cleans, repairs, and optimizes the Windows registry.
Startup manager – This handy utility provides users with the ability to view the programs that start with the Windows operating system. With this utility, users are also able to remove programs from the startup list to reduce boot time.
Ease of use
Registry Reviver is certainly one of the easiest registry utilities to use. It features a clean, simple interface, and it guides users through the registry-repair process in a few easy steps. First, users select the items that it will scan through and watch as the scan completes. Second, users are provided with a list of all the errors found; it includes information regarding the types of errors present and their severity. Once users are ready to continue, Registry Reviver will fix all of the selected errors and generate a report that details the changes made.
Help & support
ReviverSoft provides customers with exceptional support. Their websites contains an FAQ section that is packed with useful information. If their questions are not answered there, customers can send an e-mail directly to ReviverSoft's support staff. To make things easier for their customers, ReviverSoft even included a support component in the Registry Reviver program.
Overall
When it comes to registry-repair tools, Registry Reviver is easily one of the best. It cleans, repairs, and optimizes the Windows registry faster and more thoroughly than competing programs. The Registry Reviver interface is easy to use, and even those with minimal computer experience will have absolutely no problems figuring out how to use this program effectively. For those who do need help, however, ReviverSoft provides free customer support. Overall, Registry Reviver provides users with lots of functionality for little cost. We highly recommend it.
Looking for registry cleaner software reviews?
See our side-by-side comparisons and in-depth reviews