Online
Search engines
This website is supported by its audience. When you purchase through links on our site, we may earn an affiliate commission.

Google Review
---
| | |
| --- | --- |
| Reviewer: | Stephen Qualtrough |
| Developer: | Google |
| Overall rating: | |
| Price: | Visit website |
| Purchase: | |
---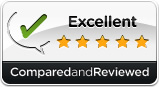 Review summary
Good points
Clean interface
Highly relevant search results
Powerful maps (including street views)
Paid links clearly labeled and separated from natural listings
Bad points
Doesn't always return answers to specific questions
No personal support
Our verdict
Google continue to provide us with great search results. Practically everything you ever wanted to know about a subject, you can find on Google. To "Google" has become the verb to use when talking about searching online.
Full review
Google is the largest search engine in the world. It's the default search engine for a huge number of people around the world and many rely on its accuracy, content and professionalism. Google is the byword for search, so we've looked closely at the search engine to see why it comes out on top.
Search results
Google ranks the results you see using a special algorithm. This algorithm is based on a huge number of factors. Google wants you to see the best results possible.
The search alternatives Google provides are useful if your own search isn't getting you the results you need.
The "I'm Feeling Lucky" search feature takes you straight to the site that best fits the search term. As the feature name suggests, sometimes it's perfect and sometimes a little lacking in imagination (it tends to default to Wikipedia if no obvious website is available).
Google has taken real-time search to the next level by integrating twitter messages into its search engine results. You can even search through the entire history of tweets. Blogs are searchable too.
Interestingly Google has never produced case sensitive searching, so you'll find that whether you type in lower or upper case you will get the same results.
Features
On faster computers, the predictive search results come up before you've finished typing your request. Many people like this search feature but if you find it too distracting you can turn it off.
Background image – Google allows you to change the background to your search page if you feel like seeing something other than blank white. The choice at the time of writing was between various modern art and sculpture images.
Image search – The image search on Google is a good one, it generates many alternatives and is the image search most likely, in our experience, to help you find what you're looking for. The search pulls up small images that you can enlarge and also see in place on their original source. You can search by size or type of image – for example you can specify "face" or "photo".
Video search – The video search works much like the image search. Specifications include the duration of the video and when it was uploaded, as well as the source of the video. You can also create email alerts to be informed of new content based on your search criteria.
Local - If you search for a service such as "window cleaners", you will now see local results are given priority and are listed at the top, quite often alongside a map.
Maps - Google has got into a fair bit of trouble recently with its Google street views. Some people feel its a invasion of privacy. Google responded to privacy concerns by implementing technology designed to blur faces and license plate numbers from the captured images.
News – We think this news search feature is a useful one because the most up to date results automatically come through concerning your search.
Shopping – The shopping search allows you to compare prices at a number of different online stores, with direct links to the store to purchase the item. Again, you can refine your search through using a variety of criteria such as maximum price and the availability of Google Checkout.
Google doesn't stop here – you can search for books, places, forum discussions, patents and even recipes.
Safety
The SafeSearch feature is one of the best in the search engine business. Set your search filters to ensure that adult material in the form of images don't turn up in your search results. If you have a Google account you can lock your search filters so other members of your family can't change them.
With Google you can report offensive images using the tag buttons on the images themselves.
Advertising
The results you see to the left (and sometimes very top) of the page are paid listings. Advertisers bid for these positions. Google makes it easy to distinguish paid advertising from its natural results.
Ease of use
Google leads the way in clear interfaces, easy to use search features, intuitive layout and user friendly language. Google is very easy to use, as demonstrated by children and adults of all ages around the world.
The only less-than-simple thing we discovered was finding out how to change the preferences and specify search results from specific countries or in specific languages.
Help & support
Google supplies an extensive range of help articles to assist you in refining your search and getting the best results possible. There are a number of "getting started" guides and FAQs for solving problems and you can post queries in the forum.
If you contact Google by email, don't expect a personal response. Google currently invites emails to report things like copyright infringement and adult images, but the replies will not generally be from a real person.
Overall
Google's huge popularity has come from its constant development. As Google continues to grow and delve into other product offerings such as browsers and email services it still remains fully dedicated to developing its search engine tools. Google understands that different kinds of searches often require different kinds of results and interfaces, which keeps it firmly ahead of the competition.
Although Google has heavily invested in areas such as mobile technology and social networking, search remains its most important asset.
---
Looking for more search engines reviews?
See our side-by-side comparisons and in-depth reviews
1. Google
2. Bing
3. Yahoo
4. Ask