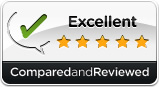 Review summary
Good points
• Retina display
• Beautiful thin, light design
• Tons of apps
Bad points
Our verdict
Probably the most controversial and top-selling phone on the market today, the iPhone 5 is a really beautiful phone that, design wise, is a really solid upgrade. The problem with Apple is they seem to not want to change the software and it is becoming a little dated; still, an iPhone is always the choice of phone you want.
Full review
This is the next generation of the iPhone, it has been "redesigned" completely, according to Phil Schiller and has a few new features and apps. We've took an in-depth look at Apple's new flagship smartphone, to see if they are still on top in this market.
Design
Apple seem to have ground-breaking industrial design that, in our view, no other company can match right now. Aluminium backing and really impressive design and manufacturing techniques just make the iPhone feel so prestigious and premium in the hand.
For the first time, Apple have made the screen a little bigger, at 4.0-inches. Apple say that this is the perfect distance that your thumb can reach, although we have used devices like the Samsung Galaxy S3 and Nokia Lumia 900 where the larger screen feels okay.
The iPhone 5 is supremely light and thin, so much that if you are an iPhone 4S user, you may drop the phone when you hold it for the first time. The weight of the phone feels unreal, like inside it is just hollow.
Other differences on the iPhone 5 are the new Lighting Dock, which has replaced the old pin dock. The headphone jack has been move to the bottom and there are small speakers at the bottom that boost quality.
Processor
Apple released the iPhone 5 with the new A6 chip, which is their new superfast processor capable of twice the speeds the iPhone 4S had.
Not much is known about the A6 chip, other than it is dual-core inside the iPhone 5, it was built from ARMv7 architecture and runs at a speed of about 1.1Ghz per-core.
This is backed up by 1GB of RAM to keep processing running smoothly. Incredibly, for a dual-core processor and 1GB of RAM, which is seen as a pretty small amount nowadays, it does the job better than most smartphones.
Operating System
In the past few years, we've touted Apple's OS as the best, because Android functionality was still a bit poor and Windows phone wasn't even a challenger.
This has changed now, we find that Apple are too scared to make moves that might ruin the simplistic design of the operating system, and are now looking rather aged against the competition.
Windows 8 phone is an incredible example of where we are going with mobile operating design; Android is now very customisable and very stable, beating the iPhone 5 speeds in some cases.
So what we really want to see is Apple invest some time in live tiles, customisation or some new feature that will lift the old operating system, which has been the same for a while now, out of the grave.
Apps
We believe developers are still adamant that iOS is the place to make profit, unlike Android that doesn't give much in the line of payment.
For this reason alone, many developers are still adding their apps to iOS first and we find a lot of developers will only use iOS.
Content on the iPhone 5 is good as well, there is a Newsstand for magazines; iBooks for e-books; music, movies and TV programs on iTunes and iTunes for student books and lectures.
We have seen some problems with Apple's maps that came out with iOS6 and this has become the laughing stock, with both Microsoft and Google taking pot-shots whenever they can.
Passbook is a new addition iOS6 which allows users to store cinema tickets, plane tickets, reservations and make transactions via their phone.
Camera
The camera on the iPhone 5 has been mildly improved from the previous version, with a new sapphire lens that enhances photo capture speeds.
Problems have been spotted with the sapphire lens, including the fact sun rays may look purple when directly hit with the camera.
Overall, the experience on the camera app Apple provides is good, you can take some great images and it has low-light features that remove the problems of taking photos in the dark.
Voice Recognition
Siri is still on the iPhone 5 and has been updated to recognise your voice better. It also has a lot better functionality, so it can help you with more problems.
Siri was in beta mode on the iPhone 4S, so we didn't expect it to be great. Apple have worked to correct these mistakes and poor aspects of Siri, and now you have a great butler service.
We are unsure, however, if it is as good as Google Now, the new butler service that you get with Android phones.
Battery
Battery life hasn't changed an awful lot since the iPhone 4S, the A6 chip consumes less battery life, but we are still at a solid 8 hours on the iPhone 5.
We have noticed little spikes in battery life that seriously kill the amount of time you have to use your iPhone. Sometimes, we'll play a game for half an hour and be left with 20% battery.
Storage
iPhone 5 comes in three storage options, as the previous version. We were expecting a new 128GB storage option, but that hasn't come.
You can get either 16, 32, or 64GB's of storage, with the latter option setting you back $399 on a two-year contract or £699 off contract in the UK only.
Overall
We find that the iPhone 5 has been reworked on the outside, to make the new phone look and feel incredible. The problem is on the inside, Google and Windows are really starting to make changes that make Apple's OS dated. Android especially is improving on areas where Apple seem stale.
Looking for smartphones reviews?
See our side-by-side comparisons and in-depth reviews