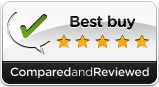 Review summary
Good points
• Beautiful retina screen
• Speedy processor
• Oodles of apps
• Fast 4G connection
• Robust battery life
Bad points
• Chunky design
• Overheats if used too often
• No expandable memory
Our verdict
Even though Apple seems to be releasing new editions of the iPad, they are still the best tablet on the market. With an unbelievably clear and crisp screen, a graphic processor that matches Asus's incredible NVIDIA gaming-graphic processor and the largest app store, it still leads the field.
Full review
It seems whenever an Apple product comes out everyone is disgusted it isn't the complete opposite design of the previous, yet they still seem to purchase it. This is exactly the same with the iPad 3, looks like the iPad 2, but it has heaps of new hardware instalments.
Display
The screen is one of the main features which Apple is trying to show off and we can see why, with a sublime retina display, at 241PPI (that's pixels-per-inch); it is the best on the market. The results are a fine, crisp and sharp screen, capable of producing beautiful images and impressive quality on games, which is what Apple is always showing us on adverts.
Even though the retina title may be a bit false, given that 'retina' is the pixel-per-inch that Apple's iPhone has (which is 330PPI), Apple claim that because you view the iPad from further away, it actually calculates out at the same quality image.
We aren't complaining, the screen is a pioneer in its field for the quality and brilliant imagery. Even app we used on the iPad 3 looked incredible and photos, even ones that weren't that good, had a great colour differentiation.
Design
We found it hard to write about this part, because the fact is, the iPad 3 design is almost traced with the iPad 2. Apart from the iPad 3 pushing in another 60g's of weight and becoming a touch thicker, there's nothing you'll really notice.
The design is very premium and feels like it could last a few years, with scratch-proof glass and a hard aluminium chassis, it certainly doesn't feel or sound like something that will fail at its first bash.
Operating system
The i.OS 5.1 is the latest version of Apple's operating system, and one that is continuing to offer easier ways to browse through your iPad. Many people find that as long as you can use your device without becoming lost or it breaking down, it'll be fine, but for those of us that want more, here is a few new features that make the iPad OS such an interactive and easy operating system.
Even though most of these are covered in the iPhone 4S review, there are some slight differences on the iPad, one of those is the iPad allows six bookshelf (regularly-used) apps, instead of iPhone's four. The other is multi-use apps, letting you open many different apps.
The operating system also has the notification bar, which can be bought up by dragging your finger down. There are also enough windows to store unlimited about of apps and you can store these apps in folders, if you are a serious filer.
Apps
The iPad App Store is the largest tablet store in the world, providing millions of new and innovative apps. Developers seem to be keen to bring their apps out on the iPad tablet before the Android service and we can see why, with so many potential buyers and such a warm market, it is perfect for new and old innovative designers.
Without a doubt, you'll find something for your needs, whether it is music-creation, productivity, finance, alarms, photo-editing, cloud storage, books or anything else that you may want.
Features
The iPad 3 delivers one of the best processors on the market today, the quad-core graphics processor that will make your iPad go faster than ever. This processor would be held in the highest prestige, if it weren't for the amazing NVIDIA Tetra 3 graphics processor, fitted into the ASUS eee Transformer Prime. While both are amazing graphic processors, the NVIDIA one just beats the iPad.
The iPad 3 has no expandable memory, meaning once you've filled the tablet with all the apps, that's it. No more can be placed – of course, taking some music and apps which you don't use often is a good move and Apple probably don't see the point in removable memory, with all this cloud storage nowadays.
Connectivity
The iPad has come equipped with the new and still fragile 4G LTE network support, allowing you x10 as fast data uploading speeds. This is only available in parts of the US, but when you use it, you most definitely feel the difference, no more loading speeds or waiting on your videos to buffer, the connectivity is grand.
Even when you are only on the somewhat measly 3G connection, the iPad finds the best waves of connection so your tablet is always speeding its way through your internet browsing and other little connectivity needs.
Camera
The camera is still a small issue on all tablets, with none of them being able to make the size of the tablet feel right for a camera. Front view cameras for video-conversations or vain-pictures works quite well, and FaceTime is a hit on the iPad, but when you are trying to angle your big 11-inch tablet for the perfect shot, you may be in a bit of bother.
5-megapixels is a good size, even though we did expect better for something in the price of £400, while some phones can deliver 12-megapixels, it feels a bit low to only have 5-megapixels.
Anyway, we strived on and the photos really do look nice (once you finally get a good shot), the images are beautiful and the editing options are brilliant, although we would opt for an app like Snapseed if you are really into editing.
Battery
Like most Apple products, this battery is a robust and very powerful fella, lasting about 10 hours if you are using a lot of apps and music. This isn't the greatest tablet battery life, but it is higher than average, something Apple wouldn't like to hear.
Overall
Android are probably sick of these releases now, right when they have the number one product, Apple comes in and steals the show. While the iPad 3 may be on top now, we wouldn't put an Samsung, ASUS or any other tablet manufacturer out of the question in the next race.
Add your review
You've heard our opinion. Now we're keen to hear your personal experience of using this software.
Looking for tablets reviews?
See our side-by-side comparisons and in-depth reviews