Review summary
Good points
• Great Spam Filter that works with virtually any email
• Firewall does well in Intrusion Tests
• Useful Identity theft protection tools
Bad points
• Weak Parental Controls; kids can easily look up ways to disable the parental control system, defeating the purpose altogether.
• Firewall isn't comprehensive; some ports are left open to security threats
• Malware removal features are lacking; the definitions database can lag behind and let malware slip through
• Installs easily on a clean install of Windows or a new computer, has problems with an infected machine
Our verdict
Norman Security Suite Pro lands in the middle of the road on features at a price that's higher than competing products. It's still a good general security suite for people who don't have a need or parental controls and don't install a lot of malware infested programs. For users looking for more comprehensive privacy features and parental controls, this suite might not stack up.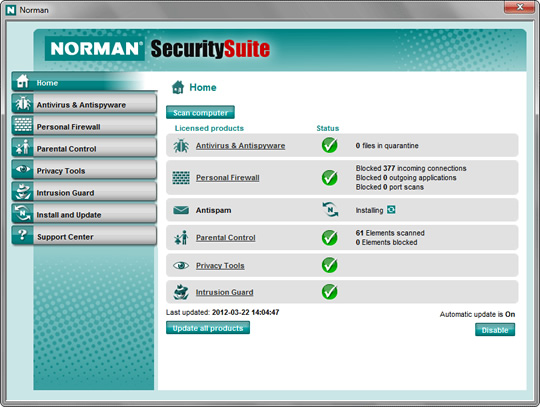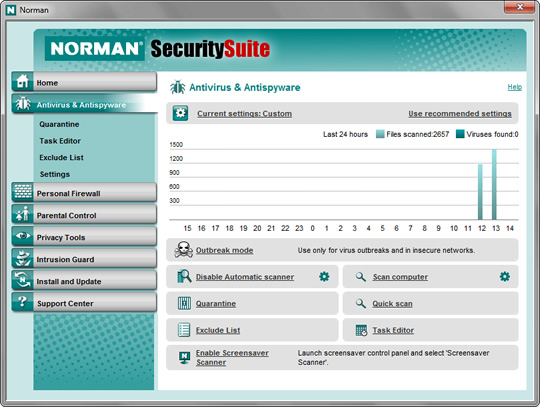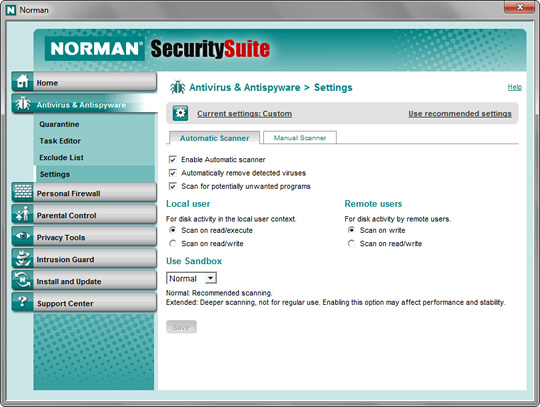 Full review
Norman has a familiar name in the security software field, but the similarities will end there. Norman Security Suite Pro's best feature is the email spam filter, but it can fall short in other areas. Here we'll test out Norman's latest offering and see what it can do.
Setup
Getting Security Suite Pro installed can take some time. If your computer is new or has a fresh install of Windows, you'll have a much easier time and a higher rate of prevention (while it may detect malware and scareware, it's much better and preventing it from being installed than removing it). You'll have to go through a long process of manually configuring the firewall, reboot after it's installed so it's integrated with your machine, and then reboot every time after than when you install security updates. You won't be able to just click a button and let it install itself, but once it's set up you're good to go.
Security
Anti-virus – The suite offers full coverage for preventing all kinds of viruses from penetrating your PC like worms, viruses, trojans, rootkits, and scareware. Detection of already infected machines can be spotty, so if the program is being installed on a machine that is already infected there may be problems with removal.
Firewall – The firewall protection locks down a lot of ports hackers and viruses use to penetrate systems, but there are a few common ports that aren't ghosted, or hidden, from the outside world that can still be vulnerable.
Parental controls - The parental controls are extremely customizable, and parents can control things like file deletion and what websites their children can view while on the computer. If the program is installed on a family computer you will have to have separate profiles for each user to use the parental control functions, and you can choose to block sites like gambling, drugs, sex and weapons. Parents may also set allowed times for internet usage, making sure their children aren't on the computer constantly during the school week.
Backup
No backup protection is offered with this program, which is a serious sticking point.
Identity theft
The included identity theft protection tools are fairly comprehensive:
Blocks Phishing Emails in their tracks – Users won't have to click on phishing links that look like legitimate emails; Norman blocks them before sensitive information is accidentally released into the wrong hands.
Superior Spam Control – The best feature of this security suite is the built in spam blocker. Users can rest easy and get back lost time by avoiding junk emails and only get the messages that matter.
PC Tuneup
Secure File Deletion – The built-in secure file deletion tool allows users to delete a file and write over it several times, preventing file recovery.
Scanning Screensaver – Check your system for malware automatically when the screensaver comes on.
Clean Temp Files and used program/document/internet history – Save disk space and keep your computer clean and usage private with the included PC cleanup tools.
Features
Great Malware Protection – Norman prevents over 90% of malware from installing onto your machine, protecting you from the most common forms of malware.
Intrusion Guard – Choose what actions programs can take on your machine.
Ease of use
The program itself is quite easy to use, even if you're not computer savvy. If you decide to change to another security suite later on though, you can run into problems. The built-in uninstaller isn't the easiest to use, and even afterwards you may still have remnants of the product left on your system that can interfere with a new program.
Help & support
Norman offers tech support by phone and email, during normal business hours (8:30am to 5:30pm Monday-Friday, no weekend support options offered); phone support costs $20 per incident. They also offer an online knowledgebase that you can check to find solutions on your own.
Overall
The features offered in this package fall short of other security solutions in our top 10, but for users who need a general security solution without parental controls, smartphone scanning or a comprehensive firewall, it's a good choice.
Looking for total security software reviews?
See our side-by-side comparisons and in-depth reviews