Online
VOIP services
This website is supported by its audience. When you purchase through links on our site, we may earn an affiliate commission.
Vonage Review
---
| | |
| --- | --- |
| Reviewer: | Stephen Qualtrough |
| Developer: | Vonage Marketing LLC |
| Ranked: | 1st - Best buy |
| Overall rating: | |
| Price: | $9.99 |
| Purchase: | |
---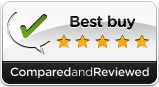 Review summary
Good points
Easy to use
Reliable
Extensive range of features
Lots of free minutes
Bad points
Some negative customer service reports across the web
Number of calling plan options can be confusing
Our verdict
We found Vonage offers a good solid service and ticks all the boxes.
Full review
Vonage is filled with useful features and provides a range of interesting add-ons too. We looked into Vonage to see which features are great, and which ones you can live without.
Setup
The Vonage system is easy to set up – plug the phone adapter into your Internet connection and then plug your phone into the adapter. The Vonage line can be used for up to five of your phones.
If you want to transfer your existing number you can - the process takes around seven to 10 working days.
Calling plans
Vonage offers a large number of domestic calling plans based on where you want to call and how many free minutes you want to have available. These packages vary from a plan offering unlimited local and long-distance calls in the US, Canada and Puerto Rico, to cheaper plans giving free minutes for local and long distance calls and low rates after. Vonage also has small business rates, where you can pick up unlimited calls and a separate fax line.
If you're looking to make international calls, Vonage World calling plan gives you unlimited calls to cell phones in countries such as China, Canada, Bahamas, Hong Kong and Thailand. You can also pick up unlimited calls to landlines with a different plan. You need to look carefully at which plan best suits you, but the offers are there if you pick wisely.
Calling features
There are more than 25 features built into your Vonage plan for no extra charge, and some that come as extra add-ons. We found the range of included services to add up to good value for the customer – you enjoy the usual call waiting, voicemail and automatic redialing features as well as a range of other options.
The visual voicemail system is a good one, particularly if you struggle to remember messages or need a record of a message to pass onto someone else. The system transcribes your voice messages into email and text messages.
You can transfer calls to any other phone number while you are on the call – a useful feature if you share the landline with other family members or roommates. And with the simultaneous ring feature your incoming call automatically goes to up to five phone numbers at the same time. Alternatively, the call hunt feature calls up to five Vonage phones in turn until it gets an answer.
If privacy is a concern for you then the anonymous call blocking feature will stop any anonymous calls from making their way through.
Should your internet connection drop or you lose power, you can have calls automatically re-routed to another telephone number. And if you move your Vonage adapter, or move house, any calls are diverted to your other number until you are back up and running. It's worth remembering that when you have a VOIP phone service you keep the same number for the duration of your contract, no matter if you move house.
Paid-for features include a virtual number (so relatives or friends can call from long distance for the price of a local call), the Vonage Softphone that works with your PC or Mac so you can use your Vonage phone service through your computer, and the option to purchase a toll-free number.
We found the line quality to be good, but there have been several reports of dropped calls.
Ease of use
In general, the Vonage system is easy to use and functions well as your day-to-day phone service. We found the service to be straightforward to set up and operate, whether you use the extra features or not.
The online account management system is reasonably easy to navigate and you can carry out a number of useful activities such as turning on and off features and looking at your current bill.
Help & support
Reviews across the web tend to be very mixed when it comes to customer support. Some people have found it difficult to get an acceptable resolution from Vonage when they experience problems.
Vonage offers a range of support documents on the website, such as video tutorials, tips, guides and FAQs. If you are unable to find the answers yourself, you can email Vonage or call to speak to an agent. Support is offered 24-hours a day, seven days a week.
Overall
Vonage is probably the most well-known VOIP company around at the moment. Vonage is a good VOIP service that offers a variety of features included in the package price and is easy to use.
All plans comes with a 30-day money back guarantee.
---
Looking for more voip services reviews?
See our side-by-side comparisons and in-depth reviews