Online
Web conferencing services
This website is supported by its audience. When you purchase through links on our site, we may earn an affiliate commission.
InterCall Web Meeting Review
---
| | |
| --- | --- |
| Reviewer: | Stephen Qualtrough |
| Developer: | InterCall |
| Ranked: | 1st - Best buy |
| Overall rating: | |
| Price: | $42.00 |
| Purchase: | |
---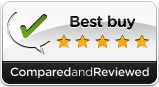 Review summary
Good points
Easy to use
Video conferencing capability
No software or hardware purchases necessary
Large global capacity
Bad points
Variety of options can be confusing
No HD capability
Our verdict
We like that the InterCall service is a fully hosted solution, and that you don't need to install any software or maintain hardware. Another good point in its favor is the integrated audio, web and video conferencing facilities you can call on for your business communication. InterCall's system is always available (their goal is 99.9% uptime) so you can hold meetings at a moment's notice – it's the full package for the busy modern business.
Full review
Use InterCall's web conferencing solutions to collaborate with your team virtually, share documents and train people all over the world. We think you'll find what you're looking for in InterCall's suite of professional, easy to use services.
Sign up
InterCall has quite a variety of web conferencing products on offer so you may find it difficult to choose.
There's a product selector tool on the website to help you make up your mind which web conferencing service is best for you. For small-group conferences and sharing information over PCs, the InterCall Unified Meeting service is best according to the service providers. For large groups attending a webinar event that can be scaled up to 1000s of participants, Cisco Webex Event Center is your choice. InterCall says that the InterCall Unified Meeting system will meet your needs in 95% of cases and we can't see many occasions when it wouldn't be suitable.
Alternatively, fill out the sign-up form and a consultant from InterCall will contact you to help you choose the best option.
As a presenter/ organizer, once you have signed up with the InterCall Unified Meeting system you need to install the application. By clicking on the blue icon you can control meetings via the Conference Manager tool. We like that participants don't have to download anything.
Conferencing features
With InterCall's Unified Meeting system you can have up to 125 people participating in your web meeting or conference. Participants join online and can use all the major browsers. After joining the web section, participants are prompted to enter their phone number and they will be called when the meeting starts. They can also dial into the meeting.
Interaction is one of the most important aspects of any meeting so you'll want your online web conferencing system to allow you to share data, presentations and slides. InterCall gives participants the option to share PowerPoint slides and applications, files or your whole desktop, plus chat messages and emoticons. These can be private or sent to the whole group. You can also annotate any application when it is shared. The presenter needs to set permissions for participants to be able to share data in this way.
InterCall's user interface is clean and you can personalize it – the meeting interface comes with a choice of panels which you can resize, remove or collapse. The program remembers your preference so it's there at the next meeting, which we think is a useful attention to detail.
Presenter features
The fact that you don't have to manually call all the participants of the meeting is a great leap forward from traditional conference calls, when the organizer got stuck with a list of numbers to wade through and many people would join the call late. During the call the presenter can mute and unmute participants and see who's speaking through an onscreen icon. If you've forgotten to invite someone and want to rectify this, you can send them an invite through MSN/Windows Live Messenger.
Show your PowerPoint presentations, your applications and your files. Take meeting participants on a tour of a live website and use your bookmarks, at the same time keeping them private. The ability to authorize who can and can't annotate or edit your documents is a useful feature.
Other useful features include the ability to create surveys and quizzes to test participants' knowledge or gauge opinion. Then you can play back everything that took place in the meeting by creating an archive that represents all you talked about. InterCall has one of the best sets of online reporting tools for detailed analysis after the meeting. The provider hosts an archive of your meeting for up to 90 days, but after that you'll need to pay to save it.
Video & audio
With a standard desktop webcam all the participants and the presenters can view live video and broadcast their own image. There's a choice over who gets to see whose video – either the moderator or the participants can have control over what is viewed.
The audio for the web conferencing is handled by InterCall's Reservationless-Plus system that automatically calls all your participants, and you, when it's time to start the meeting. The audio is broadcast through participants' computer speakers or you can use the phone line. We like the fact that the web, voice and video parts of the conference are synchronized so you don't have to worry about setting up separate feeds.
Security
Whether your meeting is highly confidential or a simple catch-up with the team, you'll need security to make sure no one else has access to your data and your conversations. InterCall uses 128-bit SSL encryption for the web conference and for an extra level of security, unique passcodes can be set for each meeting. If you want, you can require participants to pre-register before they can join the meeting and you can virtually close the door to the meeting room to prevent anyone else joining.
InterCall's security at its data centers is robust and comprehensive. The company adheres to strict security practices, including biometric identification, to safeguard your data.
Ease of use
The InterCall system is easy to use from the participants' side because they don't need to download any software, just turn up to the meeting online and participate through a self-explanatory interface. Presenters have a little extra to do but the system is easy to use for them too.
Help & support
There are toll-free numbers to call 24/7 if you need support during the conference or in setting up the conference system. As well as the telephone numbers, there is a Learning Center which has tutorials and programs about the systems and you can also sign up to training sessions and webinars run by InterCall staff.
Overall
With an average monthly availability of 99.99%, InterCall's web conferencing system is hard to beat for reliability as well as being easy to use and packed with features.
---
Looking for more web conferencing services reviews?
See our side-by-side comparisons and in-depth reviews