Software
Website design software
This website is supported by its audience. When you purchase through links on our site, we may earn an affiliate commission.
WebSite X5 Review
---
| | |
| --- | --- |
| Reviewer: | Stephen Qualtrough |
| Developer: | Incomedia |
| Ranked: | 1st - Best buy |
| Overall rating: | |
| Price: | $80.00 |
| Purchase: | |
---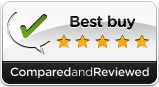 Review summary
Good points
Create unlimited pages
Custom and ready-made templates
Add video, audio and images
Online store capability
Bad points
Lack of good quality reporting tools
No WYSIWYG editing
Our verdict
The appeal of this website design software lies in its versatility but it's not the smoothest, easiest to use package on the market. The WebSite X5 software is aimed at beginners, and you may find the software lacking if you want to create a complex site.
Full review
WebSite X5 is an all-round web design package to help you produce a range of different websites. If you're a beginner you'll find it easy to put together a basic site without needing any technical knowledge. We checked out the features in this web design package to see how it ranks against its competitors.
Setup
The WebSite X5 package is downloadable software that you install on your PC from the website. The setup process is fairly straightforward and you follow the steps to run the program.
If you want, you can download a free trial copy of the software so you can try the system before you buy. Download the trial from the website and run the EXE file. You'll be able to create up to 10 different pages but you won't be able to upload your website until you sign up for the paid version.
Website design
WYSIWYG & HTML editing – You don't need any HTML skills to build pages and set up your website although you can drop raw code into the design template. You work with a grid, slotting objects into place before proceeding to an editing screen, then to the preview of what the page actually looks like.
During the building process you place spaces for text, video, images and buttons into the grid then you add the text or images on the next screen.
Templates & graphics – WebSite X5 features a number of pre-designed templates, and all of them can be adjusted to meet your own needs. The templates aren't the most exciting we've seen, and the structure is fairly limited, but there are a lot to choose from and you can create your own if you have better ideas.
Features
Photo gallery – Make your own Flash and JavaScript galleries for the site using photos and videos. You can also add images to the website using the royalty-free photo library.
Video & Adobe Flash - You can add video from YouTube and other major online video sites. There's also the opportunity to insert audio and Flash animation.
Blogs – WebSite X5 lets you create blogs, either as a part of your website or as your complete website, that come equipped with podcast or videocast capability and RSS feeds.
Banner advertising – You can manage the banner advertising on your own site with the package.
Languages– Make a website in a range of different languages with the program's multi-lingual functionality.
Search engine optimisation
When you design a website it's a good idea to formulate a Site Map that gives the search engines the data it needs to index your site, a strategy that hopefully moves your website up the rankings. When you design your site with WebSite X5 you create a Site Map, giving each page its level of importance, and the software will automatically update your main menu based on this original Site Map.
Websites designed using the system are designed to be better indexed by search engines, with best-practice code included and functions that optimise your site's visibility.
Ecommerce
Set up an online store, accept PayPal payments and sell your goods successfully with this website design software. While WebSite X5 isn't a specialist online shopping portal, the function is there and it's likely to be useful for small businesses and people who want to take money online for bookings and reservations.
Publishing
Upload manager - Built-in, the multi-connection FTP engine gets you online fast after you've finished designing and building your site.
Hosting – If you want to, you can have your website hosted by WebSite X5. The price of the design software includes a domain name registration and 3 GB of web space. If you want more, you'll have to pay for it here or elsewhere.
Reporting
Reporting features are basic in this website design package. You are best off picking up an independent reporting program if you are interested in the statistics behind your website and how many people are visiting you.
Ease of use
You can't see in real time what the website looks like, which makes it more difficult to know if you are on the right track without going out of build mode into preview mode. However, the drag-and-drop interface is very simple and intuitive and the previews are updated in real time.
You can get advice as you proceed through the process. The entire process of making a website takes a little longer than some but beginners will be able to handle it.
Help & support
There's a Social Help Centre – WebSite X5 Answers – which gives you the opportunity to open a discussion, post on the forum, ask a question and look at data. Both WebSite X5 engineers and other users answer questions, although some answers may be slow in arriving.
You can also read FAQs, articles, and White Papers, and look at video tutorials.
Overall
Use the software to create anything from a blog to an online store. The WebSite X5 package is more suitable for beginners wanting to produce basic sites (for example family sites, or hobby sites) because the process is not as streamlined as other programs, but a short amount of time invested in the design process will give you good results.
---
Looking for more website design software reviews?
See our side-by-side comparisons and in-depth reviews