Software
Accounting software
This website is supported by its audience. When you purchase through links on our site, we may earn an affiliate commission.

Freshbooks Review
---
| | |
| --- | --- |
| Reviewer: | Stephen Qualtrough |
| Developer: | FreshBooks |
| Overall rating: | |
| Price: | Visit website |
| Purchase: | |
---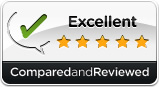 Review summary
Good points
Wide selection of invoicing & billing tools
Excellent customer service
Large range of integrations & add-ons
No accounting jargon
Super-simple & easy to use
Bad points
Limited inventory capabilities
No design customization for invoices
Our verdict
The FreshBooks brand is young, lively, positive and – above all – fresh. You can't beat this solution for managing your invoices and tracking your time and expenses. While FreshBooks is not suitable for a medium or large business that needs double-entry bookkeeping capabilities or serious inventory management (FreshBooks does not offer this), it excels in the invoicing, billing, and time tracking realms. Here's what you need to know about this relatively new player on the accounting scene.
Full review
FreshBooks is seen as the new starter compared to the longevity of QuickBooks, and while it may not have the same brand recognition as QuickBooks it stands out for the quality of its product. A cloud accounting service, suitable for all operating systems, with over 5 million users and 100 employees, this accounting software solution is aimed at small business owners and freelancers.
Monthly subscription plans, which can be cancelled at any time, range from Sprout ($9.95 /mth) which allows for one single user and five clients, Seedling ($19.95 /mth) which is for one user and up to 25 clients, Evergreen ($29.95 /mth) for one additional user and unlimited clients, and Mighty Oak ($39.95 /mth) for up to 5 users and unlimited clients. You can add additional staff members onto the system with the Mighty Oak plan at a cost of $10 per staff member. If you want to try out the system there is a free trial (30 days) with no credit card required.
Invoices & Billing
Invoice creation - First and foremost, FreshBooks is an efficient, effective invoicing tool. With FreshBooks you can create invoices and bill clients, turn estimates into invoices, and record expenses.
Filling in data for your clients is simple. You can import details in CSV format from Gmail, Yahoo Mail and Outlook, and add clients manually using the sections in the client screens. Once a client has been set up in the system you can assign them a log-in and input payment preference. As invoices are sent to your clients they can view them, request changes, and make payments.
Creating an invoice is a simple task. Go through the individual boxes which have either been populated with the client details you set up, or you can manually input all the data. You can choose payment terms, add tax, set up the payment method, and add personalized notes to the invoice. Save it as a draft, or send it immediately via email. You can also send invoices through the post for a small fee per invoice.
It's all smooth, straightforward, and convenient. FreshBooks doesn't, however, give you much to choose from in the way of customizable invoices. You can add your own logo but the basic invoice format remains the same. If you like to choose between different layouts or styles, you are out of luck with FreshBooks.
Invoicing - It is useful to be able to see a list of your recent invoices, and to easily check which invoices have been paid, sent, or drafted. Clients, too, can view the process of the invoice and thanks to the full payment history you can see exactly when a client opened the email with the invoice, and when they paid (beats the common call of "but I didn't get your invoice…".)
Checking the box beside a recent invoice allows you to copy it, archive it, print it, or delete it. There are auto-billing options and FreshBooks allows you to create recurrent invoices which are sent out automatically as specified. There's an option for prompting a customer to pay if they haven't already. You can also add discounts or late fees to an invoice, and take a partial payment on the invoice.
Estimates – For jobs and tasks that require the client to sign off on an estimate, FreshBooks generates estimate forms to send by email, with a customizable cover letter that you can send with each estimate. When a client wants to accept an estimate they click on the link and the estimate gets converted into an invoice to be sent once the job has been completed.
Expenses
An accounting package needs to include the means of recording and billing expenses. FreshBooks doesn't let you down. It gives you the opportunity to record expenses and automatically bill them to your clients when you need to. One of the best things about the expenses feature in FreshBooks is the daily download of expenses from your bank account or your credit card, so you don't have to spend precious working hours inputting the details manually.
A great way to store receipts is by scanning paper copies or taking a photo with your phone or camera. This makes it easy to record expenses when you are out and about and don't have your laptop or access to a PC.
And you can generate an expense report that is tailored to your business, with different categories of expense, clients, projects, and vendors. This makes it easier to see where you are spending money and for what reason.
Time tracking
See where you are spending your time and where you could be more productive, or bill more, with the time tracking feature in FreshBooks. Start the time tracker on your PC or your phone and the time tracker will continue to run until you turn it off. Your time spent on billable projects is shown in calendar format. Once you have finished a project or reached the end of the month, convert the time tracked into an invoice to automatically bill what you are owed for your time. The Evergreen and Mighty Oak plans give you team timesheets and the ability to track expenses and revenue per staff member.
Reporting
FreshBooks has about 20 different reports to showcase whether you are in the black or highlight any potential problems with clients and invoices. Check who is not paying on time with the Accounts Aging tool, or the Time to Pay report. Check revenue by client, look at profit and loss, produce a tax summary, and generate expense reports.
Mobile
As FreshBooks is cloud-based you can truly access it from anywhere you happen to be – considering that you have internet access. Use any device – mobile, tablet, laptop, PC – and access FreshBooks from any platform. There's a free app that integrates FreshBooks with Android or iPad.
Sharing & Integration
One of the major points in FreshBooks' favor is the links it builds with add-ons – everything from PayPal and other payment gateways to MailChimp, Gmail, Zenpayroll, LiveChat, and HubSpot.
You can also share reports and data with clients, staff, and accountants. Create folders for uploading documents, and restrict access to certain clients or employees. If you are looking for extra accounting facilities, integrate with bookkeeping programs like QuickBooks or Xero.
Security
The security on FreshBooks is 256-bit SSL encryption and security measures include firewalls, biometric access, and 24/7 surveillance at the server centers. User data is also backed up every night so you don't need to worry about the safety of your client and billing data.
Ease of use
FreshBooks is one of the easiest accounting platforms to use, with a clean and simple layout, logical and intuitive tabs, and straightforward options to choose from in order to carry out all the tasks. Certainly no specialist training required – this is software for any business or freelancer, no matter their level of technical expertise. Once you sign up you are taken to the page where you can create your first invoice, and there's a video taking you through the process. Once you have filled in basic information about your business you can get on with exploring the rest of the site. There's a list of "Get Started" options in a sidebar where you can create clients, projects, and teams, and track time. Tabs across the top of the screen lead you to Expenses, Reports, Time Tracking, etc.
Help & support
Customer support from FreshBooks is fantastic. You get a unique support key to use whenever you call or email which quickly gets support staff up to speed about your account. Phones are open during business hours and it's free. Emails are answered quickly and all support staff were courteous and professional when we dealt with them. There's a couple of video tutorials (more would be nice), free webinars, and a list of FAQs to get you on the right track if you don't want to talk to customer support in person. Plus, the FreshBooks Facebook page has a 40,000+ following and there are a number of articles and ideas coming through on the blog every day.
Overall
FreshBooks is cloud accounting at its very best. If you're a small business billing time or invoicing clients, FreshBooks makes it easier to stay on top of your business priorities.
---
Looking for more accounting software reviews?
See our side-by-side comparisons and in-depth reviews