Software
Anti-spam software
This website is supported by its audience. When you purchase through links on our site, we may earn an affiliate commission.

MailWasher Pro Review
---
| | |
| --- | --- |
| Reviewer: | Stephen Qualtrough |
| Developer: | Firetrust |
| Overall rating: | |
| Price: | $39.95 $29.96 - $9.99 off |
| Purchase: | |
---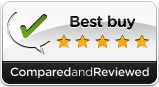 Review summary
Good points
Compatible with all major email clients
Works with POP3 & IMAP protocols
Accuracy of spam detection increases with time
Includes a whitelist feature safeproofing genuine messages from spam filters
Bad points
Phone support is not currently available
Our verdict
Mailwasher Pro is considered to be one of the most effective email spam filters currently available. In our assessment, that holds true. Simply put, its filtering capabilities are top-notch. Moreover, it seamlessly integrates with major email clients and services, making it a powerful weapon in the battle against spam.
Full review
Last updated: 16th July 2023.
Dealing with spam emails can be a major frustration for many people, despite advancements in email filters. Unfortunately, cybercriminals are constantly developing new tactics to sneak unwanted emails into your inbox. To address this issue, Firetrust, a software company that prioritizes email security, has created MailWasher Pro. We were curious to see how MailWasher fared in the wash because we despise spam as much as the average computer user.
Setup
Mailwasher Pro is compatible with Windows 7, 8, 10 and 11. You can install it on upto three different computers and benefit from one year's worth of access to all new versions, updates, real-time spam blocking, and customer support.
On our test laptop, with Windows 10, MailWasher Pro installed in a little under a minute. With the default installation settings selected, minimal input was required, and we did not encounter any issues.
Compatibility
MailWasher Pro is fully compatible with all e-mail clients, including (Windows) Mail, Mozilla Thunderbird, and others. It supports the POP3 and IMAP protocols, as well as web-based e-mail services such as Outlook.com and Gmail.
Detection
Starting out, MailWasher Pro detected a fair share of the spam in our inbox. As we used MailWasher more, its spam-detection capabilities continued to improve, which is due to its use of a Bayesian filter. By marking certain email messages as spam, you train this filter to detect spam more effectively in the future. For example, once MailWasher's Bayesian filter learns that most messages containing the word "Drugs" are spam, it will automatically classify emails that use this word excessively as spam in the future.
In addition to its Bayesian filter, MailWasher features a blacklist and a friends list. These lists make it easy to block messages from certain senders while ensuring that messages from non-spam sources always come through.
Effectiveness
Importantly, MailWasher Pro is very effective. While it may need users to manually select some spam messages in the beginning, its spam-detection capabilities improve with each manual selection. After just a few sessions, MailWasher was already detecting spam correctly nearly 90% of the time. As we continue to use this software, we have no doubt that its effectiveness will continue to improve.
System performance
Unsurprisingly on a laptop that easily met Firetrust's recommended hardware specifications, MailWasher Pro performed very well. Navigating through its menus was quick and painless. Once we clicked the "Check Mail" button, MailWasher managed to pull in email messages even faster than Thunderbird, the email client used on our test system. The process of deleting spam messages was also quick and painless; completing in just a few seconds.
Features
Mail preview – Users can view the content of all emails in plain text. This makes it quick, easy, and safe to browse through all emails without downloading and opening them in an e-mail client.
Multilingual support – MailWasher Pro supports 12 different languages: English, German, French, French Canadian, Dutch, Hungarian, Bulgarian, Ukrainian, Swedish, Russian, Czech, and Japanese.
Bounce – This feature permits bouncing spam messages back to their senders. When an email message is bounced back to the sender, it gives the impression that the email address is no longer valid.
Ease of use
Starting out with MailWasher Pro is incredibly easy. With the ability to automatically import email client settings and contact lists, the software can begin detecting spam immediately. It's intuitive enough to distinguish which emails are spam and which are not, marking spam messages with a thumbs-down icon that can be easily reversed with a single click. Once users click the "Wash Mail" button, all spam messages are instantly deleted, leaving only non-spam messages to be automatically downloaded by their email clients.
Help & support
The support section on Firetrust's website is quite impressive. MailWasher Pro users can access an FAQ page and participate in an active forum. Firetrust also offers technical assistance to its customers via email, although phone support is not available. Overall, Firetrust's support options should be sufficient for most users who require a simple and easy-to-use program.
Overall
MailWasher Pro is a top-rated anti-spam tool with advanced technology to eliminate unwanted emails. Its intuitive interface makes it easy to use, and it seamlessly integrates with all major email clients without any complex setup. For those who are tired of dealing with spam, MailWasher Pro is a top-notch solution. It's a hassle-free tool that minimizes spam and gives users control over their inbox.
---
Looking for more anti-spam software reviews?
See our side-by-side comparisons and in-depth reviews