Online
Blogging services
This website is supported by its audience. When you purchase through links on our site, we may earn an affiliate commission.

WordPress Review
---
| | |
| --- | --- |
| Reviewer: | Stephen Qualtrough |
| Developer: | WordPress |
| Overall rating: | |
| Price: | Free |
| Purchase: | |
---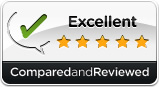 Review summary
Good points
Easy-to-use
Beautiful template designs
Search engine friendly
Extensive choice of features
Bad points
No photo gallery capability
No facility to blog by IM
Our verdict
Wordpress is a stylish, easy-to-use blogging service that offers the best of all worlds – choice, freedom and support when you need it. Wordpress blogs are suitable for businesses, personal anecdotes, photoblogs and news blogs. With a range of features and templates you're spoilt for choice in how to develop and maintain your own blog.
Full review
Some of the biggest names use Wordpress to power their blogs and websites so you can be confident the service is well designed, well tested and well used. We've explored Wordpress to check out its capability in the blog world and what the site can offer you.
Sign up
Sign up is gloriously simple – an email address, password and username. You then choose a domain name and have the option of purchasing a custom domain name like awesomenewblog.com rather than the standard awesomenewblog.wordpress.com. Once you've got the basic account set up you can spend some time familiarizing yourself with the features and making the most of your new blog.
Features
Wordpress is packed with features that allow you to create a blog with its own unique identity. Let's talk about themes. Your theme is the key to your blogging identity and Wordpress helps you find it by supplying over 90 different templates for your blog. The themes vary from "Kubrick" to "Coraline" so you've plenty to choose from – lighthearted to sober to widescreen. Templates may be set up to display photos, or constructed in a way that lets you post many stories on the same screen. Your chosen theme depends on the goal you have for your blog, what kind of vibe you seek to present and how professional or personal you want it to be. You can preview the theme you like the look of before you use it.
The Wordpress experience gives you dozens of widgets to choose from. Add a search button, post a link to your Twitter feed, insert a Blogroll of your favorite blogs or add a widget that shows your most popular posts. The world is your oyster with Wordpress widgets, you're really only limited by your imagination and by how busy you want your blog to look.
A picture speaks a thousand words and with Wordpress you can customize your blog with images, video, galleries and slideshows. You can also add audio and link to YouTube. Wordpress offers a number of apps so you can update your blog on the move from your mobile device.
Once you're happy with the design of your blog and have started to post, drive traffic to your site in a variety of ways. Add tags to your posts to describe the content and give others the chance to search for it. Tags also work the other way around, and you can find what other people are blogging about by browsing through a list of the most popular tags on Wordpress or have the most popular tags delivered to your dashboard by RSS feed.
Check how well your blog is doing by seeing who's reading and from where. Wordpress offers many facilities to check your statistics. Easy-to-read graphs display your blog's total views and you can discover which of your posts are the most popular. If you want to delve deeper into what makes your blog tick, you can find out which search engines are driving the most people to your blog and the external links that are the most effective.
Ease of use
The dashboard in Wordpress, located down the side of your blog, is easy to access and incredibly simple to use – everything is accessible with one click. With features like widgets and themes, Wordpress makes it simple to add to your blog with a drag-and-drop capability and the chance to adjust settings before you save your changes. You can preview the look of your site by switching back and forth from admin to read mode. And if you don't like a widget or a theme once you've started to use it, you can remove it.
Help & support
"Learn Wordpress" with the help of an army of experts, all handily corralled into one place to help even the most nervous blogger publish with confidence. The Get Started webpage tells you all you need to know to set up a blog in around two minutes. Support doesn't stop at the technical aspects, Wordpress takes you through how to write for a blog, what to blog about, what type of blog is best and how to create winning posts. If the creative spark is spluttering out you're procrastinating with your posts, read some of the tips on the Wordpress site and browse the showcased blogs for ideas and inspiration. You can also get answers from the Wordpress support team if you haven't found a solution from the online community.
Overall
Wordpress is the gold standard in blogging services, offering choice, flexibility, technical support, expertise and inspiration – all completely free of charge.
---
Looking for more blogging services reviews?
See our side-by-side comparisons and in-depth reviews