Software
Data recovery software
This website is supported by its audience. When you purchase through links on our site, we may earn an affiliate commission.
Systweak Advanced Disk Recovery Review

---
| | |
| --- | --- |
| Reviewer: | Stephen Qualtrough |
| Developer: | Systweak |
| Ranked: | 1st - Best buy |
| Overall rating: | |
| Price: | $39.99 |
| Purchase: | |
---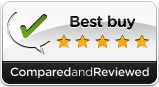 Review summary
Good points
Recovered almost any type of data
Easy-to-use interface
Performs both quick & deep scans
Saves interrupted scans for completion later
Recovers from hard drives, partitions, external devices, CDs/DVDs
Bad points
No advanced options
Our verdict
Advanced Disk Recovery is a simple and effective file-recovery tool. There are very few additional features to get excited about, but its straightforward data-recovery process is so effective that most users will not mind the software's lack of extras and potential customizations.
Full review
Systweak develops several different types of system-utility applications. Advanced Disk Recovery is one of their most popular applications. It was designed to recover all types of deleted data from various sources, including CDs and external hard drives. Since we have accidentally deleted important files on several occasions, we were eager to test Advanced Disk Recovery's effectiveness.
Setup
Setting up Advanced Disk Recovery is quite easy. It installed in less than a minute, and we were presented with the software's main menu immediately after. While Advanced Disk Recovery does not perform its initial scan automatically, its main menu does provide users with a few configurable options and a single-click scan so that files can be recovered quickly and easily.
Data Recovery
Recovering data with Advanced Data Recovery is quick, easy, and effective. This software supports all types of hard drives and all major file systems, including NTFS, FAT16, and FAT32. As an added bonus, Advanced Data Recovery can also be used to recover deleted data from other partitions, external hard drives, CDs, and DVDs.
When scanning with Advanced Data Recovery, users can choose to use quick scans or deep scans. Quick scans use the Master File Table (MFT) to recover data. Deep scans, on the other hand, use file signatures. During our tests, deep scans recovered up to 15 times more data than quick scans.
While scanning with either option, users are able to stop the process and resume it at a later point in time. Because of this handy feature, users can shut their computers down during a scan without having to worry about starting the entire scan over again.
Effectiveness
Advanced Disk Recovery is an extremely effective piece of file-recovery software. During our tests, it was capable of recovering all files that we deleted. In fact, it was even able to detect and successfully recover files from previous months that we had forgotten about. Occasionally, though, we would run into instances where quick-scan mode was unable to detect the deleted files that we had in mind. In these instances, we simply ran a deep scan; it found and recovered all of the files that we had in mind without any issues. For most users, we suggest running quick scans the majority of the time since they are much faster than deep scans. When quick scans fail, however, simply run a deep scan and watch as the list of recoverable files grows.
Features
Time filter – With this filter enabled, only data deleted within specified time periods will be scanned through. Not only does this feature reduce scanning time, it makes it easier for users to find specific files.
Size filter – This feature filters deleted data so that only files of certain sizes are scanned through and displayed. As with the time filter, this filter reduces scan time and increases the convenience of data recovery.
File-health filter – This filter is especially useful. With it, users can eliminate non-recoverable files from scans, which saves time and quite a bit of frustration.
Ease of use
Advanced Disk Recovery is an extremely easy-to-use tool. From the very first menu, users are able to scan for deleted files and adjust some of the software's scan-specific settings. Once one of the software's scans are completed, it provides users with plenty of file-specific information, even file previews! With all of this information available, users are able to easily determine which files to recover. Also, before recovering files, this software allows users to specify where these files will be stored once the recovery process is completed.
Help & support
Systweak provides its customers with several great support options. Their website features a dedicated support section. This section contains a knowledge base, an FAQ, and a newsletter with information related to Advanced Data Recovery and other Systweak products. Also, Systweak's support staff responds to support inquiries via telephone and e-mail.
Overall
Advanced Disk Recovery is an excellent data-recovery tool. Not only does it recover data exceptionally well, it makes the process of data recovery quick and easy. This software features multiple scanning modes, an intuitive interface, and a variety of useful functions. While it is not very customizable, this software's options can be modified just enough to suit most users' needs. When it comes to file recovery, few tools are as capable or as easy to use as Advanced Data Recovery.
---
Looking for more data recovery software reviews?
See our side-by-side comparisons and in-depth reviews