Software
Digital media suites
This website is supported by its audience. When you purchase through links on our site, we may earn an affiliate commission.

Nero Platinum Suite 2023 Review
---
| | |
| --- | --- |
| Reviewer: | Stephen Qualtrough |
| Developer: | Nero |
| Overall rating: | |
| Price: | $49.95 |
| Purchase: | |
---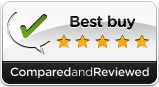 Review summary
Good points
18+ feature rich programs all bundled into one
Excellent disc burning features
Express & advanced video editing modes
New AI integrations
Great value for money
Bad points
Photo editing is light on features
Some user interfaces feel dated
Our verdict
Nero Platinum Suite 2023 is an excellent collection of software programs with plenty of features, including the new AI Photo Tagger and Image Upscaler, streaming from your smartphone to TV, a better Launcher to give you access to the whole system and its ever trustworthy burning applications. This comprehensive digital media suite is jam-packed with top-notch tools and features.
Full review
Last updated: 20th August 2023.
Nero started life as a CD-burning application, rapidly propelling the company to become a household name. It soon followed up with additional software applications for making the most out of our video, images, and music. Today Nero remains one of the leaders in digital media technology for home PCs and smartphone devices.
With Nero Platinum - their flagship suite, the Germany based company provides a hugely feature rich digital media suite for organizing, creating, playing, editing, converting, and ofcourse burning your files. In this review we delve deeper to uncover it's full power.
Prices
Nero Platinum is currently available as a yearly license for $49.95 or a one-off fee of $129.95 (prices as of August 2023). With the one-off payment, you get to keep and use it forever, but you will not receive any updates to the software. Conversely, the yearly license offers continual updates and new products. Nero includes a 30-day money-back guarantee.
Included in Nero Platinum:
| | |
| --- | --- |
| Nero BackItUp | Backup software |
| Nero Burning ROM | Disc burning |
| Nero DuplicateManager | Duplicate file finder |
| Nero Express | Disc burning |
| Nero MediaHome | Media management |
| Nero Recode | File Conversion |
| Nero TuneItUp | System Utilities |
| Nero Video | Video editing |
Launcher
With a suite this large, it requires a intuitive launcher which is exactly what you get with Nero Start. Here you can scroll through and filter the large collection of programs made available. Most programs have been downloaded (and ready to go) during installation. However, if you opt to use less popular titles, they may require downloading.
In a suite this vast, many useful features are hard to find or sadly go undiscovered. So Nero have included is a collection of helpful "use cases". Here are a list of examples:
How to Convert MKV Video to 4K Quality
Cast Video to TV
Create a wedding DVD
Recover deleted data
Optimize your PC
This helpful addition offers a wide range of quick and functional "how-to" tasks, as well as more creative and inspiring long-term projects. With over 450 available use cases, many of which come with step-by-step tutorials, users can easily follow along with well-written instructions and narrated videos.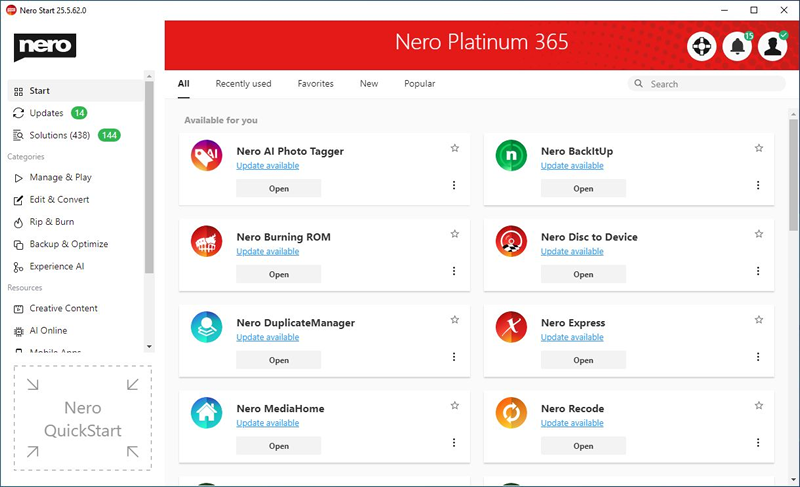 Nero Start. Get stuck into the large selection of software.
Organize media
Nero MediaHome is where you organise all of your media files on your computer or laptop. This includes your photos, videos, music, TV shows and movies.
For photos, the geotagging feature allows you to quickly view your photos by location. So for example, if you want to see all of the photos of your annual holiday to Greece over the past decades you can do so easily.
If you want to free up some disk space and keep your media library organized, Nero DuplicateManager can help. This handy tool can quickly identify identical imagery, allowing you to review and remove duplicates you don't need.
Disc Burning
One of the reasons people purchase a digital media suite is for disc burning. You can't do without this in a digital suite. Unsurprisingly as the long-standing leader in disc burning, the features you get in Nero Burning ROM for burning and ripping are effective and smart.
Nero's SecureDisc technology speeds up the process, while providing reliable and secure discs. Built-in encryption can be used to protect files, and the suite allows you to split content to burn it onto multiple discs. This is pretty useful, helping stop needlessly wasted discs.
As you would expect from Nero, disc burning is excellent.
Video Editing
Nero Video offers an excellent standard video editing package that allows you to create impressive-looking home movies and video productions.
For fast editing and fitting together a string of simple videos, the Express editing mode does a good job. But if you want to do more with a multitrack timeline, keyframe control, video transitions, and text effects, then Advanced editing mode is for you.
The fonts and style choice is extensive, and with combination of pre-set templates and bespoke designs you can create professional looking templates in minutes. I also like the new motion text effects.
The faster video converting process delivers rendering at excellent speeds.
Photo Editing
In previous reviews of Nero Platinum, we have been critical of the lack of photo editing capabilities, instead recommending the purchase of a standalone product. But it appears Nero may have recognised this short coming and plugged the gap.
In
Nero MediaHome
you can now crop photos and remove red-eye blemishes.
Audio Editing
Audials Music Recorder is one of the few third-party programs included in Nero Platinum. This neat and nifty little program allows you to record music from various streaming services like Spotify, Amazon Music, and Apple Music and save it in high quality. You can then listen to your favorite songs offline without worrying about drops in internet connection or adverts appearing.
DVD & Blu-ray Authoring
Once you have created your video it's possible that you want to make it available on DVD or Blu-ray. The authoring tools within Nero Video provide you with graphics, animations and text to create professional navigation tools and menus. One useful feature is the ability to switch disc format "on the fly" without having to start a new project.
Converting Media
Nero Recode allows you to rip and convert your media into any format.
Do you have old VHS tapes with personal memories or movies stored in your attic? If you still own a VHS player, Nero Recode Stick can help you convert analogue to digital and preserve that valuable data.
This is a USB 2.0 flash drive that can be connected to your laptop. It has 1 X RCA video input, 2 X RCA audio inputs, and 1 X S-Video input which can be attached to your VHS player. Additionally, it can be connected to old turntables, camcorders, and cassette decks.
The cable we used to connect our devices was too short, which made it somewhat restrictive, but we could still make it work. We had no issues connecting the inputs and successfully recorded from an older Sony VHS player in our studio. Different VHS cassettes yielded varying degrees of quality. Some producing significantly better results than others. It's worth noting that the Nero Recode Stick doesn't come bundled with Nero Platinum and needs to be purchased separately.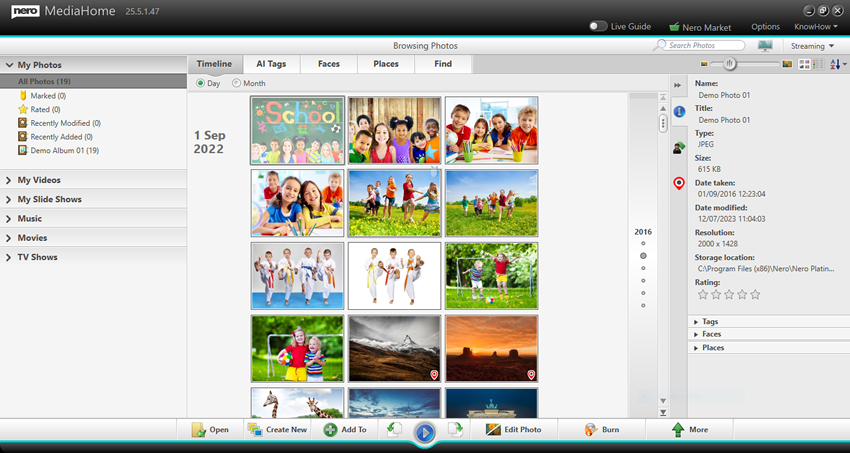 Streaming Videos
You can stream videos to your smartphone or tablet from the MediaHome organizer. The Receiver in the MediaHome section allows for direct streaming via Wi-Fi with automatic conversion into compatible formats for easy viewing.
Backup
Nero BackItUp - Backup to external hard drives, optical media and cloud services such as Google Drive. It also has helpful features like keeping your files safe with encryption, making them smaller with compression, and saving all the different historical versions of your files.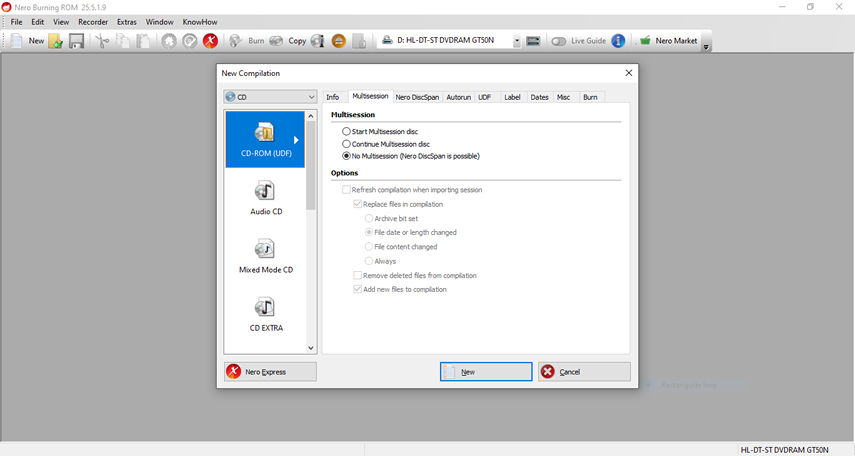 Nero TuneItUp - is a powerful solution for Windows PC optimization, tuning, and maintenance needs. With its advanced features, this tool helps you analyze and fix common problems that may be slowing down your system.
Help & support
The "Nero KnowHow Plus" learning center is a comprehensive collection of articles explaining everything from activating the product to photo and video editing.
For some products such as Nero Video there is an additional layer of support in the form of the Live Guide. This provides links to FAQs.
Finally, from Nero Start you have access to a further video tutorials. You can get technical support via email but it is a shame there is no telephone support option from Nero.
Overall
Nero Platinum Suite 2023 as a great value, all-round toolbox for the digital media we all encounter on our PCs and smartphones. The new AI features, as well as the excellent long standing photo, video and burning features, make this suite worth having in the modern home. Therefore it's our "Best Buy" Digital Media suite.
---
Looking for more digital media suites reviews?
See our side-by-side comparisons and in-depth reviews