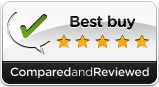 Review summary
Good points
• Intuitive & easy to use
• Express & advanced video editing modes
• Direct streaming via Wi-Fi
• Excellent disc burning features
Bad points
• Photo editing is light on features
• No audio editing
Our verdict
Nero Standard 2019 is a solid package, with plenty of features to talk about including the Nero AirBurn system, streaming to any iOS & Android device or TV, fonts and motion text effects, and a better Launcher to give you access to the whole system.
Full review
Founded in 1995, Nero started life with its CD burning application, which rapidly propelled the company to fame. Following up with a variety of software applications for enjoying music, images, and video, Nero is one of the leaders in digital media technology for home PCs and mobile devices. The Germany-headquartered company provides an intuitive and efficient digital media suite for organizing, playing, editing, converting, and – naturally – burning your files, wherever you are. The digital suite is anchored to the Nero MediaHome platform, which is the media management tool you need to organize, track and manage your videos, music, and photos all in one place.
Organize media
With the addition of the new Nero Launcher you've got a convenient gateway to the suite that functions in a clear and intuitive way. Acting as an extended welcome screen, the Launcher is split into blocks from "Manage and Play" to "Backup and Rescue", with the main tasks you want to carry out conveniently located in one place. Applications are organized effectively with home screens and file drop zones that make it easier to take a project from start to finish.
Nero MediaHome is the collection-point for all your media – a cloud-based storage system, so you can pick up your media files whatever device you are using. This handy location ensures you don't lose track of your specific files, and the cloud storage means you are not at risk of losing any valuable data.
For photos, count on the geotagging feature in the photo and video organization section. With Nero Geotags you can stick with your camera's set geotags or make your own. Using the geotags features it is simple to create videos and slideshows set around different places you have been.
Disc Burning
It goes without saying that because Nero is the long-standing leader in disc burning, the features you get in Nero Standard for burning and ripping are effective, useful, and smart. You're using the Nero Recode section of the suite to burn, rip and convert your collection of media files. Within Nero Recode you have AirBurn, the facility to burn files direct from your smartphone via wireless transfer to a PC. Plus, Nero SecureDisc technology speeds up the process while providing reliable and secure discs. Built-in encryption can be used to protect files, and the suite allows you to split content to burn it to multiple discs. This is pretty useful when you don't want to waste discs needlessly. As you would expect from Nero, disc burning is excellent.
Video Editing
One of the features people buy a digital media suite for is the video editing. You can't really do without this in a digital suite, and Nero offers a good standard video editing package that allows you to create impressive-looking home movies and video productions. For quick editing and fitting together a couple of simple videos, the Express mode does a good job. Or if you want to do more with a multitrack timeline, plus keyframe control, video transitions, and text effects, the Advanced editing mode is for you. Fonts and style choice is extensive, with a combination of pre-set templates and bespoke designs to have your videos looking professional in no time at all. If you create your own personal style you can save it to use again later on. We also like the new motion text effects. The faster video converting process delivers rendering at excellent speeds, which makes it even quicker to burn discs once you have finished your video project.
Photo Editing
The Nero Standard media suite has little in the way of photo editing – you are much better off relying on a standalone product for any photo editing you have to do, although you can remove red eye and crop pictures before saving them to your MediaHome collection.
Music Editing
Another important part of the digital media suite, the music editing section of the software allows for easy editing of music files. However, Nero only includes capacity for combining different music playlists in one place – in the MediaHome. The only real reason to use this in the Nero suite rather than in Windows or iTunes direct is that the music organizational tool combines playlists in both Windows Media Player and iTunes. An editing suite is not included in the software.
DVD & Blu-ray Authoring
Once you have edited your video you need a professional-looking interface to present to viewers. The authoring tool in the Nero Standard gives you graphics and text to create menus, plus on-screen navigation tools and animation. One extra useful feature is the ability to switch video disc format "on the fly" without having to start a new project. This feature is available in the authoring tool for video.
Converting Media
The one-click conversion tool that comes with the Nero digital suite is a useful addition for any PC. Simply connect the destination device to the computer, put the disc in the drive, and the suite will convert DVD videos, AVCHDs, and audio CDs directly into the format for any mobile device as well as to go into Dropbox, Google Drive or OneDrive. We found the system particularly quick and easy.
Playing & Streaming Videos
Don't worry about organizing movies and shows into different formats so you can watch them on the move, or when you're lying in bed – stream videos conveniently to your smartphone or tablet from the MediaHome organizer. The Receiver in the MediaHome section allows for direct streaming via Wi-Fi with automatic conversion into compatible formats for easy viewing. The simple process of dragging and dropping the file into the conversion zone makes the process incredibly simple for anyone to master.
Sharing Media Online
Not much for sharing media online in Nero Standard. The one thing that stands out as being a little different is the slideshow creation feature for combining photos with video and being able to share these slideshows with friends and family online. But Nero does not include any social media integrations to get your creations out there into the world.
Upgrade (What you get in the premium version)
You don't find absolutely everything you need in the Standard version. What does Nero Platinum have to offer that Standard does not? If you are looking for Blu-ray support be careful as it is not available with the Standard version, instead only as a feature in the premium Platinum program. Nero 2019 Platinum has a Blu-ray player which also includes 3D support, plus ripping to virtually all file formats, 4K editing, and support for slideshows. In addition you have retro movie theme templates to use and a variety of extra video effects with the Platinum version.
Help & support
The support Knowledgebase has an impressive line-up of articles explaining everything from activating the product to photo and video editing. On closer inspection there are only a few FAQs covering the basics within each topic section, but the addition of online manuals helps round out the online support offering. There's a users' forum. From the Launcher you have access to a roster of video tutorials which aim to make it easier to navigate and handle the various aspects of this digital media suite. You can get technical support via email but it is a shame there is no telephone support option from Nero.
Overall
We like Nero Standard 2019 as a good value, all-round management tool for the increasing amount of digital media you encounter on your PCs and smartphones. The AirBurn feature and the Wi-Fi media streaming, as well as the excellent burning features, make this suite worth having in your modern home.
Add your review
You've heard our opinion. Now we're keen to hear your personal experience of using this software.
Looking for digital media suites reviews?
See our side-by-side comparisons and in-depth reviews