Software
DVD player software
This website is supported by its audience. When you purchase through links on our site, we may earn an affiliate commission.

Cyberlink PowerDVD 22 Ultra Review
---
| | |
| --- | --- |
| Reviewer: | Stephen Qualtrough |
| Developer: | Cyberlink |
| Overall rating: | |
| Price: | $99.99 $69.99 - $30 off |
| Purchase: | |
---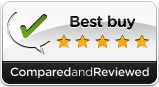 Review summary
Good points
Excellent picture and audio quality
Generally easy to use
MoovieLive integration
Social Network site integration
Bad points
Our verdict
Cyberlink PowerDVD 22 Ultra is great value for money for what you get. Offering both DVD and Video players, as well as functionality for Music and Photos it really is a package to take seriously.
Full review
Cyberlink PowerDVD 22 Ultra is the mid-range offering by Cyberlink for DVD playing, seemingly offering lots of features for a competitive price. We wanted to see if there was a catch.
Setup
The install program was pretty standard, with the usual requests for terms acceptance, personalization and file location. Before the in install completes you also need to accept/skip terms for MoovieLive, which is an online database of movie data which is called on by PowerDVD. Before you can use the program you also need to register. Once the program is installed the Settings menu link is nice and clear at the top of the screen with lots of scope for users to personalize their install, with additional advanced options for those with more demanding requirements.
Features
A lot of thought has gone into the user interface as it is intuitive to use and looks great. There are 5 main tabs across the top giving options for Movie (which is integrated with MoovieLive to give you information about movies in the Theater as well as those available on disc), Video (with online options such as feeds from and upload to YouTube), Photo (again with online connectivity to your Facebook and Flickr accounts if you so desire), Music and Device (where you can connect additional devices such as your Smart phone via the PowerDVD App, which also allows your phone to become your remote control!).
As this review is primarily about DVD players we'll focus on that area. With the MoovieLive integrated you get to catch up with what's on in Theaters and what movies are available to buy, with previews and ratings available. The intention is that movie lovers can document the films they've seen and/or own and mark others onto a wish list. For buffs I'm sure this could prove really interesting, but if you just want to play your DVD it can get a little annoying (fortunately there is the option to turn it off). The Movie tab (when active) also acts as a menu to open a DVD from an optical drive (supporting formats such as H.264, DivX Pro and DTS). Once a disc is selected (or inserted) you may still find yourself looking at the movies list so you need to hit the Play button to get things going. If you've previously stopped viewing a DVD part way through you get a chance to resume from that last watched position or restart.
The Video tab allows you to play files beyond discs, from both computer and social networking sites. Video formats supported - 3GP, 3G2, ASF, AVC, AVI, DAT, DIV, DivX (some editions only), DVR-MS, FLV, M1V, M2TS, M2V, MOD, MOV, MP4, MPEG, MPG, MPV, TIVO, TOD, TRP, VRO, WTV, MKV, VOB, WMV.
Whilst this review was focused on the DVD player, I do just want to mention how excellent the Photo slideshow and Music player functionality is. The navigation, controls and image/sound quality for both are top drawer. Add to all this the ability to connect other Devices including using the PowerDVD App as a remote control and this package is swarming with great features.
User experience
Picture quality is impressive. The TrueTheater functionality (via Settings) offers the ability to upscale non-HD discs to HD like quality, along with numerous other options to get the output exactly how you like it. The 3D functionality, that turns normal DVD's into a 3D format, is a great little extra.
Sound is also excellent, with HD output supported (where sound cards are capable). Dependant on your speakers (quantity and quality), you can select Stereo, Dolby Surround Compatible Downmix, Dolby Virtual Speaker, Dolby Pro-Logic IIx and TrueTheater Surround. There also a Dolby headphone option.
Ease of use
The user-interface for Cyberlink PowerDVD Ultra is generally excellent, though I thought the integration of MoovieLive was a little to obtrusive at times under the Movies tab. When the DVD is playing you've got the usual controls along the bottom of the screen, which all do what you'd expect. There's also an extended set of controls available by right clicking that give you all the functionality you'll ever need during playback, such as jump to menus, playback speed, scene selection, bookmark creation and so on. The ability to use your SmartPhone as a remote is inspired.
Help & support
The Help file that comes with the program (via the question mark link top right of the program screen) is comprehensive and particularly well written making it clear for both novice and advanced users. There is an online Knowledge base covering Frequently Asked Questions (FAQ) and user guide, as well as a pretty active forum. As a registered user you can also use the Online Support Ticket system and email support.
Overall
Cyberlink PowerDVD 22 Ultra really is a great all round media package.
---
Looking for more dvd player software reviews?
See our side-by-side comparisons and in-depth reviews