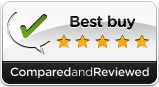 Review summary
Good points
• Excellent display
• Packed store
• Fast performance
• Simple OS
Bad points
• No audio option
• Smaller storage
Our verdict
The Kindle Paperwhite is by far the best e-reader on the market if you are looking for a solid reading experience. The display is very crisp, text looks sharp and battery life is incredibly long. Amazon have connected their tablet styled OS to the mix, making this feel more like a tablet made for reading then a typical e-reader.
Full review
Amazon impressed us with their new line of Kindle Fire's, now it is time to see if their Kindle Paperwhite hits or misses the mark of number one e-reader.
Design
Minimalistic seems the style for Amazon at the moment and the Kindle Paperwhite sticks to this design idea. The basic design is a rubbery black rectangle with the obvious 'Kindle' imprint.
The display is the real point of interest with this new Kindle e-reader, named Paperwhite, Amazon has tried to make the best e-ink display and the most responsive screen.
While we still believe they can work and make something better, this is definitely the best display on the market in terms of e-readers. The text is incredibly crisp and sharp, blacks are very dark and whites are light without hurting the eyes.
There are many settings to the Paperwhite display, so you can read whenever and wherever you want. It is truly incredible and beats Nook's 'Glowlight' display.
Ease of use
Coming from an age where e-readers were quite unresponsive and slow compared to tablets, it is nice to see we are somewhat bridging the gap. Kindle has taken the lead role with the Paperwhite, it feels like you are using the tablet most times, with very quick page turns.
When using the Kindle Paperwhite, you just get the sense you are using a tablet operating system. Everything seems well build and build for the purpose of reading.
Comparing this to other tablets, it feels like the turn of the iPhone in how advanced it is. Even though Nook has a good store and software, it just doesn't compare to this.
Content
Amazon have a huge collection of books, it is worth the amount of bragging they do because it is simply astounding how large their store is.
Any avid book reader would be more than happy with Kindle library and many are saying that they find more content on the Kindle store then they do at their local library.
Apart from their number one store for books, they have magazines, blogs and comics. As the Kindle store grows, so does all of these different types of reading material.
Connectivity
The Kindle has WiFi only options and 3G options for users on the road. The WiFi option is competitive but we find the 3G option to be a little out of the reach of normal e-reader prices.
We are confident that most users will be fine with the WiFi only version, considering we enjoy browsing the book store inside and not on a train.
Battery
For an e-reader that feels like a tablet, it is surely a bit of black magic that it can keep going for over eight weeks without a single charge.
Kindle Paperwhite is definitely one of the best e-readers for battery life and as there are no medias like apps and movies that degrade it, you will see a solid couple of months before you need a recharge.
Storage
We found this was the one place we were confused by, instead of upgrading the storage options and making the Kindle Paperwhite capable of millions of books, Amazon have downgraded inbuilt storage.
They have counterbalanced this by giving you the option of syncing everything to the cloud, meaning you will never truly lose a book or piece of reading material.
Overall
The Kindle Paperwhite was almost everything we wished for when Amazon said they were bringing a new e-reader to the market.
Display, operating system, ease of use, content and battery life are incredible and Amazon have obviously worked on every aspect of the device.
We are proud to say this is the best e-reader out there, by quite a distance.
Add your review
You've heard our opinion. Now we're keen to hear your personal experience of using this software.
Looking for ebook readers reviews?
See our side-by-side comparisons and in-depth reviews