Online
Ecommerce services
This website is supported by its audience. When you purchase through links on our site, we may earn an affiliate commission.

Shopify Review
---
| | |
| --- | --- |
| Reviewer: | Stephen Qualtrough |
| Developer: | Shopify |
| Overall rating: | |
| Price: | $19.00 |
| Purchase: | |
---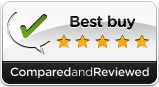 Review summary
Good points
Beautifully designed themes / templates
Unlimited bandwidth
Easy to use
Wide range of integrated payment methods
Bad points
No built-in newsletter / email system
Fewer reporting tools than other providers
Our verdict
Shopify offers a simple to use, slick and sophisticated ecommerce solution for small and medium sized businesses. With a range of features, many of which are automated or operated with just a few clicks, your store runs smoothly.
Full review
Shopify is one of the biggest and most well-known of the ecommerce sites. Will Shopify be good enough for your small business? We've looked at the Shopify experience to weigh up the pros and cons.
Sign up
There's no set-up fee and you sign up with a credit card. Upgrades and downgrades to your plan can be carried out without any extra charge. Plans go from Basic to Premier. Storage ranges from 100MB to 5GB and bandwidth is unlimited for all accounts. If you don't see anything you like, Shopify can create a custom plan for you. You can bring your own domain name to the store.
Shopify currently offers a free 30 day trial so you can find out for yourself how well the site performs.
Design
Shopify comes with a set of professional-looking design templates which you can apply to your shop and customize to create a unique-looking site. Pick a theme, change the colors, alter the fonts, edit slideshows, add banners, upload your logo and change the layout of the home page. You don't need any knowledge of HTML or CSS. But for added design input, Shopify uses a template programming language called Liquid. Our web designer found the language easy to use and there are some clear instructions. If you need help or want to comment on the design process, log into the forum to discuss with designers.
Products
Add images to your store with automatic optimization and resizing. You can then personalize the product with description, edited properties, and tags. Drag-and-drop to organize your products and classify your products using multiple variants, which should help with your order tracking and your customers' browsing experience.
Store
Shopping cart - Shopify integrates with over 50 payment gateways from across the world, including PayPal and Google Checkout. You can also set-up your checkout to accept payments using bank deposits, money orders or COD. If you want to sell digital products, the Shopify app Fetch helps you out. And you can use shipping services aligned with Shopify like Amazon Services.
Inventory management – Use the inventory editor and the order tracker in Shopify to make sure you know which orders are where. The format displaying order details is clear and you can see all the information about the customer in one place.
Marketing
There are plenty of marketing tools available including coupons, promotions, discounts and gift vouchers. Discount codes can be set to your own specifications to include the value, date range and other details. Draw customers' attention by sorting your goods into customized collections – for example, create a "sale" collection or a "gift ideas" collection. Shopify is integrated with various promotional services that can give your store extra profile.
Shopify is developed with SEO in mind, and the SEO features will help you on your way to a decent ranking in the search engines. Shopify automatically generates a sitemap that you can submit to search engines. And if you get a lot of customers you're not penalized – unlimited bandwidth is included as part of whatever plan you pay for.
There's no integrated newsletter management feature in Shopify but you can export your list of contacts into an external program to send mail.
Reporting
There are a number of ways you can view how successful your store is and which strategies are bringing in most customers. You can find out how your customers found the store and which country they are in, the success of referring URLs and search terms, plus the number of page views, hits and unique visitors. Integrate with external analytics providers like Google Analytics for extra data.
Features
Let people know more about your store by creating extra pages on your shopping site, or setting up a blog. Shopify allows you to create as many blogs or pages as you want.
With an iPhone, you can run your store remotely. The Shopify iPhone app is available to give you more options on the move. Shoppers can also buy on the move. The checkout system is optimized for use on mobile devices – the process is the same as on the website, and the security is equal.
Security
Your online store is automatically backed up and Shopify's servers seem to be top of the range and fit for purpose. Shopify has a Content Delivery Network (CDN), an extensive network of servers across the world that help your store load quickly wherever your customers are.
When people buy from your store they are protected with 128 bit SSL encryption. There's an automatic fraud detection process that goes on whenever anyone places a credit card order in your online store.
Ease of use
Your administration area is clean and clutter-free and it's easy to see what you're looking for as soon as you log in. The dashboard prioritizes important store information and places warnings in prominent places down the sidebars to let you know when you're running out of stock. Design is simple and you can easily reuse stock photography and PDF logos when you want.
Help & support
Browse a huge range of topics in the support center plus you can click and ask Shopify a question. Telephone support is available during the week and we like the fact the telephone lines are open into the early evening.
It's hard not to be impressed with the online support. If you have a question, you can email the support staff directly. They proved to be very helpful and more often than not they will reply the same day. There are also plenty of helpful tutorials and user guides. The knowledge base covers a wide range of topics from design themes to shipping and taxes.
Overall
Shopify is a well-respected ecommerce site with a lot of satisfied customers.
---
Looking for more ecommerce services reviews?
See our side-by-side comparisons and in-depth reviews