Software
Internet browser software
This website is supported by its audience. When you purchase through links on our site, we may earn an affiliate commission.
Google Chrome Review

---
| | |
| --- | --- |
| Reviewer: | Stephen Qualtrough |
| Developer: | Google |
| Ranked: | 1st - Best buy |
| Overall rating: | |
| Price: | Free |
| Purchase: | |
---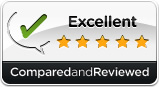 Review summary
Good points
Rich set of library of extensions
Fast. Super fast.
Blocks third-party tracking cookies
Simple to use
Password management capabilities
Bad points
No built-in parental controls
Our verdict
Google Chrome continues to be one of the fastest and most innovate browsers around today. Chrome is definitely worth a look no matter what web browser you are currently using.
Full review
Setup
It's unlikely that you will need to install Chrome as it ships with most modern computers. But if you do need to download it from the Play Store it will take you less than a minute - 17 seconds to be precise.
Browsing
Tab browsing - Chrome features simple, multiple tab browsing hovering over the address bar. Click the little box to the right of the tabs and it opens up a new tab which shows you a page of your most visited sites and apps by default. Other tab features include duplication of tabs, tear-out tabs, and the ability to rearrange them.
Search box - The address bar is also used as a search box in Google chrome. Anything typed into the address bar that is not a URL will trigger a Google search. The default search engine can be changed if needed.
Private browsing - Private browsing is called going "Incognito" in Google Chrome. Web pages and downloads in Incognito windows are not recorded in your history and all cookies are deleted after the private window is closed. Just click the little wrench to the right of the address bar and it can found in the drop down menu.
History – A clean list of all websites visited with the option of removing selected items or deleting everything from browsing history to saved passwords.
Favorites – Chrome makes it very easy to bookmark pages. Just click the little star on the far right of the address bar and a box pops up allowing you to create a name and designate a folder for your bookmark. Bookmarks are sent to a list/folder and your favorite ones can be neatly arranged under the address bar.
Speed
Chrome takes almost no time to start up. If you're in rush, you will never get that impatient feeling waiting for it to start. The browsing is one of the fastest around. Chrome also has hardware acceleration, which can increase the performance of videos and games.
Security
Phishing protection - Phishing protection is built into the browser and is always updating, giving you the latest security. If a website is suspected of phishing you will receive a warning message before you enter.
Malware protection - Just like phishing protection, if a website is suspected of malware, you will receive a warning before entering. Chrome also utilizes Sandboxing, which is another security measure against malware.
Pop-up blocker – If a pop-up tries to launch, Chrome stops it in it's tracks. You won't even notice when it happens because Chrome doesn't give a notification when it blocks a pop-up.
Features
Add-ons – Visit the Chrome Web Store where you can download thousands of apps, games, themes, and extensions. The web store is attractive, colorful, and easy to to use. You may not find another browser with a deeper selection of add-ons. To install an add-on, all you have to do is find what you want and click it and it's set up for you automatically.
Developer tools – The development and debugging tools are conveniently built into the browser. It has a very clean look and has everything you could want and need. If you're a web developer worried about switching to Chrome because of the development tools, don't be.
Bookmark synchronization – If you create a Google account on Chrome, it allows you to bring all of your saved bookmarks and settings with you to another computer. It just takes a simple sign-in. This also allows you to have all of your apps, extensions, and more recovered if your computer is lost or stolen.
Video & audio HTML 5 support – Chrome has advanced support for HTML5 and handles it better than other popular browsers.
Ease of use
Google Chrome has a simple and easy looking interface and it performs like one too. Google decided to sport a look that gets rid of multiple menus and tabs cluttering up the screen. Everything can be found easily and it's simple to navigate. The tab browsing is so simple you will learn the basics on first use.
Google even took the extra step of having built in Flash and PDF support, so no extra downloads or separate windows are required for those programs.
Help & support
There is a comprehensive help page section, covering topics from start-up help to fixing bugs. If a problem isn't in the help pages there is a active community forum and a blog for specific issues and questions.
Overall
Google Chrome is an excellent web browser and sits firmly at the top of the list. It's easy to use, fast, reliable, and has a very deep selection of add-ons.
---
Looking for more internet browser software reviews?
See our side-by-side comparisons and in-depth reviews