Software
Mac Anti-virus software
This website is supported by its audience. When you purchase through links on our site, we may earn an affiliate commission.
Bitdefender Antivirus for Mac Review
---
| | |
| --- | --- |
| Reviewer: | Stephen Qualtrough |
| Developer: | Bitdefender |
| Ranked: | 1st - Best buy |
| Overall rating: | |
| Price: | $39.99 $19.99 - $20 off |
| Purchase: | |
---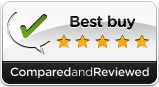 Review summary
Good points
Best performance without sacrificing speed
Fantastic malware detection scores
Simple to use
Bad points
Only manual scans – no scheduling
Higher price
Our verdict
Achieving the twin aims of effective virus protection and fast system speed is not easy. But Bitdefender makes it look that way. This established PC anti-virus provider comes top of the list for stellar Mac protection without sacrificing speed. We think Bitdefender Antivirus for Mac is the perfect package.
Full review
Bitdefender is a global leader in anti-virus protection with a solid roster of PC protection under its name. The award-winning company also provides this specially designed software package for the Mac. The selling point is fast, discreet, effective protection. If you're looking at the price and wondering whether it's worth it when there are a host of free alternatives available, read on. We've got the information you need to weigh up the cost and benefits.
Protection
Bitdefender offers solid protection against both Windows and Mac malware, ensuring you do not fall victim to attacks from any source. In addition to the full anti-virus protection, Bitdefender provides a clever Traffic Light feature that steers you away from websites angling for your personal information. This anti-phishing element of the protection is particularly useful for Mac users, and in the Bitdefender package it clearly tells you which websites are safe or otherwise. The Traffic Light system also scans links you find on social media and lets you know which sites are tracking you as you browse the web. In addition to system files the Bitdefender software scans email and the external drives you use like pen drives and back-up hard drives.
Effectiveness
Bitdefender is one of the very best when it comes to independent tests. In the Mac Security Test & Review 2020, AV Comparatives test Bitdefender identified and dealt with 100% of Mac malware samples.
In the AV Test conducted in June 2020 Bitdefender also acheived 100% scores. It accurately identified all the malware threats thrown at it. There were no false positives; a plus for you when you can rest assured that the only problems detected are real problems. These tests also measured how much the anti-virus protection slowed down the system.
Bitdefender was one of the fastest and it did not have a noticeable effect on the speed of the machine. In our view Bitdefender comes out at the top of the pile for effective malware detection at speed – just what you are looking for in an anti-virus package.
Scans & updates
The Full System Scan is your choice for comprehensive Mac clean-up. The quick scan option is taken care of by the Scan Critical Locations command, and this is a good option for setting your mind at ease and going through the places where malware is most likely to affect. You can also specify where you want Bitdefender to look, by using the Scan a Custom Location option. This makes it easy to check out a specific file someone sent you, or a suspect folder. You can also save time by saving your favorite scans, for example the scan of the removable drives plus network drives.
The only real problem we see with Bitdefender is the lack of ability to perform scheduled scans. Sometimes you want to set up a system scan for a time when you are not using the computer, and you don't want to get up in the middle of the night to start it. You can't schedule scans with Bitdefender, all scans have to be manual so you need to start up the computer and press the button. But seeing as the speed of your Mac doesn't noticeably drop when scans are being performed, we don't see a problem with not being able to work effectively while a scan takes place.
Features
Bitdefender does not have particularly extensive set of features. You can scan removable devices, but there is nothing like a parental control feature or a firewall. If you really want these features then it's best to go elsewhere, but we don't think you'll be dissatisfied with Bitdefender for its lack of extras.
Ease of use
While some anti-virus packages make it tough to secure your system, Bitdefender makes it easy. You don't need any special skills to set up and run this anti-virus protection. The interface is a simple gray box with three boxed options for your three activity choices - Scan Critical Locations, Full System Scan and Scan a Custom Location. You also see the status of the Continuous Scan - On or Off - and the status of Web Protection. A couple of links at the bottom of the interface give you easy access to your account and tells you how many days' protection you have left. At the top is the green check mark (or red cross, if you're not so fortunate) that tells you the system is safe.
Help & support
The Bitdefender websites gives you plenty of options if you need help. It's not the most user-friendly support system to navigate – for example, you need to run a search to find the issue you are looking for in the list of common problems and solutions, and there are a lot of options that are not particularly well-organized, plus the Forum looks off-puttingly technical – but you also have email access, phone support (24 hour service in the UK and US) and chat. The Live Remote Assistance – where you allow access to your Mac for a specialist to work through any tricky issues – is a useful addition to the support package.
Overall
We love the powerful job Bitdefender does at protecting your Mac from threat. While Bitdefender Antivirus for Mac may not have the bells and whistles of other anti-virus packages, what you do receive is far more valuable – effective protection that doesn't slow down your computer.
---
Looking for more mac anti-virus software reviews?
See our side-by-side comparisons and in-depth reviews