Software
Mobile security software
This website is supported by its audience. When you purchase through links on our site, we may earn an affiliate commission.

ESET Mobile Security for Android Review
---
| | |
| --- | --- |
| Reviewer: | Stephen Qualtrough |
| Developer: | ESET |
| Overall rating: | |
| Price: | $14.99 |
| Purchase: | |
---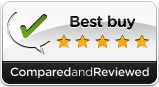 Review summary
Good points
A wide variety of useful anti-theft features
Real-time protection against all threats
Anti-spam monitor keeps possible threats from entering inboxes.
Bad points
No blackberry support
Non-existent parental controls
Lacks live-support options
Our verdict
ESET Mobile Security is an excellent program if you're looking for excellent anti-theft and security features. However, if you're looking for a program to monitor your children's activity or prevent them performing certain functions, you'll want to avoid ESET Mobile Security. Aside from the parental controls, this is a great program overall and you won't find many better on the market.
Full review
Setup
It won't be a tough task to get ESET Mobile Security running on your mobile device. You will need to purchase a subscription for the product in order to take advantage of its protection. Subscriptions can be purchased on the product website through a PC, or it can be purchased through the software.
For Android users, simply visit the Google Play store and install the app for free. You will then need to activate your subscription through the app to start protecting your phone.
Windows Mobile and Symbian users will need to first put the software on their PC and then transfer it to their mobile device.
Anti-theft
One of the ESET Mobile Security's strengths is its anti-theft options.
Trusted Friends - This creative feature allows you to assign a contact to reset your password remotely if needed, and also be notified via text message if an unauthorized SIM card is inserted into your phone.
Remote Wipe - This feature gives the ability to remotely wipe all of the data on your phone if it is ever lost or stolen.
Find Device - Locate your device on a map remotely if it's lost or stolen.
Remote Lock - This feature allows users to prevent access to their phone from another device.
Malware protection
Anti-virus and spyware protection - ESET Mobile Security will do a fine job protecting your smartphone. It offers real-time protection that monitors all types of communication to prevent hackers from accessing valuable data. It can quickly scan your entire phone's memory and alert you instantly if a threat is detected.
Anti-spam - The program does a good job of detecting spam in your inboxes and will quickly put them in a spam log.
Firewall - The firewall for this program is constantly monitoring the entrances to your device and incoming and outgoing date.
Parental controls
Parental controls are completely missing from this program. The only feature that resembles parental controls is the ability to remotely locate a device on a map from another device. This would allow people to locate their loved ones if need be. Other than that, the program is lacking in this department.
Updates
Updates are easy since they are done automatically by default. Its default d setting is to update daily, but users can change the auto update settings to update less frequently or not at all. Manual updates are also an option.
Ease of use
For the most part, the program is very easy to use. It has an attractive, simple interface that is easy to navigate and understand.
Problems may arise for new users when trying to understand what unfamiliar features do. There isn't any self-explanation text when you click on an option. To get help, you have to go to the help button on the bottom of each menu and find the description.
It would be nicer if there was an explanation of each function within the function itself.
Help and support
The app itself offers help tabs at the bottom of each menu to explain all of the possible options you can use. The support for this program is average at best. It offers some useful tutorials, but any problems beyond the basics will be hard to get help for. There is no live-chat help and no phone support could be found on the product website.
Overall
ESET Mobile Security is extremely effective in terms of anti-theft and virus protection. It protects your phone in real-time, and if you're phone is ever lost or stolen, this program can help you find it. Where the software lacks is in the parental controls department. If you're using this program to keep your children from surfing certain sites or downloading expensive apps, you're going to have to look elsewhere. If you don't need parental controls, you can't do much better than ESET Mobile Security.
---
Looking for more mobile security software reviews?
See our side-by-side comparisons and in-depth reviews