Online
Photo sharing websites
This website is supported by its audience. When you purchase through links on our site, we may earn an affiliate commission.

Flickr Review
---
| | |
| --- | --- |
| Reviewer: | Stephen Qualtrough |
| Developer: | Flickr |
| Overall rating: | |
| Price: | Visit website |
| Purchase: | |
---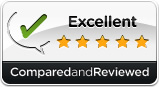 Review summary
Good points
Extensive free features and service
Video capability
Flickr apps to do more with your photos
Global community of users
Bad points
Limited number of photo uploads for free per month
Limited number of photos displayed for free
Our verdict
This hugely well-known photo sharing website boasts a real community for you and your photos. Connect, store, search, share and show-off your photos online. Flickr is the convenient, simple-to-use gold standard in photo sharing.
Full review
Flickr is a free-to-use photo sharing service with a large amount of links and features to enjoy. This one-stop-shop allows you to store and show your pictures within a wider photo sharing community. We've flicked through Flickr's offering to show you why this photo sharing website is top of the tree.
Sign up
Take advantage of the free account you can set up with Flickr – the free account has enough features and capabilities to keep most regular users happy. Sign up with an email address and a password. According to Flickr, there will always be a free version of Flickr so you don't need to worry about your photos going missing because you don't want to pay (although your account is at risk of being deleted if you don't use it for 90 consecutive days). You can upgrade to the Flickr Pro account for US$24.95 per year for a wider range of unlimited features.
Community
When you want to share your vacation photos or your wedding pictures, you can search for people you know on Flickr and send them a link to your photos, or you can invite friends not already on Flickr to see your collection. To do this you send them the URL address of your photostream and anyone can see your works of art. Some photos are destined for everyone to see. Connect your Flickr account to Facebook and Twitter, to your blogs and to your website.
While you want to share your pictures, there are some photos you'd rather keep hidden. Can you make sure the whole world doesn't see your pics if you'd prefer them private? Make use of the flexible privacy controls with Flickr that allow you to control who sees which picture. Designate pictures as "family" or "friends" or "public". Public photos are accessible to anyone on the web but the other categories are controlled by you. If you want to send private photos to someone who doesn't have a Flickr account you create a Guest Pass to share your photostream with them.
Easily connect with people who share your interests with Flickr's groups – 10 million and counting, so you're sure to find something that interests you.
Features
One of the best things about Flickr is the free service – still valuable despite not having all the features of the Pro account. Photo uploads are restricted with the free service but if you've got a regular amount of photos to share it will probably be enough. With the free service you can upload 300MB of photos per month and you are restricted to two video uploads each month. The Pro service gives you unlimited photo uploads (20MB per photo). All videos, whether you have a free or Pro account are set at a maximum of 90 seconds. With the Pro account you get unlimited video uploads (90 seconds max, 500MB per video) and HD video capability.
Your photostream – the record and display of the photos you upload – is limited to the 200 most recent images with the free account. When you upgrade to the Pro account you receive unlimited storage and unlimited bandwidth. You can archive high-resolution original images (with the free account only smaller, resized images are available.)
Both accounts display your photos at a high resolution for a decent photo-viewing experience. When you're in a creative frame of mind you can create galleries to link photos together in one place. Flickr apps help you do more with your photos, including search, edit, view and explore other people's pictures.
Ease of use
As you'd expect from the leading photo sharing website, Flickr is easy to navigate and simple to use. When you're looking for a website to store and share your photos, you want that website to handle the basics efficiently and simply. Flickr ticks those boxes. Easily upload your photos on the web, from your desktop with a Flickr app, from your cell phone, from your email address, or through a photo application like Aperture, iPhoto, Picasa, or Windows Live Gallery. Uploading your photos on the web is the simplest method. It's child's play to label, tag and organize your photos once they're on Flickr. Add descriptions to multiple pictures at once and drag-and-drop your photos into sets using the Flickr tool. Flickr also employs a useful search feature so you can keep track of your photos.
Help & support
If you've got a problem, the extensive FAQ section should take care of most queries. For more individual answers, visit the Help Forum, an avalanche of threads on all topics to do with Flickr. Ask a new question if you can't see what you're looking for. If all else fails, email for help. According to Flickr, your email will create a numbered case in the Flickr help system and will be answered as soon as possible.
Overall
Flickr is the go-to place for storing and showing your photos. Put simply, Flickr ticks all the boxes and gives a good service for free. If you want unlimited storage you can upgrade to an inexpensive Pro account. Try Flickr for free and see where your photos can go.
---
Looking for more photo sharing websites reviews?
See our side-by-side comparisons and in-depth reviews