Online
Video sharing websites
This website is supported by its audience. When you purchase through links on our site, we may earn an affiliate commission.

YouTube Review
---
| | |
| --- | --- |
| Reviewer: | Stephen Qualtrough |
| Developer: | Google |
| Overall rating: | |
| Price: | Visit website |
| Purchase: | |
---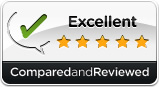 Review summary
Good points
Highly addictive
Free to use
Wide variety of video content
Easy to use
Bad points
Highly addictive
Excessive amounts of advertising
Not the best video quality you'll find on the net
Our verdict
YouTube's innovation has been the benchmark for many other video sharing websites. But YouTube's real strength has always been its community of users. Join the many millions of video makers and viewers who find YouTube offers all they need.
Full review
For many people YouTube is how they were first introduced to video sharing. We've looked at YouTube's features to see why it's the original and still the best.
Sign up
Sign up for a free account with your email address and a username. You'll need to abide by the account regulations and copyright requirements in order to sign up.
Viewing features
You don't need to be a member of the website to watch the videos, but you do need to be a member if you want to rate or provide comments on the content on display. You will also need to be a member if you want to upload your own videos. YouTube is free to use.
YouTube has a robust search tool which allows you to search by keyword or topic, or browse the site to see what's on offer. You can filter search results by their popularity or by the date they were uploaded. If you're logged in as a member, you can save videos to your favorites file so you can more easily view them again.
You can customize your screen size to make viewing videos a TV-like experience. Or expand the video so it's wider than your browser. There's a 3D viewing option too.
YouTube, like most other video sharing websites, is funded through advertising revenue. Like most websites it's totally fair to expect some form of advertising, but on YouTube it feels over-saturated. The adverts on the web page and the adverts in the videos are frequently distracting.
You're much less likely to find copyrighted material at YouTube than you would have two years ago. Clips from movies, music videos and sports coverage have all but been removed. You can watch full-length movies by renting them from YouTube (which isn't free) to watch on your PC when you're connected to the Internet.
Producer features
Any content uploaded to the website is restricted to two gigabytes and must be no longer than ten minutes if you're using a basic YouTube account. This is why you often see videos split into several different clips. When you upload your video you'll need to add a title and an accurate description and you need to specify a category. Edit your video in YouTube, add music using the AudioSwap feature, and insert transitions between clips. You can specify whether you want users to post comments against your video and you can also set your video to private so only people you know can find it (up to 25 invited YouTube friends) or unlisted, where you send the link to friends who don't need to be YouTube members.
Upload your videos in HD format, or upload in 3D (if you have the technical knowledge and patience to create this type of clip). If you have basic knowledge of HTML you embed YouTube videos into your own website.
Safety
Comments on the website are self regulated. Users can flag spam or inappropriate comments, so that they are removed. There have been known incidents of bullying on the website. The YouTube Safety Center is a robust section on the site where you can learn how to flag videos that go against the YouTube Community Guidelines, block people who are bothering you, and learn more about online safety and how to comment respectfully. There are a number of tip sheets on teenage safety, privacy and harassment among other important issues in the video sharing community.
Features
One of the reasons for YouTube's existence is to share videos around the world so you'll want to know what everyone else is watching. YouTube showcases a Chart Page where you can see which are the most popular videos and also view the most popular of all time. You can also see the most popular search terms in the tag cloud. When you find a video you like you can subscribe to the channel and receive updates on the video maker's recent activity. There's a Recommended for You option listing possibly interesting videos based on what you've previously watched.
Your YouTube channel is a portal for housing all the videos you make as well as all the videos you rate on the site. Create an individual channel by changing background colors, formatting and options. Add videos to a queue so you can keep track of clips you want to watch later, with the option of watching them continuously. View your videos with subtitles or captions (available on certain videos where available).
Ease of use
YouTube is generally very easy to use as the search function and other features are self-explanatory and clear. Navigating the help section and learning about more advanced features of the site is also simple to work out. There is a great tutorial section that shows you both the basics and the advanced features of using YouTube. Beginners and more experienced video makers and users alike won't find YouTube very confusing.
Help & support
YouTube has a pretty extensive help area on the website. There are a number of different articles and tutorials covering everything from logging in to renting movies. Most issues you'll encounter are covered with some detail in the Knowledge Base and in the FAQ section. You can also make use of the Help Forum to discuss the finer detail of YouTube with other users, as well as pick up hints and tips for a better video sharing experience.
Overall
YouTube is the most popular video sharing website in the world. YouTube became popular because the site made uploading and watching videos easy. It continues to be a great way of sharing content, finding funny clips, watching trailers and discovering new video. Even presidential candidates have used YouTube to connect to younger audience. Its growth and popularity has meant, for many people, YouTube is the only video sharing site they're ever likely to use.
---
Looking for more video sharing websites reviews?
See our side-by-side comparisons and in-depth reviews