Online
Web conferencing services
This website is supported by its audience. When you purchase through links on our site, we may earn an affiliate commission.

GoTo Meeting Review
---
| | |
| --- | --- |
| Reviewer: | Stephen Qualtrough |
| Developer: | Citrix Online |
| Overall rating: | |
| Price: | $49.00 |
| Purchase: | |
---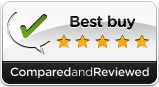 Review summary
Good points
Very simple system
Flat fee pricing and unlimited meetings
Good security features
24/7 support
Bad points
No video
Limited features for Macs
Our verdict
GoToMeeting offers a small-scale solution for meetings and conferences with a flat fee for unlimited use. Ideal for teams and remote departments, GoToMeeting is simple to use and a good, cost-effective solution for web conferencing.
Full review
GoToMeeting's system is for smaller groups than InterCall's Unified Meeting service – you can have up to 15 people attending. The system is very simple to use and the straightforward features will allow you to concentrate on your meeting and not on the web conferencing system that supports it.
Sign up
GoToMeeting currently has a 30-day free trial so you can sign up immediately, then opt for one of two plans should you decide to continue. The system is ready to use after an automatic installation. Once you're signed up for the basic or corporate plan you have unlimited usage of the system, either for one month or one year, depending on how you pay. The corporate option allows up to 25 people on each web conference, and more than one organizer.
The GoToWebinar service and the GoToTraining service may be of more use to you if you need to broadcast to more people or set up training sessions.
Conferencing features
The process for attending a meeting involves clicking on the link for the conference and choosing whether to join by phone or by using the PC's microphone and speakers (VOIP). Participants don't need to be signed up to GoToMeeting in order to be able to join a meeting. The process takes place over the Internet.
There's a full-screen viewing mode and a window view, and you can switch between them.
Participants can attend the meeting on either a Mac or a PC, but the PC offers by far more options. The features for a Mac are somewhat limited. For example, there is no single-application sharing on the Mac – you show your whole screen or nothing.
Presenter features
The GoToMeeting system is very simple. First you start a meeting by clicking on the Meet Now button in your toolbar, then invite other people by phone, email or instant message. You can also schedule meetings in the future. Once you're all connected you can show your screen, or selected applications and documents to the other participants.
You can point to things on screen and highlight areas of text. As a presenter you can choose whose screen is displayed and whether people have the rights to edit it. There's an On Air interface on your screen and you can see who's on the call, mute and unmute participants, and start a recording of the process. If someone's missing, you can invite them as the meeting is in progress. If you want to show someone else's work you can do so by switching presenter status to them.
GoToMeeting offers a limited collection of after-meeting features – you can review meeting attendance reports, or you can post your recording of the meeting online for others to see.
Video & audio
Audio mode is a choice between using your computer mic and speakers, or the telephone. There is no video function, which is a shame because many meetings benefit from being able to see the other participants.
There's the option to purchase a toll-free call-in number (it's not included in the package) for participants that don't want to pay the cost of a national call. You don't need to have all participants using the toll-free number, you can save money by using it for selected participants.
Security
GoToMeeting features a set of security features to make sure your session is secure and private. The service is encrypted with 128-bit SSL encryption and none of this encrypted information is stored on the GoToMeeting system. You should also be able to work with the system even with corporate firewalls installed – the system enables screen sharing without you having to reconfigure the firewall settings.
Ease of use
There's no denying that the GoToMeeting system is easy to use. The participant and organizer tool bars are clear and they present the functions you need logically and simply. Scheduling a meeting or deciding to hold a meeting on the spur of the moment takes a few clicks. The system doesn't automatically call participants – they need to dial or log in – but once everyone is in the meeting it can all flow smoothly.
Help & support
You can contact a GoToMeeting support rep at any time of the day or night, via phone, chat or email. For detailed information about many aspects of the conferencing service, sign up to live webinars or online training sessions. There's also an extensive knowledge base on the website with user guides and PowerPoint presentations.
Overall
While not as feature-rich as InterCall's offering, the web conferencing package from GoToMeeting is a simple, easy to use solution for small meetings, team catch-ups and training sessions for a few people.
---
Looking for more web conferencing services reviews?
See our side-by-side comparisons and in-depth reviews