Online
Website hosting
This website is supported by its audience. When you purchase through links on our site, we may earn an affiliate commission.

Fat Cow Review
---
| | |
| --- | --- |
| Reviewer: | Stephen Qualtrough |
| Developer: | FatCow |
| Overall rating: | |
| Price: | $5.50 |
| Purchase: | |
---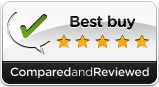 Review summary
Good points
Easy to use
Competitive price
Commitment to customer support 24/7
Generous free advertising credit
Bad points
Pay extra for add-on features like security
Marketing support is extra
Our verdict
FatCow has been operating for over 10 years and the web hosting service this company provides is committed, secure and professional.
Full review
This website hosting service has its own distinctive brand and you'll likely to recognize it as soon as you've seen it once. FatCow is upbeat, bright and modern but is the service up to the mark?
FatCow is a creative solution for small businesses and personal website owners. We think you'll like the service this slick company offers.
Hosting
FatCow boasts an all-in-one hosting package that claims to contain everything you need to put your site out there. Hosting is with Windows. Reviews of FatCow uptime attest to just under 99%. The all-in-one offer includes unlimited space, unlimited bandwidth, unlimited domains and unlimited POP mailboxes. You also have access to WordPress, WordPress, phpBB, Joomla and others, plus a SSL secure server and unlimited FTP users and sub-users.
If you need to build your site, FatCow has a variety of ways to get a professional website up and running. Use free point-and-click website building tools, use your own web development software, or pay extra for a bespoke web package that helps you set up a more professional-looking presence on the Internet. Price of custom design is reasonably high but you do get individual support. E-commerce websites are specially catered for with a set of optional online tools such as ShopSite Shopping Carts, iPayment and PayPal, and extended validation SSL certificates.
If you don't like what you get, FatCow offers a 30-day money-back guarantee but it seems not many people take up the offer.
One USP for FatCow is 100% wind powered web hosting. The FatCow offices and the data centers are totally powered by wind energy through the Renewable Energy Certificates off-setting program. If you want to advertise your site as eco-friendly, you can download a free Green badge that links to a certificate saying your site is powered by alternative energy.
Domains
FatCow provides a domain name purchasing service. The DomainCentral tool at FatCow configures all your new and existing domain names into one section, to renew, manage and update. FatCow was giving away one free domain name with every web hosting at the time of research. If you're not ready to set up your full site but want to park your domain for up to a year, FatCow's MiniMoo plan allows you to buy just a domain name and an email address, which you can upgrade to full hosting when you're ready. Post an "under construction" page or use the site building tool to make something more specific.
Email
With unlimited POP mailboxes you should find the email function works for you. You can check your mail from anywhere with a webmail client. Mail is handled through Microsoft Exchange Mail. Exchange is available in three sizes, up to the Premium account with 10GB of space. With Exchange you can customize your email address to your domain name for a more professional approach to mails, or add other mailboxes to your Exchange account. There's a mobile service so you can check emails on-the-go and multiples licenses available to download Exchange on any computer.
Marketing & reporting
With FatCow you basically add on any amount of advertising and marketing support you want. Of course, it doesn't all come in the all-in-one package – for most marketing tools and support you need to pay extra. For example, SEO and e-mail marketing are available, as is a reputation management system (for which you get a free 60-day trial), logo design, and local and national search engine submissions. You do get free advertising credits on social networking sites, Google, Yahoo! etc., and reporting tools to see how your website ranks.
Ease of use
FatCow claims to be more user friendly, more simple and filled with less jargon. Does the experience match up to its claims? Well, the layout of the site is certainly clear and the language used is direct, to-the-point and entertaining. There's a section on the site that explains the entire process of web hosting so beginners can understand. The one-size-fits-all hosting plan is good for people who want to make sure they've got everything they need to set up their website in a single click.
Apps and add-ons are easy to load and many features require no prior experience whatsoever. The tools to check your web pages' visibility on Google is fully integrated into the plan. You do have the opportunity, if you are more experienced, to customize your web hosting as you like.
Help & support
Even experts sometimes have problems, which is why you want a reliable support system for your website hosting. FatCow offers phone, email and live chat support 24 hours a day, seven days a week. There's a library of downloadable articles to explain the process and procedures connected to your website hosting, and a user guide.
FatCow stands by a pledge of service to its customers, which includes promises to call you to welcome you to FatCow, answer your phone call in under two minutes, provide North American-based phone support, and a commitment to resolving your problem. According to FatCow, if the "Moo Crew" support experience you receive isn't positive you can claim a free month of hosting. Worth using the system to check!
Overall
The FatCow plan costs less than other operators but you do need to pay more for features that other companies include as part of their plan. For example, site back ups, domain name registration, identity theft protection and SSL certificates. This is where your costs can multiply if you're not vigilant.
It's difficult to judge a system that works for some people and not for others – it's really down to personal preference whether you prefer a one-size-fits-all hosting plan so you know you've got all the basics covered, or whether you prefer to build your own plan from scratch.
---
Looking for more website hosting reviews?
See our side-by-side comparisons and in-depth reviews