Software
Disc burning software
This website is supported by its audience. When you purchase through links on our site, we may earn an affiliate commission.

Nero Burning ROM 2023 Review
---
| | |
| --- | --- |
| Reviewer: | Stephen Qualtrough |
| Developer: | Nero |
| Overall rating: | |
| Price: | $55.95 |
| Purchase: | |
---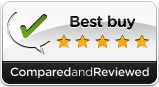 Review summary
Good points
Supports wide range of discs
Intuitive user-interface
Helpful security options
Bad points
Help files could be better
Our verdict
Nero Burning ROM 2023 is a great option for both novices who after a simple to use solution and advanced users who want a bit more control.
Full review
Nero has been one of the big names in disc burning software for a number of years, so it was with interest that we tested their latest offering to see if it was as good as previous offerings. Nero Burning ROM is a part of Nero Platimum Suite, but is also available separately.
Setup
The program installed without any issues though did take quite a long time to install, with lots of separate installs required for the supporting programs.
Disc burning
Once you start to use the program you can see why Nero is so popular, especially amongst advanced users. There is a wide variety of options and settings available from selecting the type of disc you want to burn, to the settings controlling every aspect of how to burn it. You can also work on as many compilations as you like at the same time, with each opening in a separate window. The disc options available are:
CD-ROM - CD-ROM (ISO), Audio CD, Mixed Mode CD, CD Extra, CD Copy, CD-ROM (Boot), CD-ROM (UDF), CD-ROM (UDF/ISO), CD-ROM (SecurDisc), Nero DiscSpan (UDF).
DVD-ROM - DVD-ROM (ISO), DVD Copy, DVD-Video, AVCHD(TM) video, DVD-ROM (Boot), DVD-ROM (UDF), DVD-ROM (UDF/ISO), DVD-ROM (SecureDisc). Nero DiscSpan (UDF).
Blu-ray - Blu-ray (ISO), Blu-ray (UDF), BDMV-Video, AVCHD(TM) video, Blu-ray (SecureDisc), Nero DiscSpan (UDF).
Once you've selected the type of disc you'd like to burn you can configure the Compilation Properties. Options here are dependant on the type of disc, but include settings such as Multisession (Start/Continue), Data Mode, File System, Label, Dates and Burn options including Write Speed and Number of copies as well as the ability to use Multiple recorders (if available).
File selection is done via drag-and-drop between the in-built file browser (or desktop folders) and the disk window pane. The default alignment is to have the disc on the left and file browser on the right, which seems a little counter-intuitive but there are options in the Window menu to re-arrange the panes to best suit you. Once you've selected all the files required clicking the 'Burn Now' button bottom right will write your disc (after you confirm your settings are correct).
Security
Nero offers the ability to burn a SecureDisc using CD, DVD or Blu-ray. You can apply a password (recommended 16+ characters) and/or a digital signature (which Nero can create for you if you don't already have one), to protect the entire disc.
Nero is also set up to work integrate with third party software 'Check Point Endpoint Security Media Encryption'. If you have this installed on your computer you have the additional options of creating CD-ROM (Check Point) or DVD-ROM (Check Point) discs, which offers 256bit encryption.
Features
Along with the customized burning and copying options Nero offers as standard there are also some extra features worth a mention.
Nero DiscSpan - is a clever way of spreading oversized file content onto more than one disc where required, or indeed across different disc types.
Gracenote - for Music track information Nero is integrated with Gracenote, which can populate your un-named tracks with the appropriate data. This is also useful if you use the extra utility that allows you to rip audio files and save them to hard drive.
Ease of use
Nero Burning ROM is generally pretty intuitive to use. At the surface level the novice could get straight in and select a disc type, add their files and burn away, whilst under the skin there are plenty of settings to tweak if you are a more advanced user.
The only real issue we encountered was to do with knowing what file types could be added to what disc. There are no converters built in so, for example, if you want to write a BDVM Blue-ray video you need to have converted your video files first in authoring software like Nero Vision, which is part of the Nero Multimedia Suite.
Help & support
The Help files included with the program were comprehensive, though not particularly easy to read. Online support documentation is limited, with the most useful link (when eventually found) being to the PDF user manual. However, there are good contact options for both customer and technical support including Live Chat (24hrs during weekdays, with reduced hours at the weekend), email support and limited telephone support (though this is for European countries only).
Overall
On it's own Nero Burning ROM 2023 is a very comprehensive disc burning package, offering a great breadth and depth of functionality to suit the advanced user whilst also be easy to use for the novice.
---
Looking for more disc burning software reviews?
See our side-by-side comparisons and in-depth reviews