Software
Driver update software
This website is supported by its audience. When you purchase through links on our site, we may earn an affiliate commission.

Systweak Advanced Driver Updater Review
---
| | |
| --- | --- |
| Reviewer: | Stephen Qualtrough |
| Developer: | Systweak |
| Overall rating: | |
| Price: | $39.95 |
| Purchase: | |
---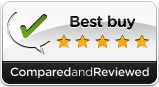 Review summary
Good points
Features a safe, extremely comprehensive driver database
Makes it easy to download and install up-to-date drivers
Can be scheduled to update drivers automatically
Offers excellent backup-and-restore functionality
Systweak offers truly exceptional customer support
Bad points
Lacks customization options
Our verdict
Systweak Advanced Driver Updater is a highly effective system utility designed for users of all experience levels. Those looking for an easy way to keep system drivers up to date will appreciate the convenience that Advanced Driver Updater provides.
Full review
Systweak develops several different types of system-utility applications. Advanced Driver Updater is a utility that scans systems for out-of-date drivers. When it finds out-of-date drivers, it is supposed to automatically download and install the latest versions. To find out if it could perform as advertised, we downloaded Advanced Driver Updater and installed it on our system.
Setup
Setting up Advanced Driver Updater could not be any easier. After clicking a few buttons and waiting about a minute, Advanced Driver Updater was installed and performing its first scan through our system's drivers.
Scan performance
Advanced Driver Updater's scan did take slightly longer to complete than DriverScanner, which is Uniblue's driver utility, but it managed to find a significantly higher number of out-of-date drivers. While DriverScanner managed to find updates for 5 of our system's drivers, Advanced Driver Updater found updates for 16 of them. From the scan-results page, the software displays driver-related information in a simple, clean format. For example, the information provided us with details concerning the hardware, the release dates of the old and new drivers, and more.
Preparing to update drivers with Advanced Driver Updater is fairly simple. Next to each out-of-date driver's information is a box. To prevent a specific driver from updating, users simply remove the check mark from its box. We unchecked one box and let the software download and install 15 up-to-date drivers. From start to finish, the driver-update process took a little over 20 minutes to complete, which is understandable since several drivers were over 50MB in size. Finally, with the driver-update process complete, we ran a follow-up scan to verify that our new drivers installed without any issues; they did.
Driver database
Advanced Driver Updater downloads drivers from a database that contains more than 15 million driver files. This database contains drivers for all major versions of Windows, including 11/10/8.1/8. Also, with drivers for 64-bit versions of Windows as well, this database is comprehensive enough to keep the drivers in most Windows systems up to date.
Security
The drivers retrieved by Advanced Driver Updater are 100% safe. Systweak obtains these drivers directly from manufacturers, not from third-party sources. As an extra precaution, Systweak even scans these drivers for malware. However, even with all of these precautions in place, there is still the possibility that certain drivers may cause issues. Because of this possibility, Advanced Driver Updater features a backup-and-restore function. Before new drivers are installed, Advanced Driver Updater creates a backup point, ensuring that users can quickly and easily revert to older drivers if necessary.
Features
Scheduler – This feature is perfect for users who like to automate their system-utility tasks. It schedules scans for out-of-date drivers so that users are never required to run manual scans.
One-click driver install – Advanced Driver Updater's one-click-driver-install feature makes it possible for users to update their systems' drivers with a single mouse click. Again, this is an excellent feature for those who like to automate their system-utility tasks.
Ease of use
It is quite evident that Advanced Driver Updater was designed with ease of use in mind. The driver-update process is broken into easy-to-follow steps, and most of these steps require very little input from users. In fact, if users choose to do so, the whole of the driver-update process can be automated. While there are not many options to customize in this software, important adjustments, such as removing certain drivers from the update list, are easy to make.
Help & support
Systweak provides their customers with great support. Their website has a dedicated support section that features a knowledge base, an FAQ, and a newsletter. Systweak's support staff also responds to support inquiries via telephone and e-mail. Advanced Driver Updater even has convenient links to the Systweak website listed in the upper-right corner of the main menu.
Overall
Systweak Advanced Driver Updater is clearly one of the best driver-related system utilities available. Its scans are thorough, and it downloads drivers from an incredibly large, constantly updated database. Most importantly, this software installs updated drivers quickly and easily. Finally, with additional features that protect users' systems and increase its ease of use even further, Advanced Driver Updater is a system utility that we can highly recommend to all PC users.
---
Looking for more driver update software reviews?
See our side-by-side comparisons and in-depth reviews